These products & services are researched and tested by HelpGuide's independent consumer reviews partner. When you buy through the links, we may earn a commission.
Despite being crucial for retaining one of our five senses, hearing aids are notoriously expensive. According to research, an average pair of hearing aids costs $4,700 and represents the third-largest material purchase for many Americans (behind a house and car). Add the fact that most hearing aids last five to seven years, and it's easy to see how the hefty price tag can multiply and become out of reach for many people.
The prohibitive cost is one of the main reasons people wait up to 10 years to purchase a hearing aid after they realize they have hearing loss.
Not only are hearing aids important tools to help you hear clearly, they play a pivotal role in your mental health and well-being. That's because untreated hearing loss can contribute to anxiety, depression, and even speed up cognitive decline in older adults, raising the risk for conditions like Alzheimer's (a type of dementia).
It's clear that hearing aids are not a luxury but a vital piece of technology that helps preserve our hearing, maintain our mental health, and attain a higher quality of life.
To help people understand the benefits of these devices and get them into the hands of people who need them, we've made it our job to study, test, and review hearing aids—to help you quickly find a device you can count on. Allow us to show you exactly how we do it.
Why HelpGuide cares about hearing loss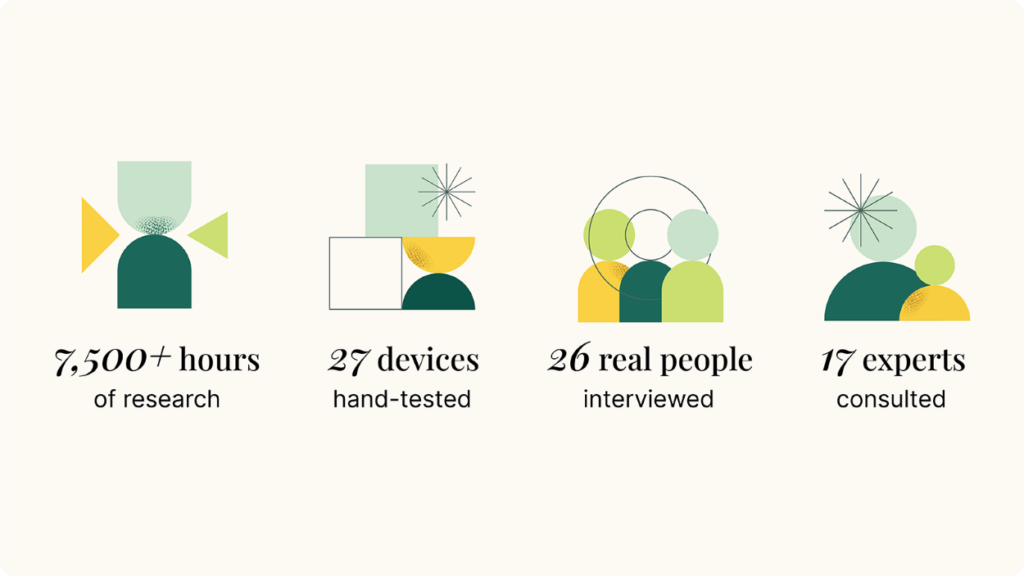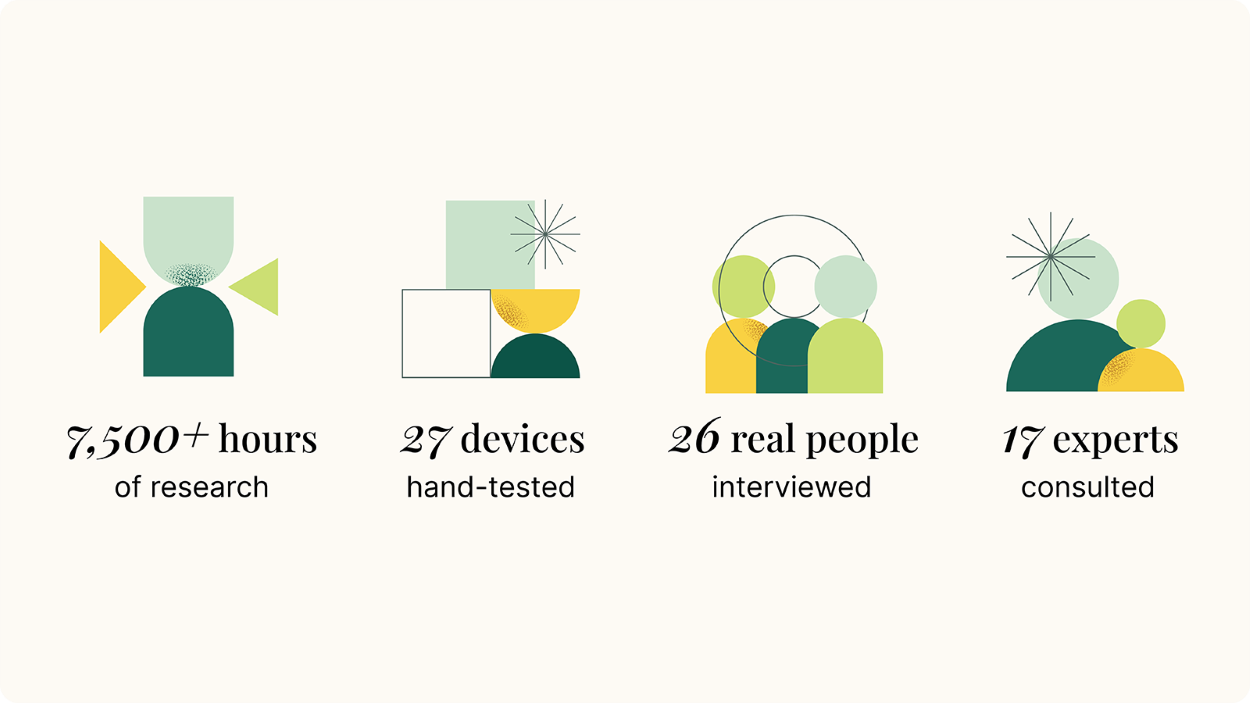 Hearing and mental health are closely related. In fact, people with hearing loss tend to experience higher rates of anxiety, depression, and social isolation, which can result in loneliness and frustration, according to research.
Hearing loss is also a risk factor for developing dementia, with recent research showing the use of hearing aids can slow cognitive decline in older adults.
The impact of hearing loss on physical and mental health is far-reaching. This is why at HelpGuide, we've made it our mission to give every person access to the best information about hearing aids, so we can also help get quality products into the hands of people who need them.
Our Handbook Team hand-tests every hearing aid brand we review, so we can feel confident recommending the best products for our readers. We consult with audiologists, researchers, and industry leaders in hearing health, as well as mental health experts, to vet our choices and help us better understand the nuances of how hearing health impacts physical and mental health.
We also put ourselves in the consumer's shoes by mystery shopping brands and walking through the set-up process, just like new customers. Additionally, we interview real people with hearing loss and survey hearing aid users.
By compiling our testing data, interview and survey results, and insights from hearing care providers, we formulate a strongly informed perspective that we're sharing with you here.
Who are we?
We're the Handbook Team—a group of writers, editors, designers, medical reviewers, and fact-checkers who have spent years perfecting the art of testing and reviewing health products.
We've spent more than 8,000 hours studying and testing over-the-counter (OTC) and prescription hearing aids. To date, we've interviewed more than 20 audiologists, hearing instrument specialists, gerontologists, psychologists, and other professionals with insight into hearing loss and the hearing aid industry. We've also interviewed more than 25 real hearing aid users, surveyed 1,000 people who have bought hearing aids in the last two years, and read more than 30 scientific journal articles about hearing loss and hearing aids.
After considering more than 50 hearing aids from over 15 brands, we chose 27 models to hand-test and review.
What goes into our review process?
Professional insights
We interview experts in the fields of audiology, psychology, gerontology, and general health care to learn from their experiences working directly with people with hearing loss. These specialists help us understand the hidden impact of hearing loss, how hearing aids can help, and which features are essential for improved hearing.
We're especially interested in the connection between hearing loss and mental health. Through our expert interviews, we've learned how hearing loss can have a cascading effect on confidence, socialization, and overall well-being, which adds a dose of urgency and compassion to our work.
Because hearing aid access depends on public policy and insurance stipulations, we interview policymakers and insurance professionals to clarify laws and policies. We also talk to hearing tech industry leaders and hearing aid manufacturers to learn how hearing aids work and what innovations to expect in the future.
Audiologists and hearing instrument specialists also medically review each of our guides before publication, ensuring our advice is factual and that we've correctly summarized findings from scientific journals.
We've talked to more than 17 specialists for our hearing aid reviews. Meet some of the experts we rely on:
Surveys
We send out periodic surveys to hearing aid users to learn what features they most want in a hearing aid, how effective their hearing aids have been at improving both their hearing and overall quality of life, and what pain points they've experienced. We use this information to guide our tests, allowing us to recommend products that meet the needs of a typical hearing aid user.
For example, we wondered which hearing aid features people want and are willing to pay for, so we created a survey to find out. As it happens, people want hearing aids that improve their hearing, feel comfortable, and meet their budget. Ultra-sleek designs or convenient extras like Bluetooth connectivity weren't critical to most people.
Because hearing loss affects people of all ages, we were also curious to find age-based preferences, if any. For the most part, people who use hearing aids prioritize the same functions regardless of their age, but our surveys did reveal that people younger than 45 are more likely to buy OTC hearing aids.
Our surveys also show a strong preference for one OTC hearing aid brand, Sony, among existing hearing aid customers, likely due to the brand's name recognition. Prescription devices, on the other hand, show more even distribution, especially among people older than 45.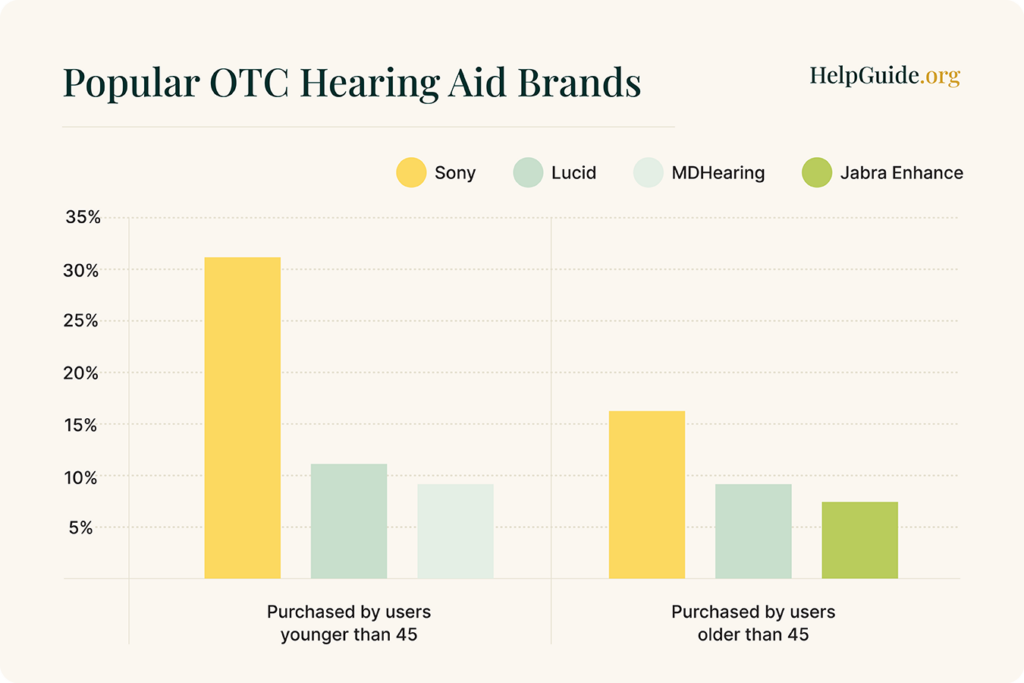 Focus groups and interviews
We hold group discussions and one-on-one interviews with people who have hearing loss but don't yet have hearing aids, as well as those who do wear hearing aids. This first-person feedback helps us understand the challenges people with hearing loss face on a daily basis and what kind of hearing aid features alleviate those issues. To date, we've interviewed more than 25 hearing aid users.
Mystery shopping
Buying a hearing aid is sometimes a multi-step process, which can be frustrating if you're expecting a smooth and fast transaction. To identify potentially aggravating roadblocks, like unexpected hearing tests or slow shipments, we purchased our test models as mystery shoppers. We also evaluated each brand's customer service by calling the sales line with questions and contacting the brand's customer service team (if applicable) for post-purchase support.
Hands-on testing
We personally test every device to discover the strengths and weaknesses of different brands and models. To that end, we conduct testing summits designed to help us understand each detail, from the user manual to features and sound quality.
At least five Handbook Team members attend each summit, and we create standardized protocols to ensure we all test features like battery life and Bluetooth connectivity the same way. We encourage each other to form strong opinions about comfort, sound quality, ease of use, and other subjective features that are important to people with hearing loss.
Our testing experience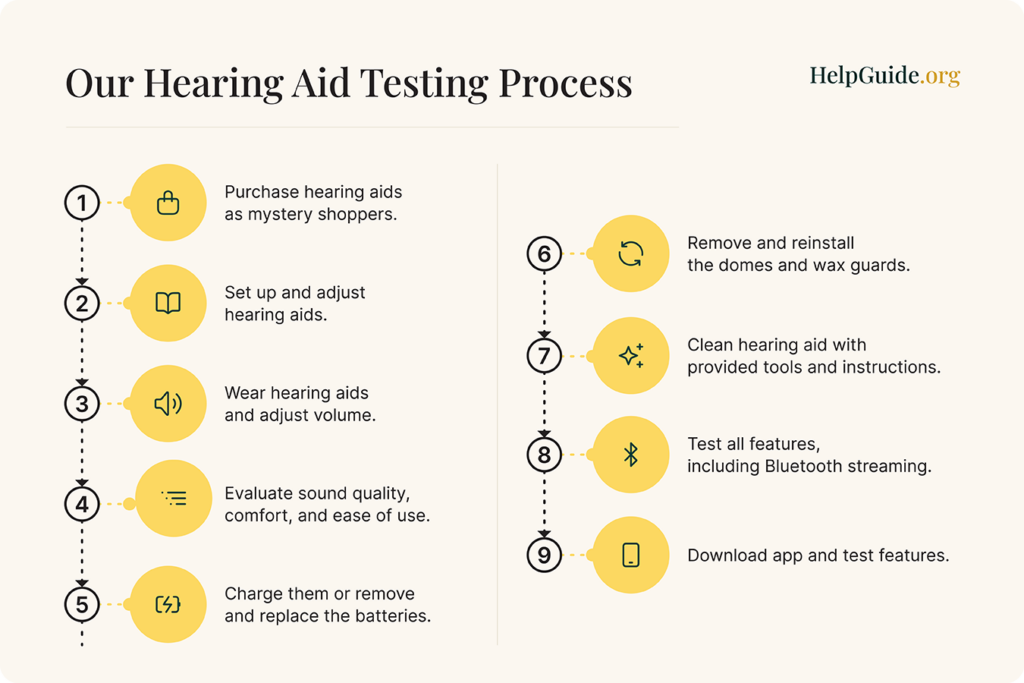 We've hand-tested more than two dozen hearing aids to date. We choose hearing aids to test based on their popularity among survey respondents, brand recognition and reputation, and audiologists' recommendations.
Our testing process involves a number of detailed steps, which we follow for each device.
Unboxing the hearing aids: The packaging should protect the hearing aids but be easy to open, and it should be intuitive to set up the charger, if applicable.

Setting up and adjusting the hearing aids: We follow set-up, adjustment, and fitting instructions exactly as written in the manual or app, carefully noting any confusing steps or technical issues.

Pairing Bluetooth-enabled hearing aids to a smartphone: The best devices pair on the first try, remain connected, and have good audio quality when streaming (if applicable).

Testing all app features: We use the app, when available, to adjust volume and other settings, take a hearing test, watch tutorial videos, troubleshoot issues, shop for supplies, contact customer support, and perform any other actions available through the app.

Testing on-device buttons and dials: We use the buttons and dials available on the hearing aids to adjust volume and change between settings.

Changing or recharging batteries: We look for hearing aids with easy-to-open disposable battery compartments or, in the case of rechargeable hearing aids, intuitive charging docks, low-battery alerts, and quick-charging options.

Maintaining and cleaning: Following the manual's instructions, we clean the hearing aids and change wax guards, domes, tips, tubing, and receiver wires.

Wearing hearing aids: We evaluate comfort and sound quality by wearing the hearing aids throughout our normal routine.
Customer service also varies widely among brands, and because our testing process doesn't stop at the devices themselves, we also find out everything there is to know about the general and audiology-specific support available from each company.
The five most important things to know about hearing aids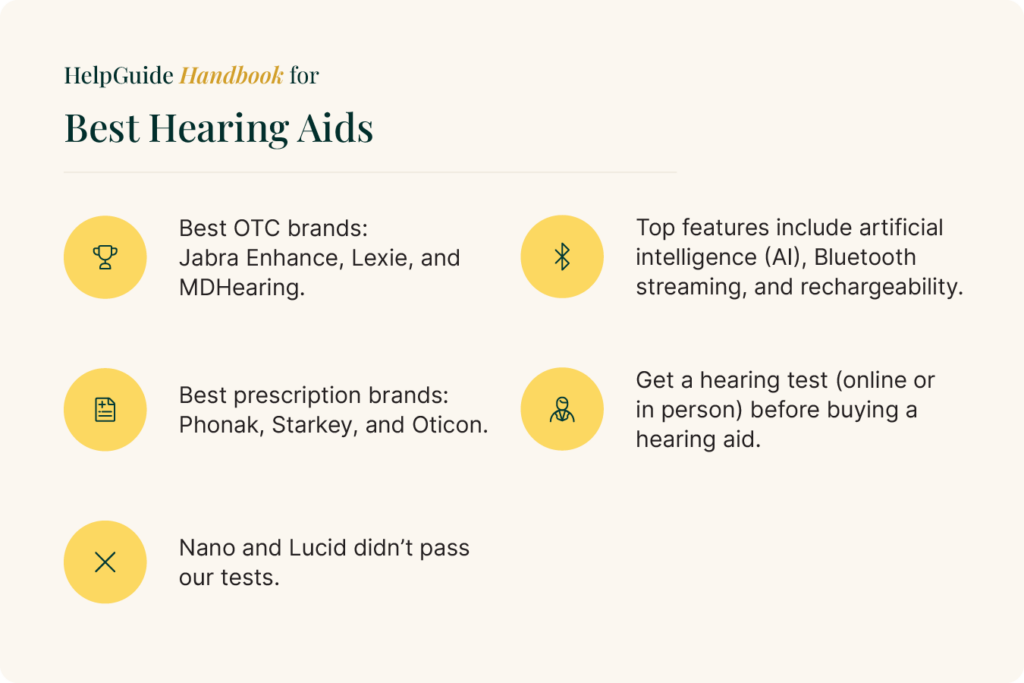 Bottom line
Before buying any health product, it's important to learn about it through trusted sources committed to excellence in their field and who put your best interests first. When we include a hearing aid in one of our articles, you can rest assured knowing our team has uncovered all the details you need to know about that device, from the perspective of both an expert and a customer.