These products & services are researched and tested by HelpGuide's independent consumer reviews partner. When you buy through the links, we may earn a commission.
Sleep disturbance is a serious issue that impacts mental health. According to the Centers for Disease Control and Prevention, about 35 percent of adults regularly sleep less than the recommended seven hours per night, and people who don't sleep enough are 2.5 times more likely to feel stressed, anxious, or depressed.
If you're one of the many people who need to improve your sleep, talk to your doctor about your options. The Handbook Team understands how nerve-wracking it can be to make a change, but we're here to empower you to take control of your health.
Some medical conditions that affect your sleep, like snoring, acid reflux, or chronic pain, can improve by changing your sleeping position with products like adjustable beds. People with mobility issues can also benefit from head elevation to help them get up faster and safer. Regardless of medical status, the ability to change position can provide a better night's sleep for anyone. When we surveyed 600 adjustable bed owners, more than 500 said their sleep improved after sleeping on an adjustable bed. This was a significant finding, so the Handbook Team investigated.
We tested adjustable beds and spoke with sleep experts to find the top seven brands on the market, uncovering why they're helpful and who they can benefit. This review will reveal why Saatva is our top pick and the most important features to consider, so you can feel confident choosing the right bed.
Which adjustable bed is right for you?
Why HelpGuide cares about a good night's sleep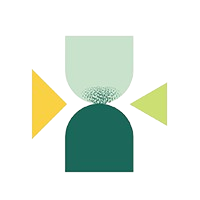 of research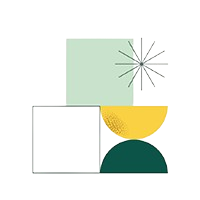 evaluated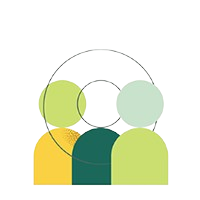 interviewed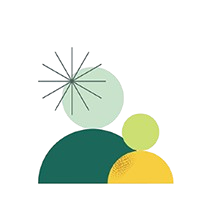 consulted
Quality sleep is a key part of mental health, physical health, and overall well-being. Sleep helps us reset our bodies, process our emotions, and squash daily stressors. Without it, we can develop chronic mental health issues like anxiety and depression, according to research.
But there are medical conditions that can make sleep difficult. Chronic pain, acid reflux, loud snoring or sleep apnea, and insomnia are issues that can keep you up at night.
Finding solutions for better sleep can be frustrating, but we're here to help. The HelpGuide Handbook Team wants to empower you to make the right decision by providing the most honest information about sleep health and related products, like adjustable beds.
In order to recommend the best options to fit someone's needs, we sought to better understand how sleep impacts overall health. We consulted with mental health experts, researchers, and industry leaders in sleep and ergonomics to connect the dots about what really matters in an adjustable bed experience.
Ultimately, we want to support your sleep health and overall mental well-being. Through in-depth testing and research, we aim to take the stress out of your search for better sleep by sharing our findings with you here.
Learn more about our adjustable bed review methodology.
What you need to know about adjustable bed research and testing
Here are the five most important things to know about adjustable beds.
Our testing experience
The Handbook Team mystery shopped in showrooms and third-party retailers, testing each adjustable bed's features and interacting with in-store clerks. We evaluated brands and models by recording our findings on a 36-question standardized testing form to identify standout features and services, document problems with each product, and describe what our shopping experience was like. For example, we recorded:
Adjustment speed, noise, and feel.
Massage modes, intensities, and quality.
Customer service experience and general satisfaction.
We searched for adjustable beds that offered the best fundamentals, like easy adjustability and a user-friendly control system, so all of our options fit the basic needs identified by respondents of a survey of 600 adjustable bed owners. We also interviewed real people who bought adjustable beds, digging deeper into the reasons why an adjustable bed worked for them—or why it didn't.
According to our survey, about 91 percent of respondents reported they sleep better with their adjustable base, and 73 percent noticed improved mental health. All focus group participants agreed their adjustable beds improved their sleep, and their only regret was not buying one sooner.
We also considered the functionality and practicality of advanced features, like massage, lighting, and mobile applications, which can offer convenient ways to relax and unwind. We found the effectiveness of advanced features was based on personal preference. For example, several testers didn't like the massage quality in some adjustable beds, noting how it felt like intense vibration rather than kneading. But you might find the vibrations relaxing, depending on your tolerance.
In order to focus on the adjustable bases themselves, we structured our test designs so they isolated the bases and judged them on criteria independent of the mattress. For example, we tested the capabilities of the adjustable bases, such as positioning options, that are the same no matter what mattress you use. It is important to note that certain criteria like mattress firmness will have an impact on your comfort, but we strategically organized our test designs to focus on the comfort of the adjustable base regardless of what mattress you have.
Lastly, we compared warranty lengths, trial periods, and white glove delivery (in-home delivery and setup) options. While most brands offer warranties, not all are comprehensive. And many brands on the market don't have trial periods or free white glove delivery. This could be a deal-breaker if you're nervous to invest in a healthier sleeping environment because you're worried the bed won't get set up properly or offer what you need.
From our tester
"During our testing, we realized that many beds are manufactured by the same company: Leggett and Platt. This means a lot of beds are very similar. But it's the brand's warranty, trial period, and white glove delivery option that really shows how devoted it is to the customer."
Read more about our adjustable bed testing methodology.
Compare the best adjustable beds
| | | | | | | |
| --- | --- | --- | --- | --- | --- | --- |
| | N/A | Twin, twin XL, full, queen, king, split king, California king, split California king, Upper-Flex queen, Upper-Flex king | 15–25 | No | Yes, free | Visit Site |
| | $1,399–$2,798 | Twin XL, full, queen, split king | 3 | 50 | Yes, $199** | Visit Site |
| | N/A | N/A | N/A | N/A | N/A | Visit Site |
| | $1,199–$2,099 | Twin XL, full, queen, split king | Lifetime | 101 | No | Visit Site |
| | $1,159–$4,499 | Twin XL, full, queen, king, split king, split California king | 20 | No | Yes, $249 | Visit Site |
| | $899–$4,798 | Twin long (XL), queen, king, split king, California king, split California king | 25 | No | Yes, free | Visit Site |
| | $1,099–$4,199 | Full, queen, king, split king, FlexTop king, California king, split California king, FlexTop California king | 15 | No | Yes, $249 | Visit Site |
*Some sizes not available in certain models
**The white glove delivery offer frequently changes, so check with customer service to make sure it's available for your order
The best adjustable bed reviews
1. Saatva: Best Overall
After testing more than 13 adjustable bed brands and 28 models, the Handbook Team awarded Saatva as our top pick because of its strong lineup of advanced features and white glove delivery at a mid-range price, with opportunities to use discounts and frequent promotions for more savings. It also has a reputation for being a trustworthy brand, with 4.78 out of 5 stars on Better Business Bureau and 4.6 out of 5 stars on Trustpilot—making it the highest-rated brand in the industry.
We also like how Saatva checks almost every box on a shopper's list, which no other brand is able to do. According to our survey of 600 adjustable bed users, the top five considerations when shopping for an adjustable bed include brand reputation, variety of features, in-home delivery and setup, discounts or promotions, and price. Here's how Saatva fulfills each one:
Brand reputation: We believe Saatva lives up to the hype. Our testers found that in-person and online customer service was helpful and respectful, and the products functioned exactly as expected without finicky controls or jolty adjustments that make transitions between positions uncomfortable.
Variety of features: This is where the Adjustable Base Pro model shines. It offers three preset positions (zero gravity, anti-snore, flat) and one memory position you can set yourself. You also get adjustable legs, isolated head and foot massage, under-bed lighting, and a wall-hugging design. One tester commented that the remote was easy to understand despite all the different feature buttons, and if you're trying to activate a feature at night, each button is backlit so you can see what you're pressing.
In-home delivery and setup: Your adjustable bed purchase comes with white glove delivery, where the delivery service will set up your base in your bedroom. A showroom representative told our team that it'll remove your old mattress and foundation for you on the same day, too.
Discounts or promotions: You can redeem $225 off your purchase of $1,000 or more if you're a military member, veteran, health care professional, first responder, government employee, teacher, student, or adult 65 and older. Also, watch for Saatva's frequent online promotions, which drop the price by a few hundred dollars. We wish Saatva made these discounts more obvious, but you have to look at the bottom of the website under "Resources" to find them.
Price: Saatva's price range falls below average compared to other brands in this review, which is impressive, especially with a bundled-in white glove delivery service.
From our tester
"Saatva did not have a TV or reading preset, which elevates the head of the bed to a full seated position. But you can adjust the head of the bed to an upright position—you just have to do it manually using the arrow buttons."
When we visited the Saatva showroom, we brought along a decibel meter so we could test Saatva's claim that the Adjustable Base Plus is "whisper quiet" during adjustments. Despite background music interfering with our test, we concluded it's indeed about the sound of a whisper, which is helpful if you or your partner is a light sleeper.
Saatva's standard model, the Adjustable Base, was slightly louder. While the sales representative told us both motors are the same, the Adjustable Base has a thinner, fabric-covered platform that transfers sound more easily. While still quiet, you can use a latex or memory foam mattress to dampen the noise even more.
Finally, we also like the Saatva Adjustable Base Pro because it offers couples a queen- or king-size Upper-Flex (split-head) option that only splits the head of the bed, which can help alleviate conditions, like snoring and acid reflux, while the rest of the bed remains intact for more comfortable intimate moments. Split-head adjustable beds are hard to find, and any type of split queen is even rarer, so we applaud Saatva for filling this industry gap for its customers.
What our testers say: "Even though the Adjustable Base Pro doesn't have a seated preset, the bed can go all the way up to a comfortable seated position in a smooth 15–20 seconds. Its latex mattresses seemed to stay on the base the best, even in extreme positions, without shifting."
Saatva
Our verdict: Saatva has the best reviews on the market, and the brand's Adjustable Base Pro has the most comprehensive lineup of features and services, like free white glove delivery, a long warranty, preset and memory settings, and multiple leg heights between 13–18 inches, all at a competitive price.
2. Nectar: Most comprehensive warranty
Nectar seems to understand a buyer's initial hesitations when shopping for an adjustable base: At this price, how do you know it'll work for you (or at all) over time? To make you feel comfortable with your purchase, this brand offers a 50-night trial period and the industry's most comprehensive accidental warranty coverage when you add it at checkout.
Focus group participants said they waited eight or nine months to commit to their adjustable base because they felt overwhelmed with their options and were worried the adjustable bed wouldn't help after spending thousands. Budget, trial periods, and warranties were three of the most common considerations mentioned by our focus group participants. This list was slightly different from the top five considerations identified in our 600-person survey (brand reputation, variety of features, in-home delivery and setup, discounts or promotions, and price).
While the Nectar Adjustable Frame is one of the more expensive options on this list, the brand's website frequently advertises deals and promotions that significantly cut costs. For example, when we wrote this, Nectar had marked down its adjustable queen base by 50 percent to $749. Like Saatva, you might qualify for a 40 percent discount code if you're a military member, veteran, first responder, or health care professional.
The Handbook Team loves that Nectar offers a trial period so buyers can ensure their investment is worthwhile. Similar to other brands that offer trial periods, like Puffy, you need to keep your base for at least 30 days before initiating a return to give your body time to adapt, test out the features, and play with the settings. And if it doesn't work for you after 30 days, you can get a full refund.
But what's most unique about Nectar is its extended warranty option with Extend, which starts at $169 but is often cheaper with the frequent site-wide promotions. A customer service agent told us that opting in gives you full coverage, including accidental damage protection, for 10 years beginning the date of purchase. This covers electrical and metal frame issues, which most brands refuse to protect. We recommend Nectar for rambunctious households with pets and kids, or if you plan to move and you're worried about movers damaging your bed.
A warranty may offer protection, but you hope never to use it. One of our testers has owned the split king Nectar Adjustable Frame for more than three years and vouched for the base's durability thus far. The only time the bed sounds rickety (like a light clacking sound) is while adjusting it to the fully-seated position without a person's weight on the base. Otherwise, it moves smoothly and hasn't malfunctioned since purchase.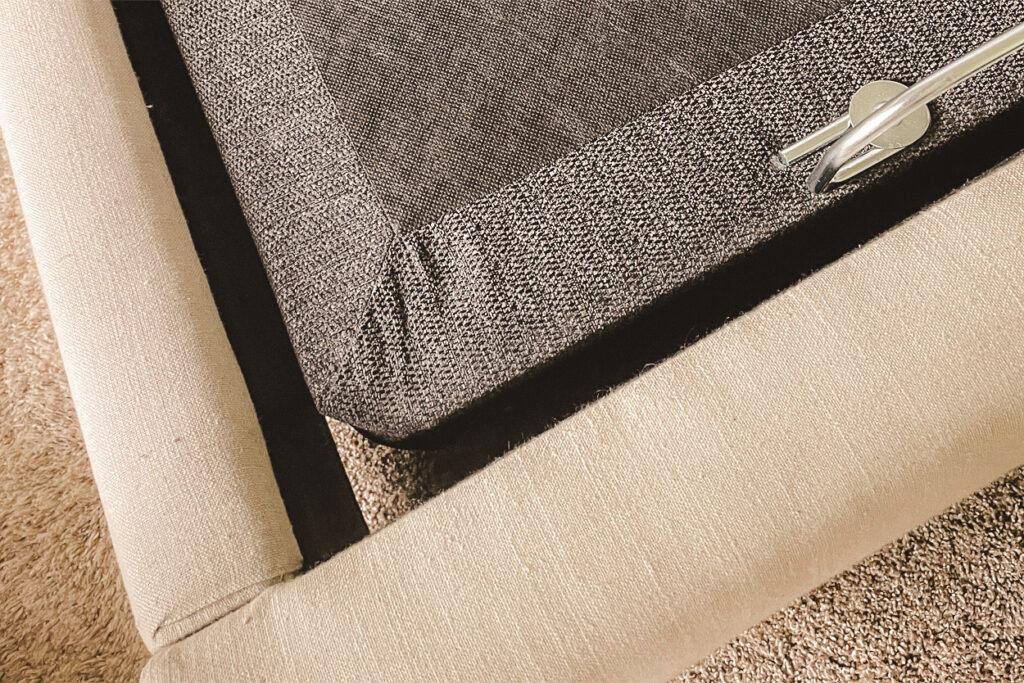 What our testers say: "The base has a slim profile but is very heavy. We got the white glove delivery, so we didn't have to lift it. But the base is easy to use and has a simple remote. There is a Nectar Move app, but I used the remote because it was too much of a hassle to pair the app with the base since there were no instructions."
Nectar
Our verdict: The Nectar Adjustable Bed Frame is a safe choice because you get a trial period to test your base at home and an option to extend your warranty to cover accidental damage for up to 10 years, which no other brand offers.
3. Casper: Most affordable
Sometimes less is more. We recommend the Casper Adjustable Base Pro as the best budget-friendly model with basic features for better sleep. That's because it includes our four out of our survey respondents' top five most important features: preset positions, adjustable leg height, massage, and custom presets.
Casper bases don't offer lumbar support, as this feature can spike starting costs close to $2,000, like the TEMPUR-Ergo models. But the Adjustable Base Pro does cover the rest of the list while staying within most people's budget of $1,000–$1,999, according to survey participants. This model's regular price ranges between $995–$1,990, and during site-wide promotions, this range can drop by 50 percent. When we wrote this article, the discounted range was between $497.50–$995, which sits well below budget.
Here's how the Casper Adjustable Base Pro features perform, as tested by our Handbook Team:
Preset positions: It was easy to locate and use each preset position on the remote, including anti-snore, zero gravity, and flat. It lacked a TV/reading preset that fully elevates the head of the bed, and elevating it manually didn't seem to go as high as other bases with TV/reading mode, like Nectar.
Adjustable leg height: Although we couldn't adjust the leg heights ourselves in-store, we did get to see the different models set at various heights and placed on different surfaces. We liked that Casper offers a range of leg heights between 5–12 inches, and it worked well sitting on a wooden foundation with the legs removed completely (known as a zero-clearance design).
Massage: The Casper Adjustable Base Pro has two-zone massage targeting the head and the feet. At first, we couldn't figure out how to switch between intensities on the remote, but we eventually learned that each button click would cycle to the next setting. Our team agrees the massage feels more like vibrations, and while some people may enjoy it, others might not find it relaxing.
Custom positions: You get two custom preset positions, allowing you to save your favorite positions if they are not already preset. You can set the custom positions by adjusting your bed into the position and pressing one of the memory (M) buttons for about five seconds. If you want a similar position to the TV/reading preset, set one of these buttons to maximum head elevation, but remember it doesn't go very high.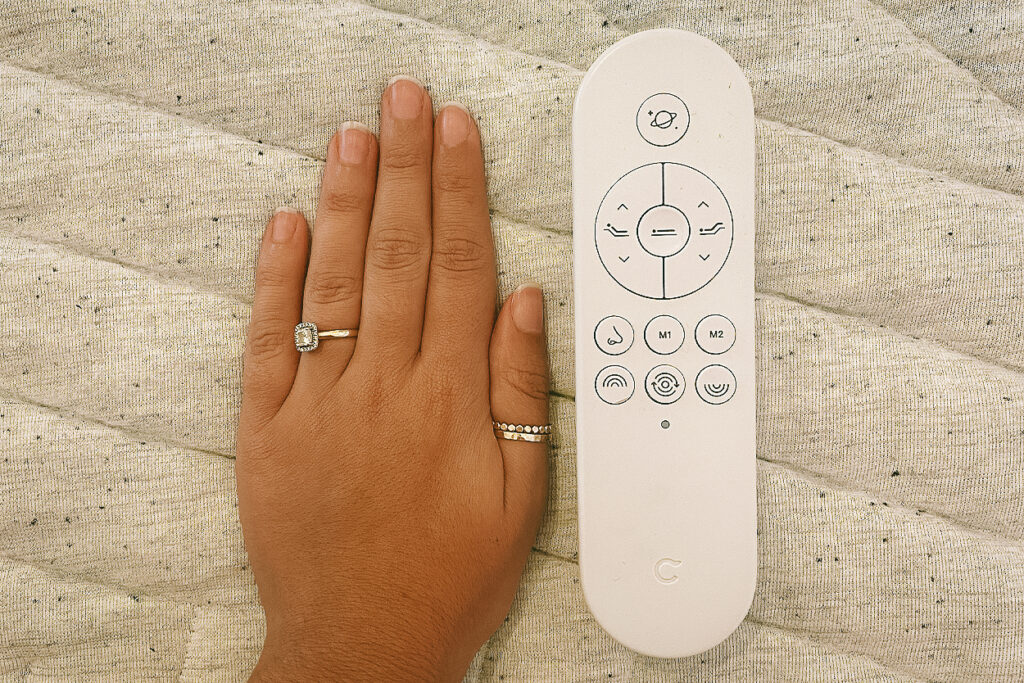 We also like that Casper offers a 30-night trial period to test it out at home and free returns if you decide against it. Buying a mattress and adjustable base together in-store will give you a full 100-day trial on both items, but it's an upsell, and you'll need a Casper location near you to take advantage of this offer.
What our testers say: "The only issue with Casper adjustable beds was the USB port placement. It was located underneath the bed, so they were difficult to locate. All of us, including the showroom retailers, were on our hands and knees searching! We even needed to consult the owner's manual. I'd probably keep a charging cord there at all times, so I don't need to get on the ground and find it every night."
Casper
Our verdict: Shoppers on a strict budget can opt for Casper's mid-level model, the Adjustable Base Pro, and get the most important features people need for a better night's sleep without paying for extra features they might not need.
4. Puffy: Best trial period
The Handbook Team likes Puffy for its long 101-night trial period, which is significantly more than the 75-night average among other brands that offer trial periods. It's uncommon to find trial periods for adjustable bases, which is why many of our picks offer them. When we asked retailers why trial periods are unusual, they said they're too difficult and costly to move. Yet Puffy offers a generous one, which gives you time to decide if an adjustable bed is right for you. If it's not, you can return it for free.
If your doctor agrees that an adjustable bed could benefit your condition, one focus group participant urged prospective buyers not to wait, saying it "made up for more than I spent." Ryan Sultan, assistant professor of clinical psychiatry at Columbia University, highlighted how important it is to break the cycle between poor sleep and pain. "Sleep deprivation lowers the pain threshold, making individuals more sensitive to pain. Both sleep deprivation and pain can activate inflammatory responses in the body, contributing to various health issues, including mental health conditions," he says.
One of our testers noted how chunky the Puffy Serenity Adjustable Base looked compared to Saatva and Avocado. A retailer told us to recruit help to set it up at home since it's bulky and weighs more than 130 pounds for a queen. Inconveniently, Puffy doesn't offer white glove delivery, so you'll need to find family or friends to help you. You can also hire a handyperson from a local or online service, like Handy or TaskRabbit, but you'll want to monitor the job to ensure they set up the base correctly and don't cause damage in the process.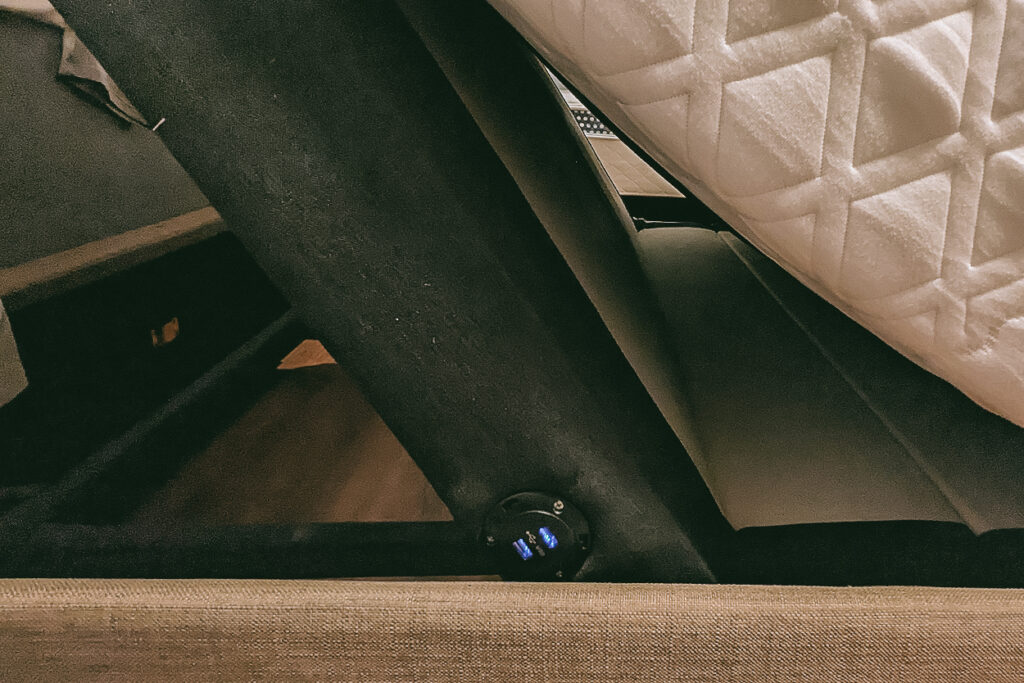 What our testers say: "During adjustments, this base felt very smooth, and its noise level wasn't discernible in-store. The motor was really quiet."
Serta offers a 120-night trial period that beats Puffy, but the website isn't as straightforward as others about features and size options, and the 120-night trial only applies to online purchases. We like Serta for its low-price split California king adjustable beds, but Puffy takes the lead with its limited lifetime warranty compared to Serta's 20-year limited warranty. But neither offers white glove delivery.
Puffy
Our verdict: Puffy has a long 101-night trial period (the second-longest on this list), which is great for people with chronic conditions or who need longer to decide if the base meets their needs, but it's inconvenient that its chunky base doesn't come with a white glove delivery option.
5. Avocado: Most eco-friendly
Avocado is one of the most sustainable brands on the market, as the company uses responsibly sourced woods and fabrics to manufacture its adjustable beds and mattresses. We loved the brand's Global Organic Textile Standard (GOTS)-certified organic cotton most of all. This stamp of approval ensures the adjustable bed fabrics contain the least possible health-harming substances.
Fabrics used to make adjustable beds and mattresses can contain a number of chemicals from the production process, like formaldehyde, known to irritate the skin and increase cancer risk. Most of these chemicals get rinsed away before the finalized product, but traces can be enough to harm your health. Avocado ensures its fabrics are processed as safely as possible to avoid these chemicals.
We loved how Avocado beautifully designed its adjustable bases, from the cotton platform to the pill-shaped, speckled remote. The natural elements, like the wooden legs and earth-toned framework, are aesthetically pleasing and soothing. You'd expect all-natural brands to come at a premium, yet we were impressed that the starting price remained comparable to other brands (like Saatva and Nectar) while still offering advanced features, like timed massage and under-bed lighting.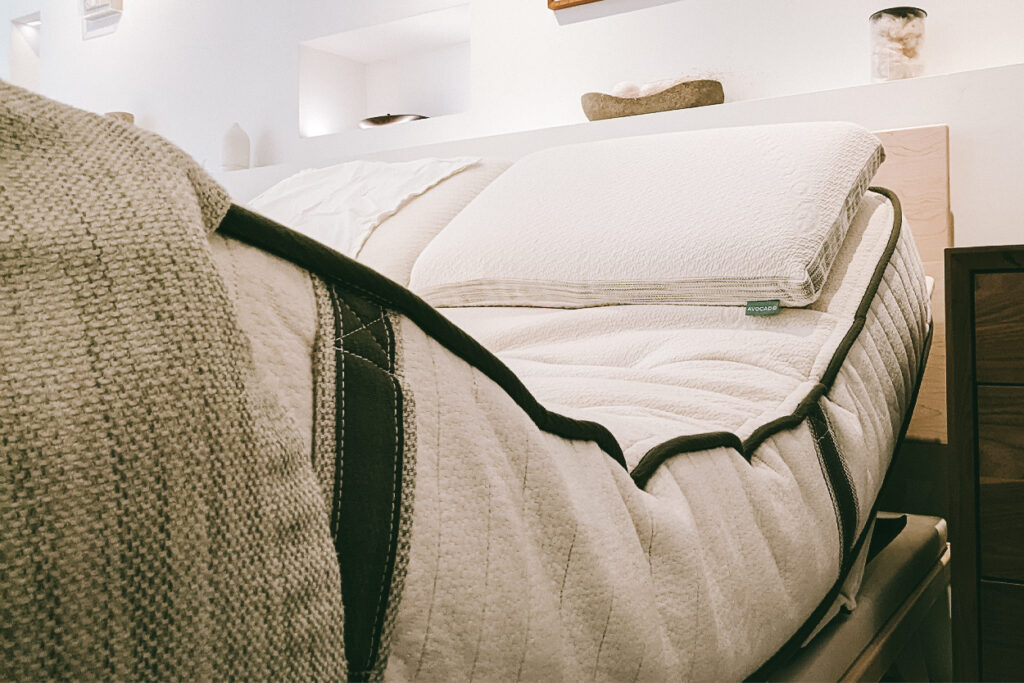 Unfortunately, you must pay extra for white glove delivery, which is $279 with old mattress removal and $249 without. And we don't like that you have to pay delivery fees proportional to weight, which can be expensive. Avocado adjustable beds weigh between 109–294 pounds, depending on the model and size.
What our testers say: "The natural adjustable base fabrics work well with the cotton-covered mattresses because they move better together compared to other brands I've seen, like Saatva's Classic Mattress with its adjustable bases."
Avocado
Our verdict: Avocado adjustable bases are an eco-friendly option for your home, but you'll need to budget for white glove delivery (with or without old mattress removal) and extra delivery fees, depending on the weight.
6. Tempur-Pedic: Best for advanced tech
Tempur-Pedic is the most technically advanced adjustable bed brand in this review, offering a smart base with built-in speakers that sync massage vibrations to sounds from your Spotify playlist or action-packed movie marathon. But the most valuable feature found in TEMPUR-Ergo Smart Bases is sleep tracking through a companion mobile app called SleepTracker-AI, where you can see data about your sleep patterns and learn ways to improve your sleep.
TEMPUR-Ergo smart base models have integrated monitors that detect your vitals and movement, translating them into sleep insights on a dashboard. Our team appreciated the app's level of detail, monitoring heart rate and snore frequency detection to help you understand what could be holding you back from a restful night. And when you make changes to your adjustable bed's position, you can see if it helps you sleep better the next night.
For example, if you lie awake before bed, try the WindDown Program, which initiates a 10–16-minute preset cycle with massage to help you relax. Or if you notice that snoring wakes you up at night, you can elevate the head of your bed to see if it alleviates the issue. People who find head elevation helpful and sleep with a partner can activate Snore Response, which automatically raises your head in response to snore-related vibrations before either of you wake up.
The app also offers AI-based sleep coaching that suggests ways to improve your sleep based on your results. However, we recommend you take your insights to a doctor if you suspect that a medical condition could be affecting your rest, like loud snoring and sleep apnea.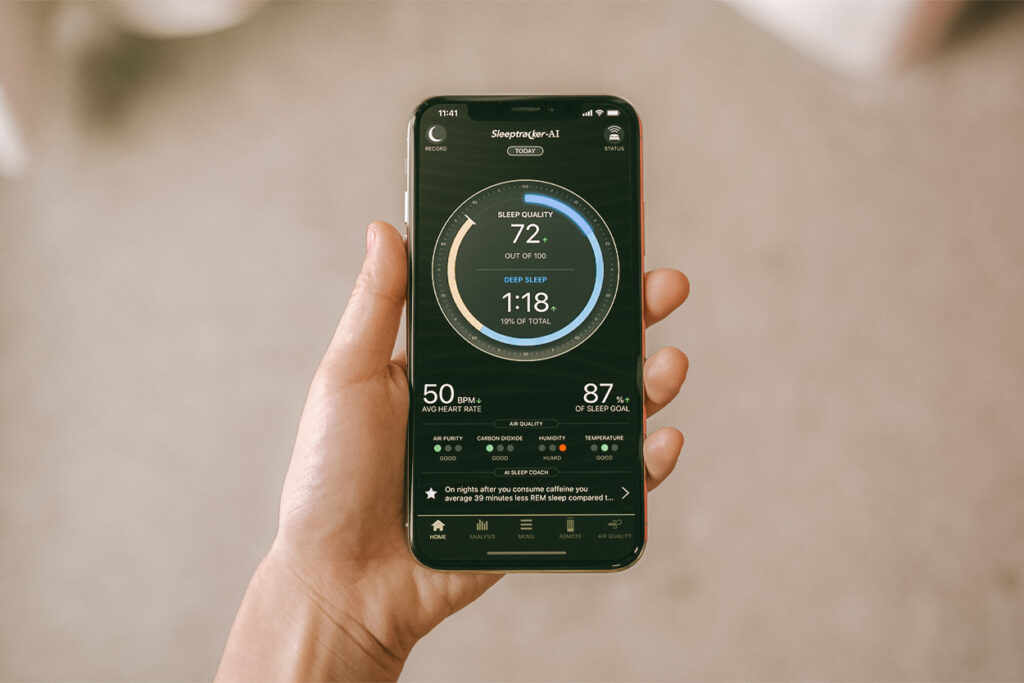 While the Tempur-Pedic smart bases seem complicated, our team found the remotes easy to use. The smart models have more features and the remote has more buttons, but we like that the remote is well-labeled and intuitive for such a technical adjustable bed. We also liked that you can access remote controls on the SleepTracking-AI app, but if you're about to sleep, we recommend using the traditional remote to limit screen time before bed.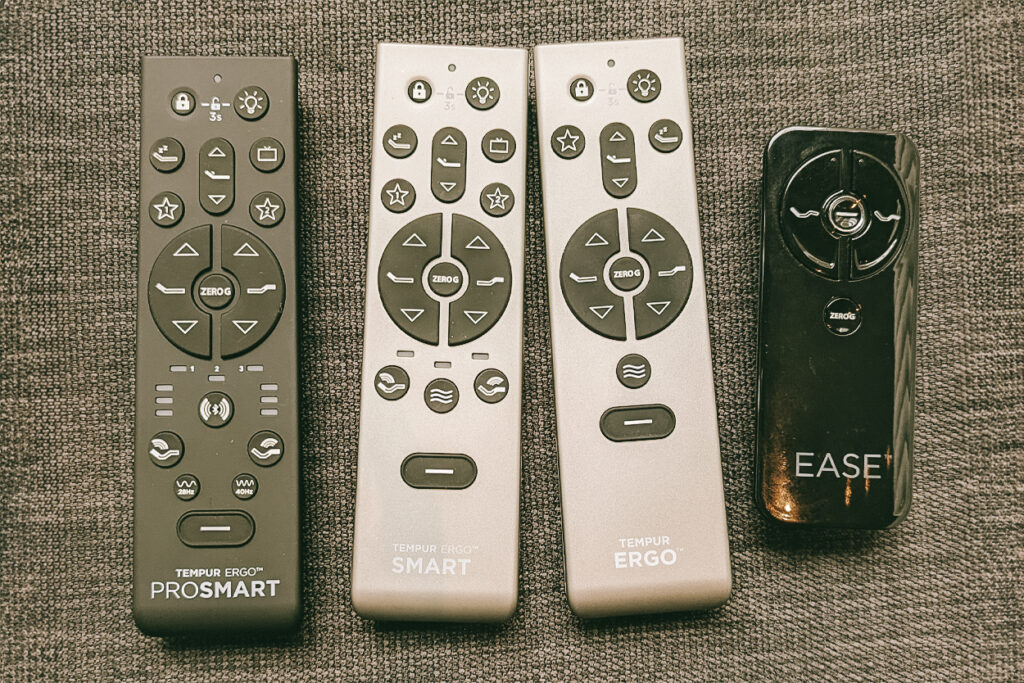 What our testers say: "The technical features were unique to this base, but the basic presets and adjustment quality matter the most. The base's movements were smooth and fast all the way to a near-seated position. I really liked the TEMPUR-Ergo models' lumbar support at a low setting to give me just a little support, but not too much, since the lumbar adjustment bar rises pretty high (6 inches)."
Tempur-Pedic
Our verdict: Tempur-Pedic offers data-driven ways to improve your sleep, which is valuable if you want to understand your sleep preferences better and work with your doctor to improve your sleep quality over time.
7. Sleep Number: Best mattress and adjustable base combination
Sleep Number is our favorite mattress and adjustable base combination because of its customizability. We chose Sleep Number over other brands because you can adjust your mattress by inflating or deflating the air chambers using the same remote that adjusts your base. No other mattress-base combination allows you to sleep on a firmer surface with your feet elevated one night and a soft flat surface the next, adapting to your body's evolving needs. But this level of customization comes with a price. The base alone costs $2,199–$4,199, and adding the mattress increases the range to $4,198–$13,499.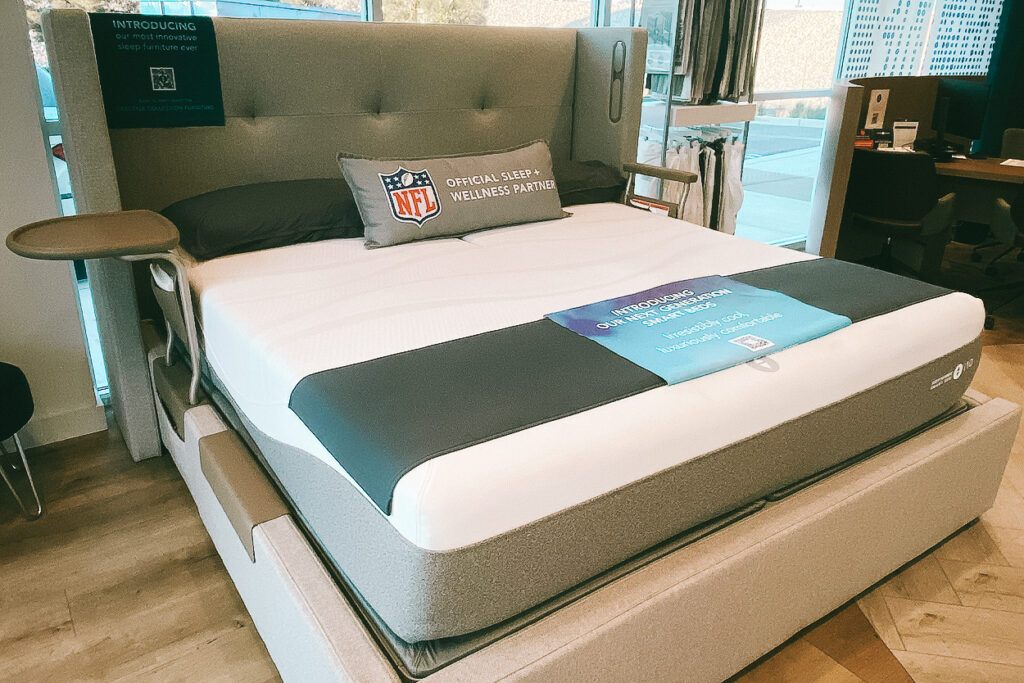 During our mystery shopping experience, we were impressed with Sleep Number's in-person customer service. A store representative will help you find out your Sleep Number setting, which is a number that corresponds with mattress firmness. Using a pressure mapping system integrated into their mattress display, they measure which setting offloads pressure from your hips and shoulders. Sleep Number's air-chamber mattress adjusts slowly, but we felt a big difference between the firmest and softest settings during our testing.
We also appreciated that queen-size Sleep Number mattresses (or larger) have adjustable firmness on each side, so you and your partner can have different firmness settings on a standard non-split style bed. But if you want to adjust each side's head or foot elevation separately, you'll need to purchase a split king or split-top (FlexTop) FlexFit adjustable bed.
Sleep Number beds also have a companion mobile app called SleepIQ. We didn't think the insights were as detailed as Tempur-Pedic's app, although it could still be helpful. For example, SleepIQ detects your vitals and movements like Tempur-Pedic's SleepTracker-AI, but we didn't see snore detection. We also didn't like that Sleep Number doesn't sell its beds with a remote. The app serves as the primary control, but we discourage phone use before bed because blue light emissions can negatively impact sleep quality. If you want the traditional remote, each one will cost $49.
What our testers say: "We got to feel the foot-warming feature on the FlexFit 3, which was subtle but comfy on its lowest setting. The representative told me it has a 10-hour automatic shutoff so that it doesn't accidentally run all day. We also found out that Sleep Number beds need the adjustable base and the mattress together to function properly and get all the features. Otherwise, it's not worth investing in it."
Sleep Number
Our verdict: Sleep Number's mattress and adjustable base are a good investment for people who want full control over the firmness of their mattress and position of their base to accommodate issues that change over time, like sickness or different aches and pains.
Pros and cons of adjustable beds
What we like about adjustable beds
Convenient sleep positioning: Adjustable beds come with basic head and foot adjustability, which can help alleviate common medical issues, like snoring and acid reflux. Pillows and wedges yield similar results, but adjustable beds are more convenient for people who like to reposition themselves or try different angles for relief, rather than fussing around with props that move in the night. Brands have evolved to include more adjustable features, like lumbar support, to better fine-tune your sleeping position and offload pressure where you need it most.
Customers stand behind the product: All focus group participants agreed that they sleep better with their adjustable bed and wish they had committed to it sooner to alleviate chronic pain, improve acid reflux severity, address their partner's snoring, or simply sleep better. About 91 percent of our 600 survey respondents said they also sleep better with their adjustable base, and 73 percent said they noticed improved mental health.
What we don't like about adjustable beds
They can be expensive: Most adjustable beds start around $1,000 before promotions and discounts. They shouldn't be everyone's first option, so try propping yourself with pillows and wedges before investing in an adjustable bed. If it works for you but you need more convenient adjustability, look for deals to avoid buying a bed at full price. Don't forget to look into financing, as every brand in our list offers financing options through third-party lenders at checkout.
Most sales are final: Unfortunately, most brands avoid trial periods due to bulky product shipping. We chose to include as many brands with trial periods as possible because we know how scary it can feel to change your sleeping accommodations, fearing it may worsen matters. You deserve to feel confident in an investment that prioritizes your health, so if you're nervous about changing your bed, go with a brand that has a trial period, like Nectar, Casper, or Puffy.
How much does an adjustable bed cost?
Handbook Team Tip #1
Look out for discount codes. Brands like Saatva and Nectar have discounts for certain types of professionals or age groups, including military members and students.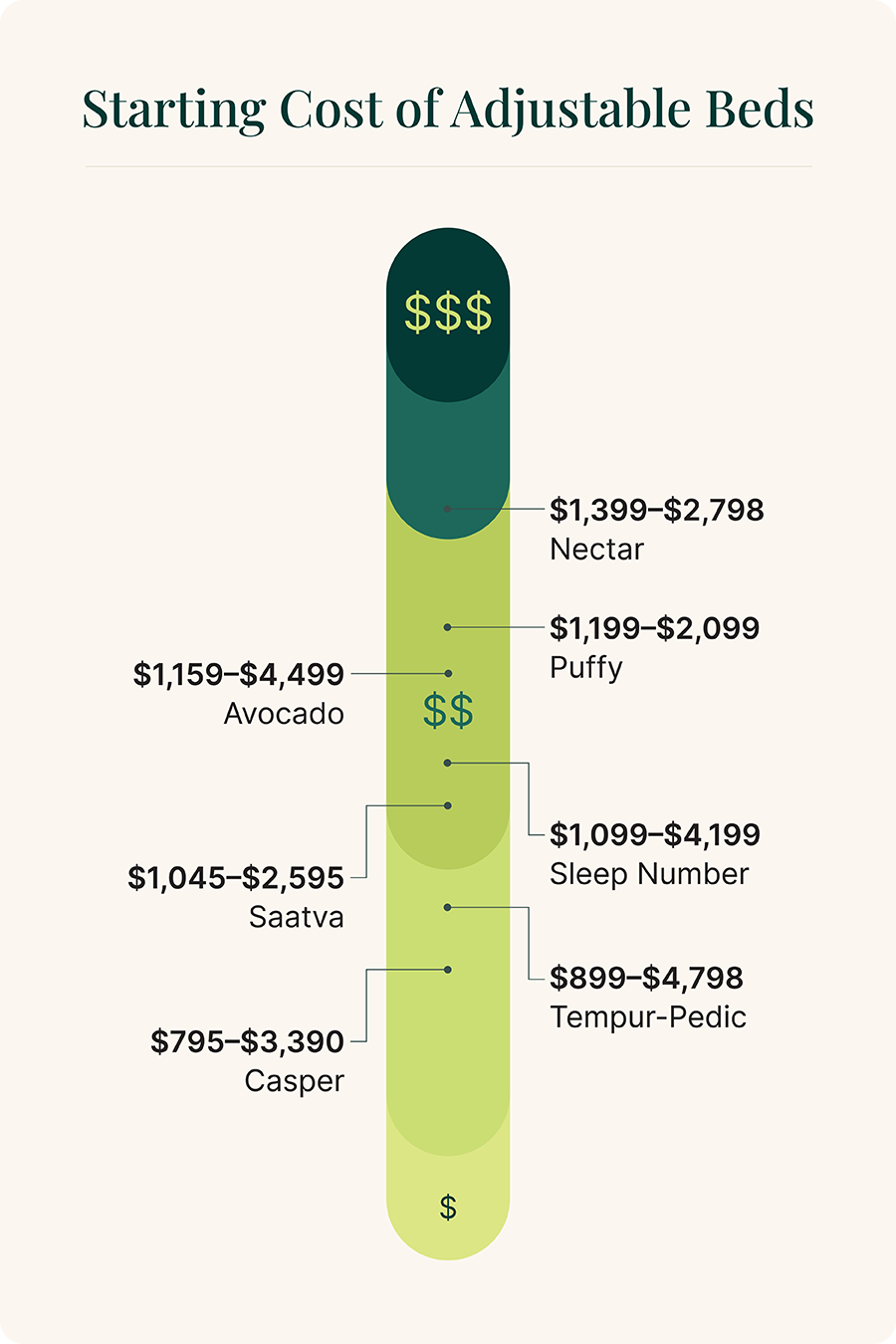 Adjustable beds cost between $300–$7,000 depending on the brand, size, and features.
This review lists brands with adjustable bed options starting at $795 before deals and promotions, keeping prices closer to most people's budget of $2,000 or less. Remember that some brands, like Nectar and Casper, may reduce costs by up to 50 percent during certain offers.
Key features to look for in adjustable beds
Below are the most important features of an adjustable bed, as identified by our focus group participants, survey results, and testers.
Smooth, intuitive head and foot adjustments
Although some beds (like the Sleep Number FlexFit 1) only elevate the head, most adjustable beds offer both head and foot adjustments. We found that the best adjustable beds have:
Easy-to-use remote control designs with intuitive icons.
Smooth adjustment mechanisms with a one- to two-second response lag to avoid jerking motions that shake the bed.
Quiet motors with no more than 30 decibels or a whispering sound level.
Adjustment times to a fully upright position of 20–30 seconds.
Preset positions
Presets are factory-set buttons that adjust your bed with one press rather than holding down the elevate or lower buttons. They're a major convenience for people with dexterity issues, like arthritis of the hand and fingers, who might have difficulty manipulating the small remote buttons. They're a minor convenience for those of us who just want to get into certain positions faster.
The most common preset positions are:
Flat: Returns you to a flat sleeping position.
Zero gravity: Elevates the head and the legs so the legs are above the heart, placing your body in a cradled position that some may find relaxing and relieving.
Anti-snore: Elevates the head several degrees (the exact amount depends on the brand) to alleviate snoring by opening the airway and offloading gravity's pressure on the chest. Pressure on the chest can make it difficult for some people to breathe, such as those with sleep apnea or chronic obstructive pulmonary disease (COPD).
Reading or TV: Raises the head of the bed to a fully upright position, which is often 60 degrees or higher. This position is best for sitting and reading in bed.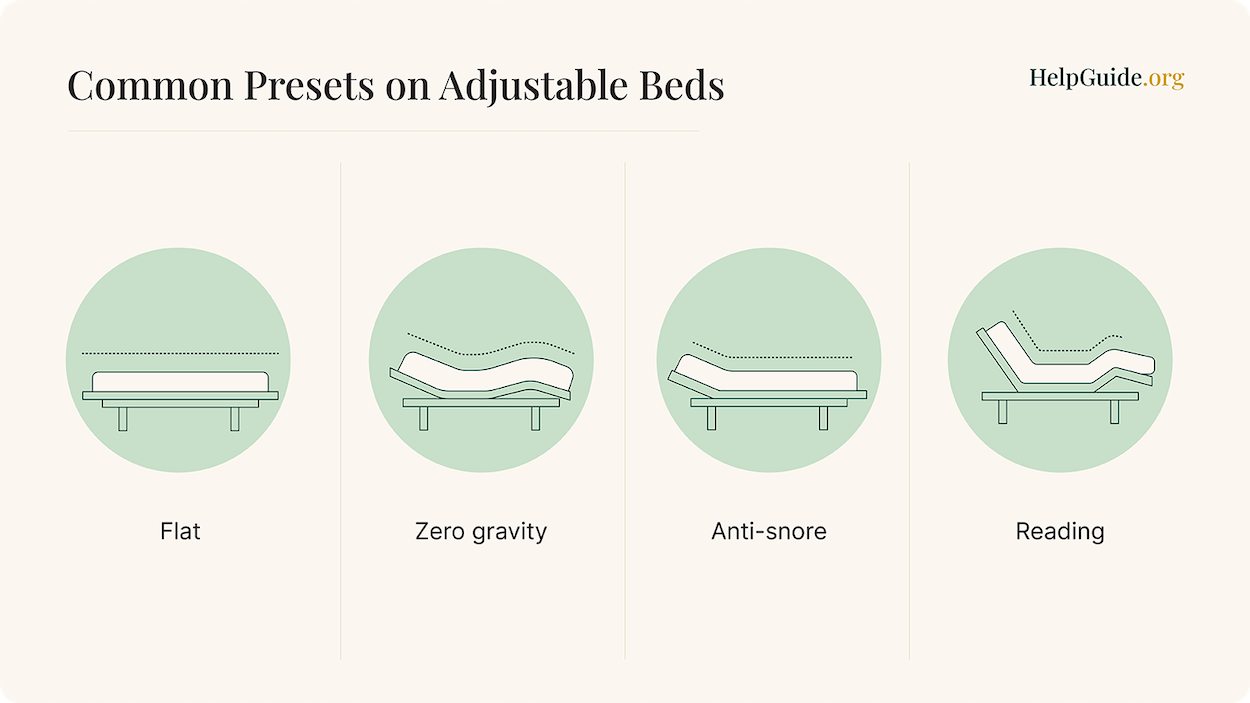 Custom presets
Custom or memory presets are unprogrammed buttons that you can set to your favorite positions. You can change these buttons at any time, usually by adjusting the bed to your desired position and holding the button down until you hear a sound from the remote or see a light. Some beds have special instructions, so read the user manual if you need help.
The best adjustable beds have at least one custom preset, but we've seen up to three in Purple Premium adjustable beds.
Varying leg heights
Most beds have different leg heights for your adjustable bed, but they're not something you can adjust from your remote. You'll have to set your leg height during setup. This is a crucial feature for most people because you can:
Remove the legs entirely and place the adjustable base on an existing foundation or bed frame.
Set the base close to the ground to prevent the sleeper from falling from the bed and causing injury.
Set the base up high for under-bed storage.
Customize the bed's leg height to your height for easier access, which is ideal for people with mobility issues who have trouble getting in and out of bed.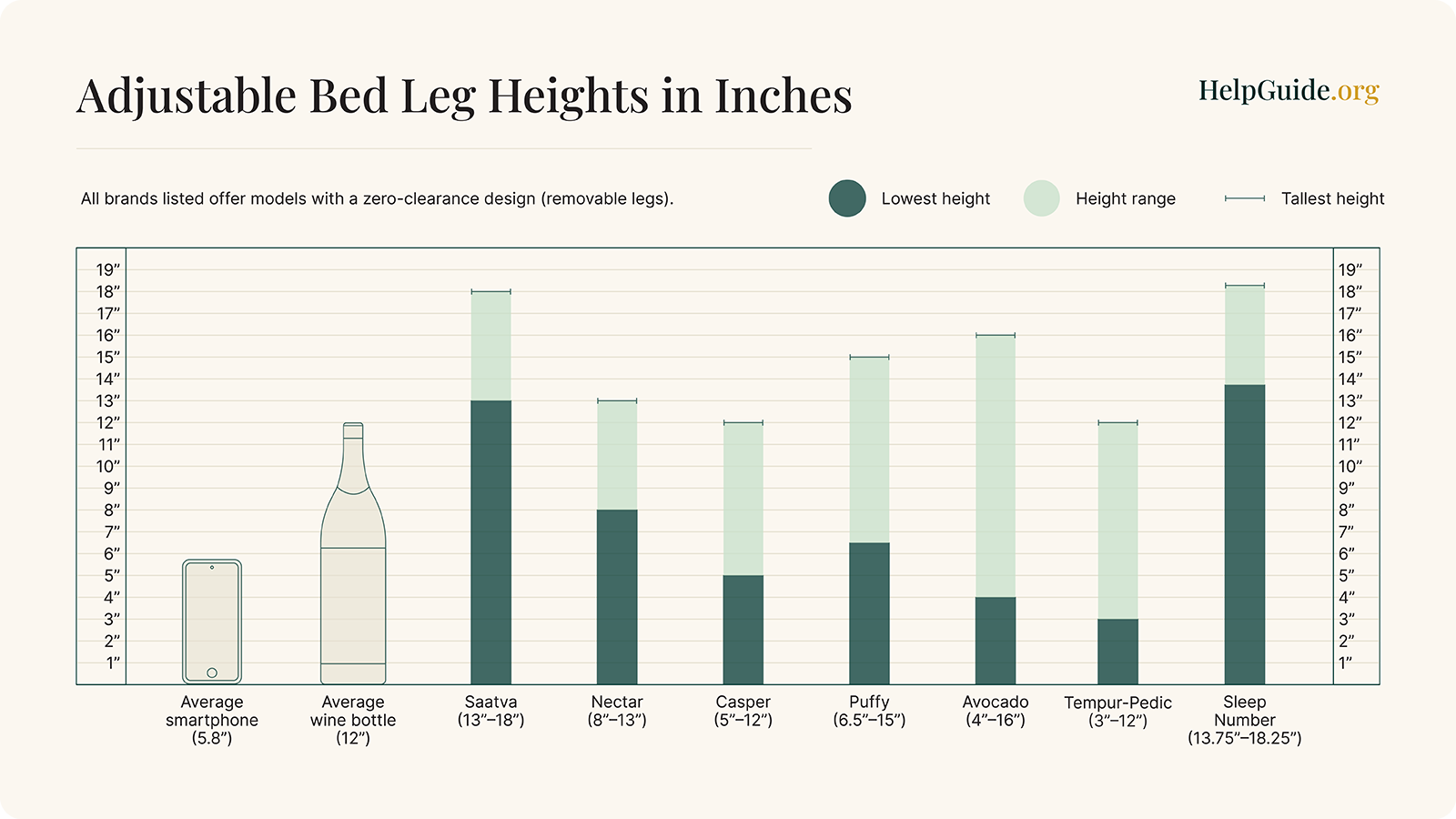 When we tested adjustable beds in big-box retailers, we saw a variety of mattresses paired with adjustable bases, ranging from thick innersprings to thin memory foam options. It was obvious that thicker, firmer mattresses didn't conform well to the adjustable bed's movements. For this reason, we don't recommend innerspring mattresses with adjustable beds. Instead, opt for hybrid, latex, or memory foam mattresses.
Secondary features to consider
Lumbar support
According to our surveys and interviews, most people like the lumbar support found in Tempur-Pedic adjustable beds and Sleep Number mattress-base combinations despite the price hike. Almost half of all survey respondents who listed lumbar support as their priority had chronic joint or back pain.
Our testers don't consider this necessary in adjustable bases, as much of this support comes from your mattress choice. But we understand it's important if you need lower-back support to maintain better spinal alignment throughout the night or provide relief.
Massage
Although we found this feature is up to personal preference, our survey respondents and some focus group participants enjoy the massage features in adjustable beds. One participant said she often uses the massage setting to help her fall asleep if she's having difficulty relaxing, but all three of our team's testers commented that the vibrations felt more annoying than stimulating.
We recommend trying the massage feature in person before spending extra for it.
Wall alignment
When you elevate the head of an adjustable bed, it moves your upper body away from your nightstand. Some advanced adjustable bed models shift the head of the bed towards the wall as it elevates, keeping you near the wall and bedside furniture.
While we felt closer to the nightstand when we tried this feature on the Saatva Adjustable Bed Plus and the Casper Adjustable Base Max, we still had to reach behind us to grab our phones or use the bedside lamp. It's a nice feature to have, but it's not groundbreaking.
Under-bed lighting
The Handbook Team likes the idea of under-bed lighting for better visibility at night, especially for people at risk of falls who could benefit from illuminating obstacles in the dark.
You control this feature by using a button on the remote, but some use movement detection that automatically turns on when you get out of bed, like Sleep Number's FlexFit bases. One of our focus group members owns a Sleep Number adjustable bed and said her under-bed light was "bright enough to make sure I don't step on the dog, but not bright enough to startle me."
Remember, the lighting is dim and easily hidden by a thick bed frame, so if you plan on using your under-bed lighting for safe bedroom navigation, opt for a thin bed frame or skip it altogether. Our testers also noticed the bed illuminates its immediate surroundings well, but because it's so dim, the rest of the room may remain dark. If you need more lighting, invest in some motion-sensitive night lights along your bedroom walkway.
USB ports
Many advanced adjustable bed models have one or two USB ports on each side of the bed, either along the outside of the base or under the platform. We like that adjustable beds have this feature for convenience, allowing you to charge your phone or tablet and freeing up outlet space for bedside items like a lamp. But it's unnecessary, and the port placements can be hard to access, especially if you use a surrounding bed frame that blocks them.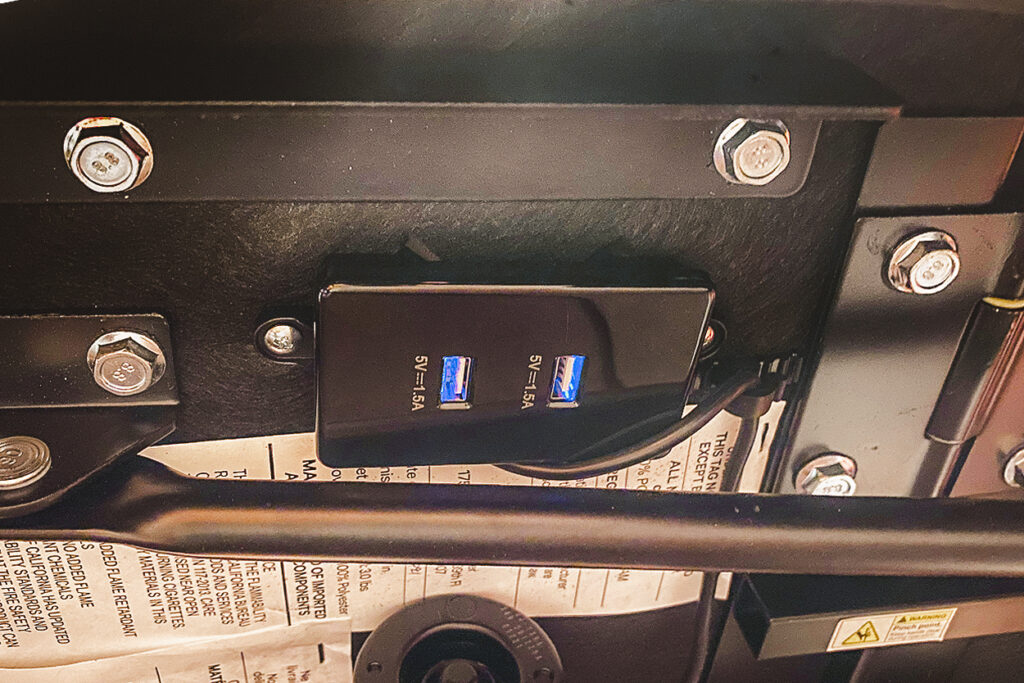 Brand-specific services to consider
The Handbook Team found many adjustable bed models have similar features because the same manufacturer builds them. For example, Leggett and Platt, one of the most common manufacturers, makes Saatva and Tempur-Pedic models.
A good way to differentiate your good options from the best is by comparing warranties, trial periods, and white glove delivery options.
Warranty
Adjustable bed brands offer a wide range of warranties between three years and a lifetime, but most are limited, only covering manufacturer defects fully for a few years with partial coverage after that period. Finding long-term warranty coverage on metal frames and electrical parts is rare. Nectar is the only brand that offers any accidental coverage, even though it's for a relatively short 10-year period when you opt-in.
Trial period
Trial periods are another brand-specific perk differentiating good brands from the best. While the industry standard is not to offer a trial, some do, ranging between 30–120 nights. Focus group participants stated that budget and fear of commitment were the two biggest reasons they waited to buy, so if you can relate, go with Nectar, Casper, or Puffy.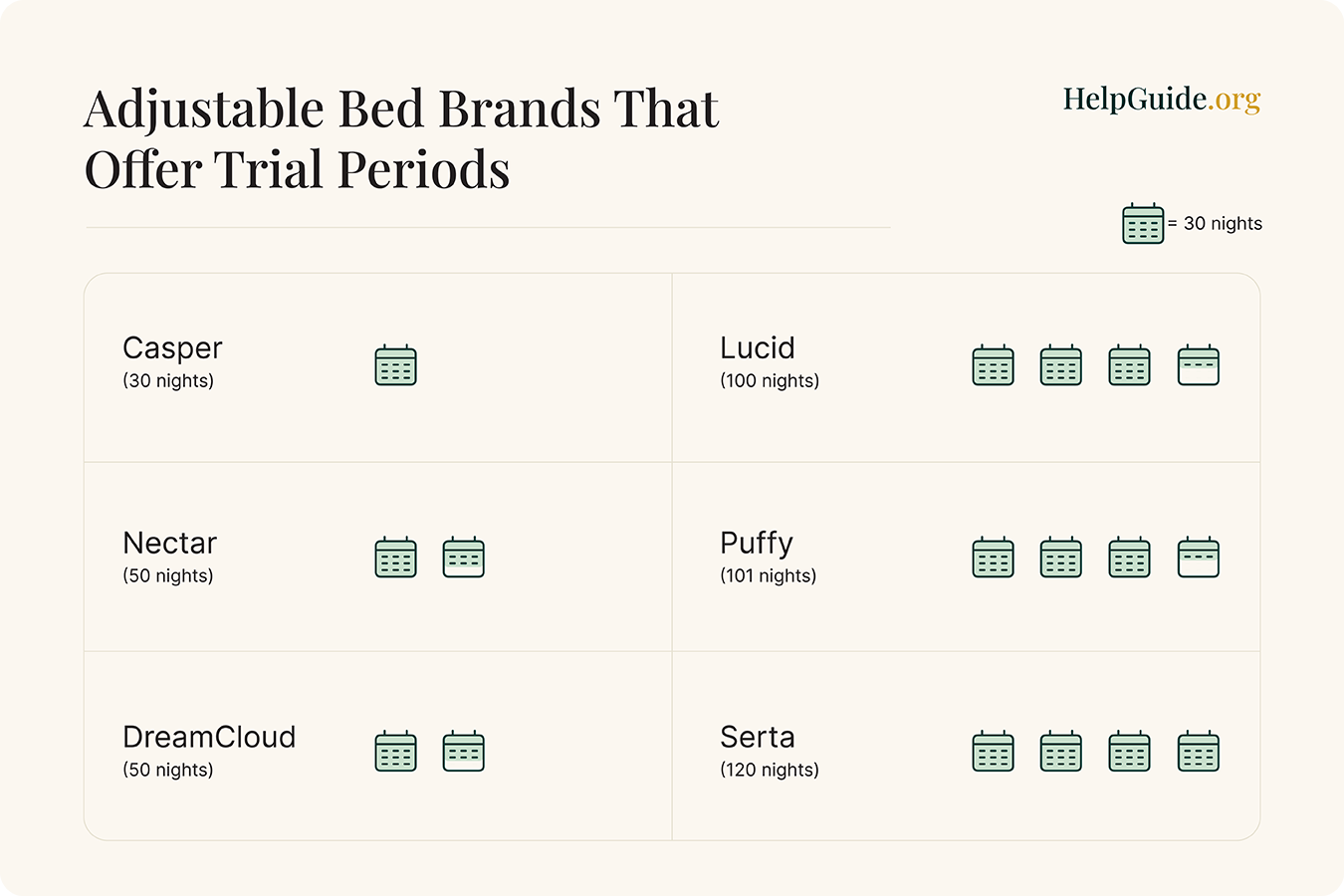 Handbook Team Tip #3
Some big box retailers replace the brand's warranty and trial period with their own. Before purchasing a bed from a retailer like Mattress Firm, compare these terms with the brand's website. You'll see that Tempur-Pedic adjustable beds have a reduced five- to 10-year limited warranty when bought at Mattress Firm, while Tempur-Pedic showroom and online purchases come with a 25-year limited warranty.
White glove delivery
White glove delivery (known as in-home setup) is also hit or miss, but most brands offer it as an extra service with an additional fee. The only brands in our list that include in-home setup free with your purchase are Saatva and Tempur-Pedic. Otherwise, you're paying up to $249, but our team recommends working it into your budget if you (and your partner) don't feel confident lifting heavy boxes or you live in a multistory house or apartment building. Adjustable bases can weigh as much as 200 pounds depending on the brand, and they don't always fit in elevators. If you don't have help, hauling the shipment to your bedroom could be nearly impossible.
When you purchase white glove delivery, you may also ask brand delivery partners to remove old mattresses and foundations at checkout. Sometimes this is complimentary when you purchase an in-home setup, and other times it costs extra. For example, Avocado charges $249 for in-home setup, but they charge an extra $30 for old mattress removal. To our knowledge, no delivery partner offers old bed frame removal, which will be your responsibility.
Our final verdict
Saatva has the best overall features, services, and reputation on our list, offering advanced functionality and white glove delivery at a fair mid-range price. Close behind is Nectar, which showcases a similar set of features but adds a 50-night trial period and an option to extend your warranty to cover accidental damage, but starts $300 higher.
Because the Handbook Team acknowledges how difficult it is to commit to a new bed, we prioritized listing budget-friendly brands with a trial period. Nectar, Casper, and Puffy are the best options for people who are nervous about making the switch and need time to determine if the new adjustable bed is right for them. Although Serta didn't make our list this time, it offers the longest trial period on the market at 120 nights.
While Avocado, Tempur-Pedic, and Sleep Number sit at higher price ranges in this review, they all have something unique to offer. Avocado is best for environmentally-conscious buyers who may be sensitive to irritants, while Tempur-Pedic offers advanced features that aim to improve your sleep quality over time, like sleep tracking. Sleep Number is the best mattress and adjustable base combination on the market for solo sleepers and couples who want full control over their sleeping environment. That's because you can adjust your sleeping surface to accommodate your needs on any given day.
Most importantly, if you're struggling to sleep well, don't wait to address it. Talk to your doctor and see if different sleeping arrangements will complement your treatment plan. Although adjustable beds aren't for everyone, they may be a great investment if you have sleep apnea, insomnia, acid reflux, chronic pain, or any other medical condition that impacts how well you sleep.
Frequently asked questions
Adjustable beds cost between $300–$7,000 depending on the brand, size, and features.
No. During our testing, it was obvious that thicker, firmer mattresses didn't conform well to the adjustable bed's movements. Innerspring mattresses are not recommended with adjustable beds as the springs may deform. Instead, opt for hybrid, latex, or memory foam mattresses.
Yes, but it depends on the person. Some people use head elevation to alleviate snoring and acid reflux, which helps them fall asleep and stay asleep longer. Others may use the leg elevation to offload pressure from their lower back or improve leg swelling.
Every adjustable bed has its own assembly instructions, and some are more complicated than others. The owner's manual should have instructions to assemble the bed's parts. If you don't want to assemble your own bed, opt for a brand that offers white glove delivery or hire a local handyperson to do it for you.
According to our survey and focus group, most people agree that their adjustable bed helps them sleep better and subsequently improves their mental health.
In our review, Saatva Adjustable Base Plus is the best adjustable bed on the market. But what's best for you is subjective to your budget and personal preferences.