These products & services are researched and tested by HelpGuide's independent consumer reviews partner. When you buy through the links, we may earn a commission.
If you and your partner struggle to sleep well next to each other, you're not the only ones. A recent survey showed one-third of American couples occasionally sleep in separate rooms due to loud snoring or different sleep habits, which can help both partners to sleep better. But sleeping together also has mental and emotional benefits, like a decreased risk of depression, anxiety, and overall stress. Is there a way to sleep together but still prioritize our own sleep?
A split king adjustable bed may be a good compromise. Split king styles divide the sleeping surface into two independently adjustable surfaces. This allows you to change your position while sleeping together, like elevating the head of the bed to alleviate snoring, without disturbing each other's sleep.
Sifting through options can feel overwhelming, but the Handbook Team is here to help. We evaluated multiple split king adjustable beds on the market so you can select the adjustable base that best supports your sleep needs, health, and relationship.
Which split king adjustable bed is right for you?
Why HelpGuide cares about a good night's sleep
Quality sleep is critical to mental health, physical health, and overall well-being. Sleep helps us reset our bodies, process our emotions, and squash daily stressors. Without it, we can develop chronic mental health issues like depression and anxiety, according to research.
But some medical conditions can make sleep difficult. Chronic pain, acid reflux, loud snoring or sleep apnea, and insomnia are challenges that can keep people up at night.
Finding solutions for better sleep can be frustrating, but we're here to help. The HelpGuide Handbook Team wants to empower you to make the right decision by providing the most honest information about sleep health and related products, like adjustable beds.
In order to recommend the best options to fit your needs, we sought to better understand how sleep impacts overall health. We consulted with mental health experts, researchers, and industry leaders in sleep and ergonomics to connect the dots about what really matters in an adjustable bed experience.
Ultimately, we want to support your sleep health and mental well-being. Through in-depth research and testing, we aim to take the stress out of your search for better sleep by sharing our findings with you here.
Learn more about our adjustable bed review methodology.
What you need to know about our split king adjustable bed research and testing
If you only learn four things about split king adjustable beds, this is what you need to know.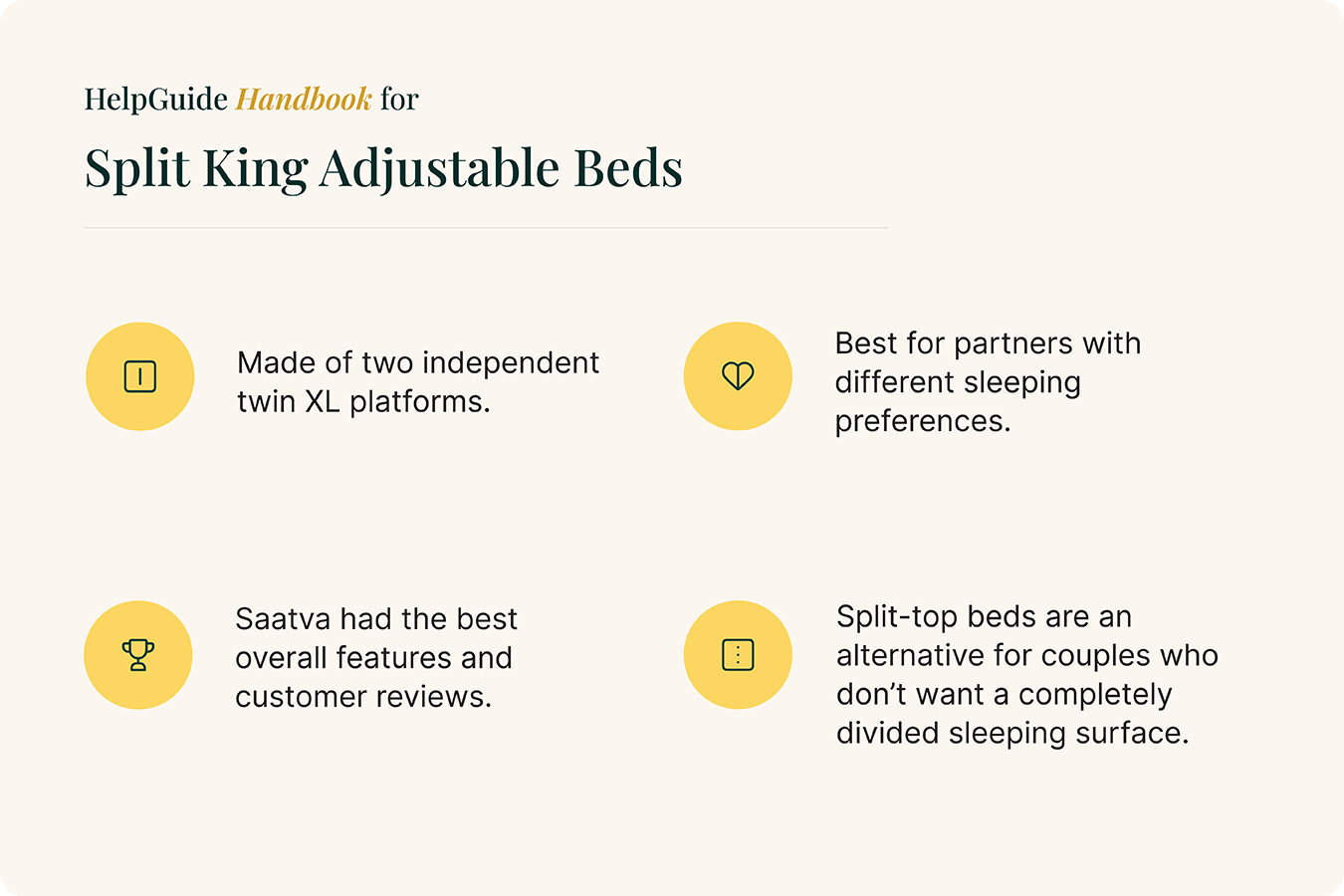 Our testing experience
Our Handbook Team visited showrooms and big-box stores to browse like real shoppers, which means we talked to store representatives and tried out each adjustable bed for ourselves. We also vetted brands and models by recording our findings on a 36-question standardized testing form to identify standout features and services, document problems with each product, and describe our shopping experience. For example, we recorded:
Adjustment speed, noise, and feel.
Massage modes, intensities, and quality.
Customer service experience and general satisfaction.
We also surveyed 600 adjustable bed customers and interviewed a focus group of adjustable bed owners to understand their buying experience and how their adjustable base has or hasn't helped them.
Our survey revealed that 91 percent of users reported they sleep better with their adjustable base, and 73 percent have noticed improved mental health.
For this review, we even brought our significant others along to better understand how salespeople interact with couples as they browse split king options.
From our tester
"While most products operate similarly, every brand seemed to offer a different buyer experience online or in-store. Brand transparency and positive interactions with customer service are huge influences on overall satisfaction."
Our Handbook Team searched for adjustable beds that offered the best fundamentals, like easy adjustability and a user-friendly control system, so all of our options fit the basic features identified as must-haves by survey respondents. But we also considered the functionality and practicality of advanced features, like massage, lighting, and mobile applications, which can offer more convenient ways to relieve pain or wind down before bed.
We found that personal preference determined how useful these features were. For example, some testers didn't like the massage quality in some adjustable beds because it felt more like an intense vibration rather than a kneading sensation, which you would get with a massage chair. But this is subjective to the person, so you might find the vibrations relaxing, depending on your tolerance.
In order to focus on the adjustable bases themselves, we structured our test designs so they isolated the bases and judged them on criteria independent of the mattress. For example, we tested the capabilities of the adjustable bases, such as positioning options, that are the same no matter what mattress you use. It is important to note that certain criteria like mattress firmness will have an impact on your comfort, but we strategically organized our test designs to focus on the comfort of the adjustable base regardless of what mattress you have.
Lastly, we gathered input from mental health experts, sleep specialists, and psychologists with experience in relationship counseling on how split king adjustable beds can help some couples sleep better together.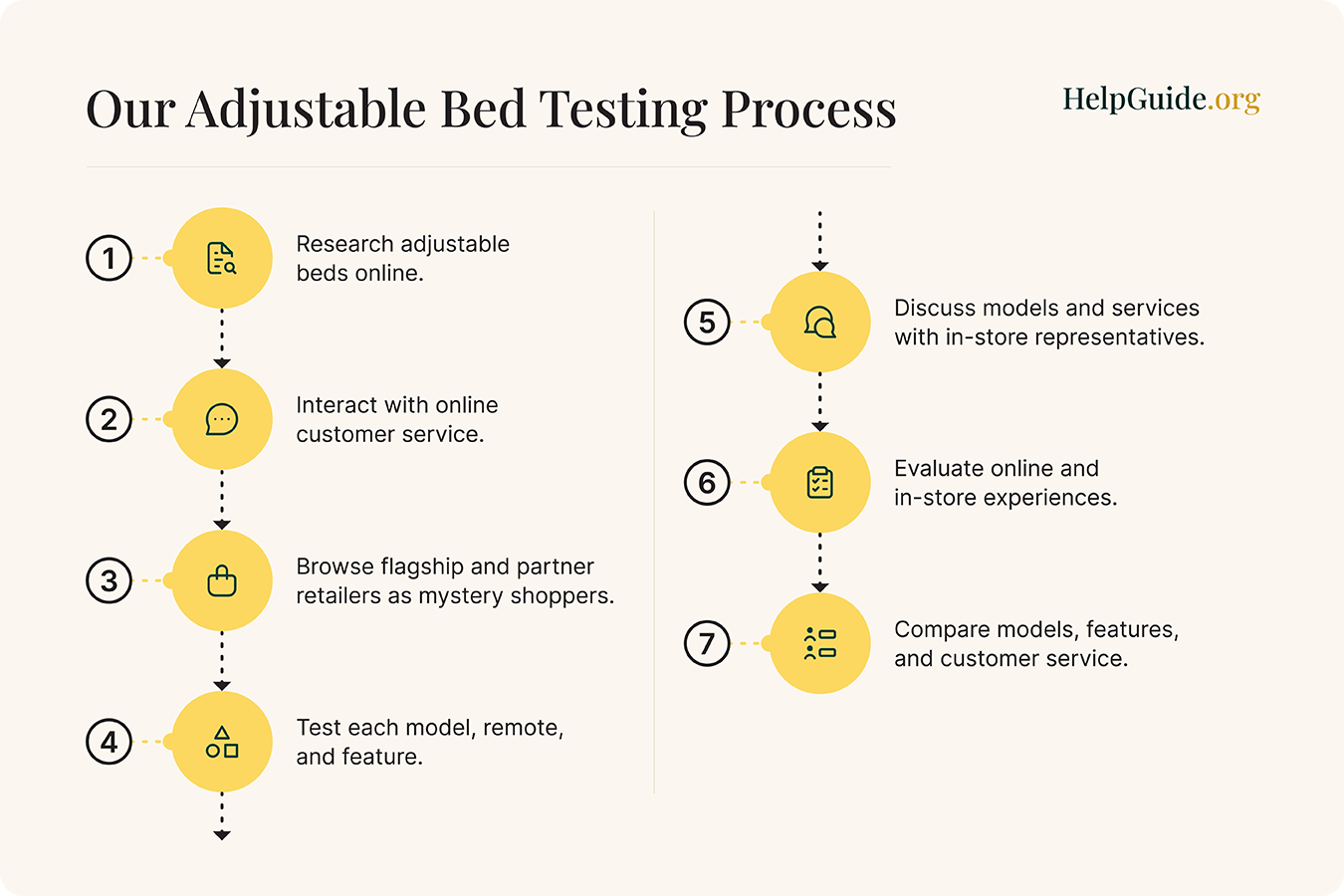 Compare the best split king adjustable bases
| | | | | | | |
| --- | --- | --- | --- | --- | --- | --- |
| | $2,090–$2,598 | None | 10–25 | Included | No | Visit Site |
| | $2,798 | 50 | 3 | Not for split king sizes | Yes | Visit Site |
| | $1,198–$1,398 | 120 | 20 | None | No | Visit Site |
| | $1,590–$3,390 | 30 | 10 | $199 extra | No | Visit Site |
| | $2,199–$4,199 | None | 15 | $249 extra | Yes | Visit Site |
| | $1,798–$4,798 | None | 25 | Included | Yes | Visit Site |
1. Saatva: Best overall
Saatva is the Handbook Team's top adjustable bed brand because it offers the right mix of style options, features, and services that address most people's needs at a fair price. It also has the highest customer satisfaction of all competing brands, with more than 1,000 positive reviews on Better Business Bureau and Trustpilot.
When the Handbook Team surveyed 600 adjustable bed users, we found that fair price, multiple features, brand reputation, and in-home delivery were the most important considerations when searching for the right bed. Saatva covers them all.
Of the two Saatva models, we highly recommend the Adjustable Base Plus for couples because of its available styles and set of features. While both models offer split king options, the Plus comes in split California king and standard split king or queen Upper-Flex options for the same price or similar ($2,598 and $2,498, respectively).
Upper-Flex is the brand's split-top style that independently adjusts the head for each sleeper while the foot adjusts as one unit. We only recommend split-top styles if you need to elevate your head to alleviate snoring or acid reflux and want to keep the rest of the base whole for more comfortable cuddling without an annoying mattress gap.
All split and Upper-Flex models come with a remote for each side to independently adjust your position and massage settings, so you don't need to battle over the remote to adjust your side.
The Adjustable Base Plus comes with multiple pre-programmed positions:
Head up: Fully elevates the head to a seated position.
Flat: Returns the base to a fully flat position.
Anti-snore: Elevates the head to 7 degrees to open the airway and reduce snoring.
Zero gravity: Elevates the head and legs for a cradled position.
You also get many other features, including
Memory presets: Program one custom position on your remote's memory button.
Head, foot, or full-body massage: Choose up to three intensities to promote relaxation.
Under-bed lighting and remote flashlight: Light up a dark room to avoid tripping.
Wall-aligning design: Elevate the head of the bed without distancing yourself from the nightstand.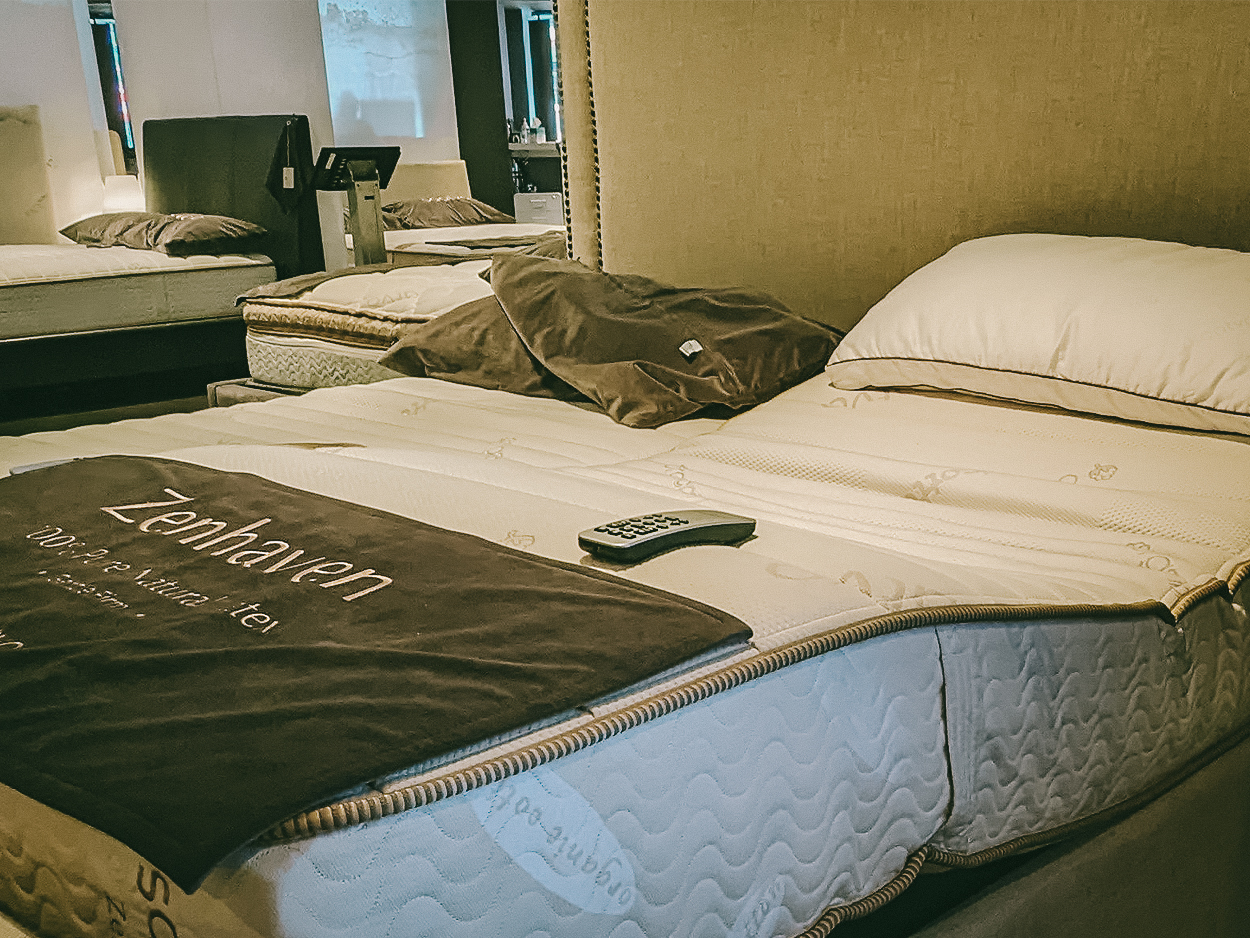 Saatva ticks most of our boxes except for one: a trial period. The industry standard excludes trial periods and returns because adjustable bases are difficult to move and ship. Although some brands, like Serta and Nectar, still offer them to help you decide if the product is right for you.

But we like that Saatva offers a compromise. If you and your partner dislike the split mattresses and the separation between you, Saatva told us they would exchange the two mattresses for one king and guide you through syncing the entire base to work as one unit. This transforms your split king adjustable bed into one king-size adjustable bed, so you and your partner sleep on one large adjustable surface.

Another perk, Saatva also offers white glove delivery (delivering and setting your base) for free, so you don't have to worry about setting up the base by yourself. Our team found most other brands charge for this service or don't offer it at all, so this is a major standout service included with your purchase.
What our testers say: "The Adjustable Base Plus has most of the features you would expect from an adjustable base, like under-bed lighting and massage, but it doesn't have a lot of the fussy features like complicated massage programs or speakers. For an investment like an adjustable base that's often a final sale, the warranty length, my positive customer service experience, and positive online reviews give me confidence in Saatva."
Compatible Saatva mattresses
| Mattress | Split king cost | Split California king cost | King Upper-Flex cost |
| --- | --- | --- | --- |
| Saatva Classic Luxury Hybrid Innerspring (11.5-inch height) | $2,790 | $2,790 | n/a |
| Loom & Leaf Ultra Premium Memory Foam | $3,190 | $3,190 | n/a |
| Memory Foam Hybrid | $2,630 | n/a | n/a |
| Saatva Latex Hybrid | $2,990 | n/a | n/a |
| Zenhaven Latex | $4,190 | n/a | n/a |
| Solaire Adjustable Firmness | $5,190 | $5,190 | $4,995 |
Saatva
Our verdict: Saatva is the highest-rated brand on the market, offering split king adjustable beds with luxury features and in-home delivery at a fair, mid-range price.
2. Nectar: Most comprehensive warranty
We found the Nectar Adjustable Frame is a valuable purchase for couples who want a split king because it offers what many brands don't: a chance to extend your warranty to cover accidental damage and a 50-night trial period to test your base at home.
You can only initiate returns after a 30-day "adjustment period" to allow your body to adapt to the product. While the 30-day rule seems like unnecessary red tape, some adjustable bed owners who participated in our in-house focus group highlighted that it could take anywhere from a day to a few weeks to determine if the base improved their sleep quality.
While we don't like that Nectar only offers a short three-year manufacturer's warranty with your purchase, you can opt to extend your warranty by 10 years with full coverage. This is ideal if you have children and pets who love climbing over (and under) your bed. Ten years is still relatively short, but no other brand in this review offers full coverage for this length of time.
We don't like how Nectar doesn't currently offer in-home delivery for split king adjustable frames, but they did at one time. A member of the Handbook Team bought their split king Nectar adjustable base three years ago with white glove delivery, and they were glad they did because the base was heavy.
For now, the brand outsources this service to Handy.com, where you can get 10 percent off your appointment (about $100–$200 before the discount). However, we advise you to monitor the job if you use this service. A team member had a negative past experience with a Handy cleaner who came to their apartment, hung out while at work, and didn't clean anything.
What our testers say: "Overall, I like it. The motor is actually pretty quiet, but when the bed goes up and down, it creaks, especially if it doesn't have weight on it. For the price, it was a good value."
Compatible Nectar mattresses
| Mattress | Cost |
| --- | --- |
| The Nectar Mattress: Memory Foam | $1,798 |
| The Nectar Mattress: Hybrid | $1,998 |
| Premier Mattress: Memory Foam | $2,398 |
| Premier Mattress: Hybrid | $2,998 |
| Nectar Premier Copper: Memory Foam | $3,298 |
| Nectar Premier Copper: Hybrid | $3,898 |
Nectar
Our verdict: The Nectar Adjustable Frame offers a 50-night trial period, opportunities to extend your full-coverage warranty by 10 years, and a chance to reduce total cost.
3. Serta: Best trial period
Serta is the only brand that offers a 120-night trial on all its adjustable bases when you buy online. Investing in a new bed can be stressful, especially if you're dealing with chronic pain and want to ensure the bed will help. Opting for brands with long trial periods is a risk-free way to thoroughly test your adjustable base at home before fully committing.
It's important to note the 120-night trial period and 20-year limited warranty only apply to online purchases through the Serta website. We had trouble finding Serta adjustable beds because they aren't in many big-box stores, and Serta doesn't have a showroom. But when we finally located a Serta adjustable base in a Mattress Firm, we were told it came with a three-year full warranty and no trial period. When we called Serta customer service for clarification, an agent told us that retail partners may have different terms. We think this is confusing for shoppers, so if you're shopping from a third-party retailer, cross-check the price, trial period, and warranty with the brand to ensure you're receiving the best deal.
Similar to Nectar, Serta encourages buyers to keep their base for a month before initiating a return to allow the body to adjust. If you decide to return it, your process will look different depending on the original delivery service Serta recruits to do the job: RXO Logistics or FedEx deliveries. RXO Logistics is a delivery partner that will call three days after you start your return to schedule a date for removal. FedEx deliveries don't have a removal process, so you'll receive guidance on donating your base to a new home.
While the Motion Air model offers one of the most affordable split California king bases on the market at $1,198, it's also one of the most basic, offering only head and foot adjustability and adjustable-height legs. The Motion Essentials model lacks luxury features despite being similarly priced ($1,398) to brands with advanced features, like massage or under-bed lighting. But we loved how whisper-quiet the base sounded in the store, which is great for light sleepers.
What our testers say: "The Serta Essential Adjustable Base doesn't have a TV/lounge preset that elevates the head to a fully upright position, but you can adjust it manually to a fully seated position using the remote buttons."
Compatible Serta mattresses
According to Serta customer service, all Serta mattresses are compatible with adjustable beds, including their innerspring selection. However, our team advises against using adjustable beds with innersprings, as they can cause damage to the coils. Instead, we recommend shopping for hybrid, latex, or memory foam mattresses.
Serta customer representatives told us to purchase two twin XL mattresses with our split California king adjustable bed, which typically fits a standard split king size. We asked if the mattress would fit the longer California king base size, and they assured us it would, which is inconsistent with industry standards as we know them. But we could have misunderstood the customer service rep. Still, we recommend you call and double-check your order to ensure you're purchasing the proper mattresses, as most split California king beds need special twin sizes. For now, the following prices reflect two twin XL mattresses.
| Mattress | Cost (total) |
| --- | --- |
| Serta Mattress | $1,587 total |
| Perfect Sleeper Mattress-in-a-Box | $1,158 |
| Perfect Sleeper Mattress-in-a-Box Hybrid | $1,798 |
| Perfect Sleeper Hybrid Mattress | $1,898 |
| iComfortECO Foam Mattress | $3,998 |
| iComfortECO Quilted Hybrid | $3,198 |
| iComfortECO Smooth Hybrid | $3,998 |
| Arctic Mattress | $6,998 |
| Arctic Hybrid Mattress | $2,999 |
Serta
Our verdict: Serta offers a 120-night trial period for all three adjustable base models (the longest in the industry), but you have to make the purchase online. We recommend Serta if you want an extended trial period or if you're a couple who needs an affordable split California king size.
4. Casper: Budget-friendly essentials
Casper offers three adjustable beds, but our Handbook Team likes the Adjustable Base and Adjustable Base Pro models. Both models are generally cheaper than other brands and offer key essential features, which our survey respondents identified as lumbar support, pre-programmed presets, custom presets, massage, and adjustable leg height. The Adjustable Base Pro model covers all but lumbar support, an uncommon feature only found in premium options, like the Tempur-Pedic Ergo models.
During testing, we loved the intuitive layout of the Adjustable Base Pro remote's preset and custom buttons, although it was initially difficult to figure out the massage settings. We learned you have to keep pressing the button to cycle through the three intensities, and on the fourth press, it turns off. Otherwise, the bed is easy to control and adjusts slowly yet smoothly.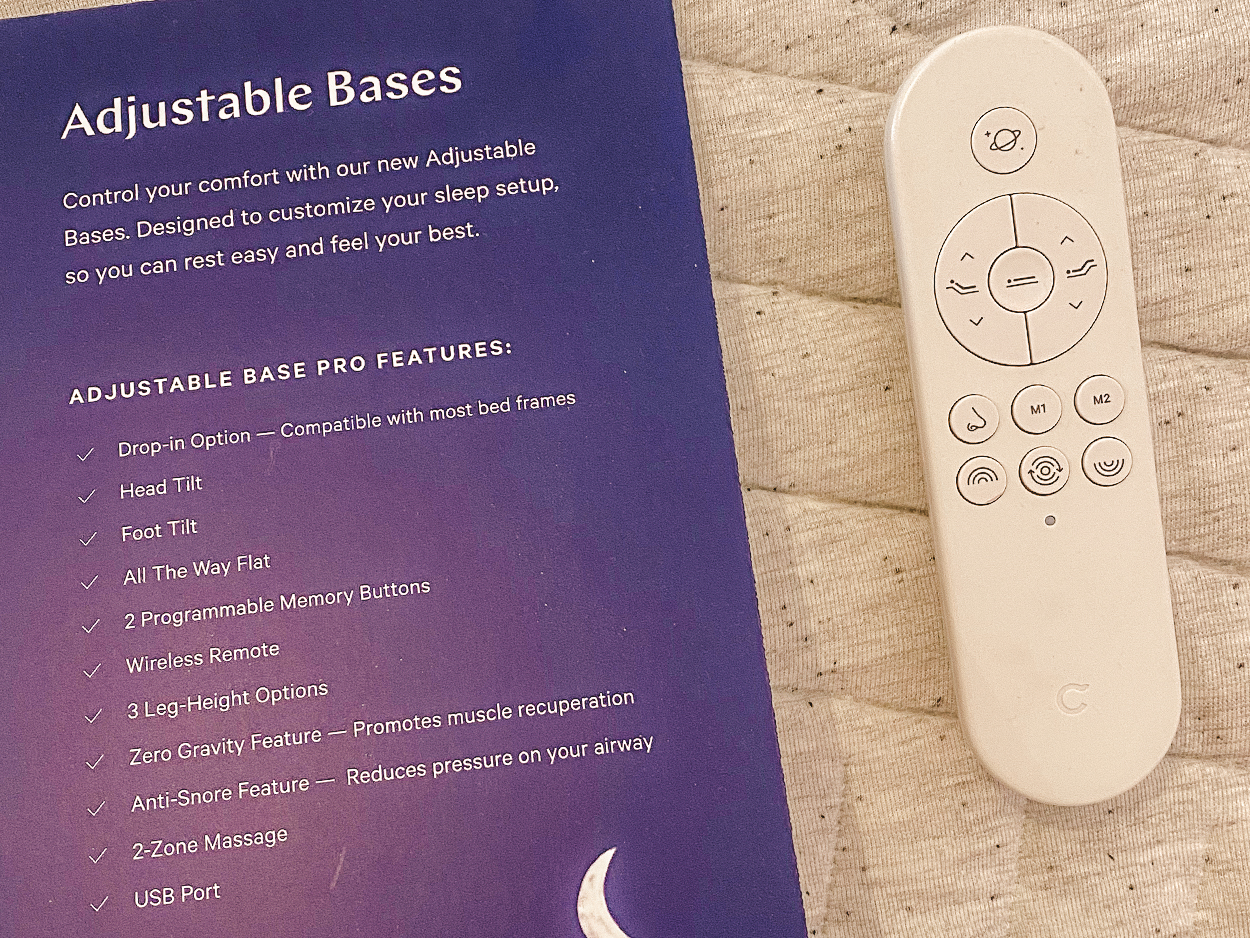 The Casper Adjustable Base model offers basic features but is also the most affordable option—listed at $600 below the average-priced split king adjustable bed. We think one of the major downsides of this model is the 12-inch leg height because there's no adjustability, which may make it more difficult for some people with reduced mobility or of different heights to get in and out of bed.
Handbook Team Tip #2
More than 60 percent of survey respondents said their budget was between $1,000–$1,999 for an adjustable base. While the Base and Pro models sit higher in the range ($1,590 and $1,990, respectively), Casper offers holiday promotions that lower all prices. At one point in our mystery shopping, the brand discounted the most advanced Max model by up to 50 percent.
Our focus group of adjustable bed owners identified a trial period as a necessity. "We wished we had purchased our adjustable bed sooner," said one focus group participant. Others agreed, noting they waited several months before purchasing their bed due to the financial commitment. The Casper trial period may be short compared to others, but brands that accept returns and offer the right variety of features for you and your partner are hard to find.
Some focus group participants highlighted white glove delivery as an essential service. Casper offers this service for $199, on par with other adjustable bed brands that don't automatically include white glove delivery services. Casper will only remove old mattresses and foundations if you also purchased a new mattress.
From our focus group
"At the time [I bought my adjustable base], I was living on the third floor and I wasn't able to set it up alone. So, the security of having someone carry it from the bottom floor to my bedroom and set up to make sure I was comfortable with everything before they left was a huge selling point for me." —Focus group participant
What our testers say: "I like that Casper offers basic features that you'd expect from an adjustable base. The only feature that was difficult to use was the USB port, as it's located under the bed and is hard to see. If I wanted to charge my phone through the base, I'd keep a cord there at all times, so I don't have to get on the ground and find the USB port every night."
Compatible Casper mattresses
Casper requires you to purchase two twin XL mattresses for your split king adjustable base, similar to Serta. When we visited a Casper showroom, the store representatives told us about a promotion where in-store shoppers can bundle a mattress and adjustable base together to get an extended 100-day warranty on both purchases. We wish they would advertise these opportunities for online buyers who aren't close to a Casper location.
| Mattress | Cost (total) |
| --- | --- |
| The Casper | $1,390 |
| Snow | $2,990 |
| Original | $1,990 |
| Original Hybrid | $2,390 |
| Nova Hybrid | $3,590 |
| Wave Hybrid | $4,790 |
| Wave Hybrid Snow | $5,790 |
Casper
Our verdict: The split king Casper Adjustable Base and Adjustable Base Pro meet most buyers's needs, like basic controls and presets, starting about $600 below the average-priced split king adjustable bed.
5. Sleep Number: Best mattress-base combo for couple customization
The Handbook Team chose Sleep Number as the best mattress and adjustable base combination for those who want total control over their sleep preferences without affecting their partner's comfort. Not only can you adjust your split king positions on either side, but you can also adjust the mattress firmness to your own liking. This is ideal for couples with completely different sleeping needs or if your preferences change occasionally.
We also love how this brand offers a similar variety of split sizes and styles to Saatva, plus an additional FlexTop (split-top) California king size, but we don't like that they're about $1,000 more expensive compared to Casper and Serta.
Sleep Number uses unique air chamber mattresses, allowing you to adjust firmness by emptying or filling the chambers at the touch of a button. When our Handbook Team tried this mattress, we could feel the mattress adjusting firmness under our bodies. Sleep Number representatives said your "sleep number" setting is the number that relieves most of the pressure under the hips and shoulders in your preferred sleeping position, which is determined in-store using a pressure mapping system.
From our tester
"My Sleep Number setting was 35, which was softer than I was used to, making it difficult to switch sleep positions because I felt sunken in. But when I was still, it felt comfortable."
The SleepIQ app lets you control all three Sleep Number bases to adjust mattress firmness and adjustable base position through your phone without a physical remote. This is the only brand that charges you for the remote ($49 each). While we understand the convenience of having the controls on your phone, studies agree you should limit blue light exposure through your phone before bed to improve sleep quality. Forcing users to use their phones before bed or in the middle of the night seems counterintuitive to sleep improvement.
Whether you have a physical or mobile app remote, you and your partner will have control over your own side unless you're using the Partner Snore feature, which allows you to control your partner's head elevation to alleviate their snoring, so you both sleep soundly with minimal disturbance.
The app also provides sleep-tracking insights, like how long you slept and how restful it was, by decoding your heart rate and breathing patterns through the mattress's sensors. This can help you identify settings that improve your sleep patterns. But if you're truly interested in sleep tracking, the Handbook Team encourages you to consider Tempur-Pedic's bed and accompanying app instead because of its sleep coaching and smart alarm features.
Handbook Team Tip #3
Sleep Number offers a 20 percent educator discount on purchases, and a customer representative told us that most stores host major holiday promotions. If you're only looking for head adjustability to address snoring or acid reflux, choose the FlexTop 1 adjustable base over the others and save $1,000–$2,000.
Unfortunately, Sleep Number adjustable bases have no trial period, but the mattresses do. You can try a mattress for 100 nights and return it anytime after the thirty-day adjustment period. Both products have the same 15-year warranty period.
What our testers say: "I loved having so much control over my bed's firmness and positioning. It's easy to make adjustments, and it's nice knowing that my preferences won't disturb my partner. However, because I was only shopping for an adjustable base, the customer representative advised us to shop for other brands since Sleep Number beds function best with the Sleep Number mattress. I appreciated the honesty."
Compatible Sleep Number mattresses
Sleep Number mattresses come in split and FlexTop styles for king and California king sizes. The price is usually the same across these sizes and styles within each model. This brand has one of the largest selections of compatible mattresses with its bases, and we like that each mattress offers a different mix of pressure relief, temperature control, and support to accommodate most people.
| Mattress | Cost across split styles |
| --- | --- |
| c2 Smart | $1,999 |
| c4 Smart | $2,699 |
| p5 Smart | $3,799 |
| pSE Smart | $4,199* |
| p6 Smart | $4,399 |
| i8 Smart | $5,799 |
| i10 Smart | $7,399 |
| iLE Smart | $7,399 |
| m7 Smart | $5,799 |
| Climate 360 Smart Bed Mattress-Base Bundle | $13,499 |
*pSE Smart FlexTop and split options are only sold as part of an adjustable base bundle for $6,398 total.
Sleep Number
Our verdict: Couples with completely different sleep preferences will likely benefit most from a Sleep Number mattress and adjustable base combination because they can fully customize each side's firmness and position.
6. Tempur-Pedic: Best advanced technology
Tempur-Pedic offers the most technical adjustable bases on the market. High-tech beds aren't everyone's cup of tea, but we enjoyed the extra sleep-tracking benefits of some of these smart bases because they provide insights and suggestions to improve your sleep. According to Carli Streich, LPC, founder and owner of Cognitivve Neurofeedback in Colorado Springs, Colorado, improving sleep quality will foster healthy minds and relationships by helping you regulate emotions and communicate better with your partner.
Note: The Ease Power Base is the most basic model without the technical features, but if you're looking for a simple and more affordable design, go with Casper or Serta instead. Other bases in the Tempur-Pedic lineup gain more features with each upgraded model, as listed above.
Many features are unique, including
Lumbar support: An adjustable bar that elevates up to 6 inches to provide low back support.
QuietMode: A trademarked anti-snore preset, elevating up to 12 degrees.
Snore Response: Snoring is detected through bed vibrations, then the bed raises the head to the QuietMode position.
Sleep coaching: AI-powered sleep analytics that provides individualized strategies on ways you and your partner can sleep better.
Smart alarm: A function that uses sleep data to wake you and your partner according to your sleep cycles using natural sounds and vibrations through the base.
SoundScape Mode: Built-in speakers allow you and your partner to feel your favorite sounds through speakers that vibrate on each side.
WindDown Program: A cycle of different positions and massage settings to help you relax.
Smart home connectivity: Bluetooth links your base to your Google Home or Amazon Alexa.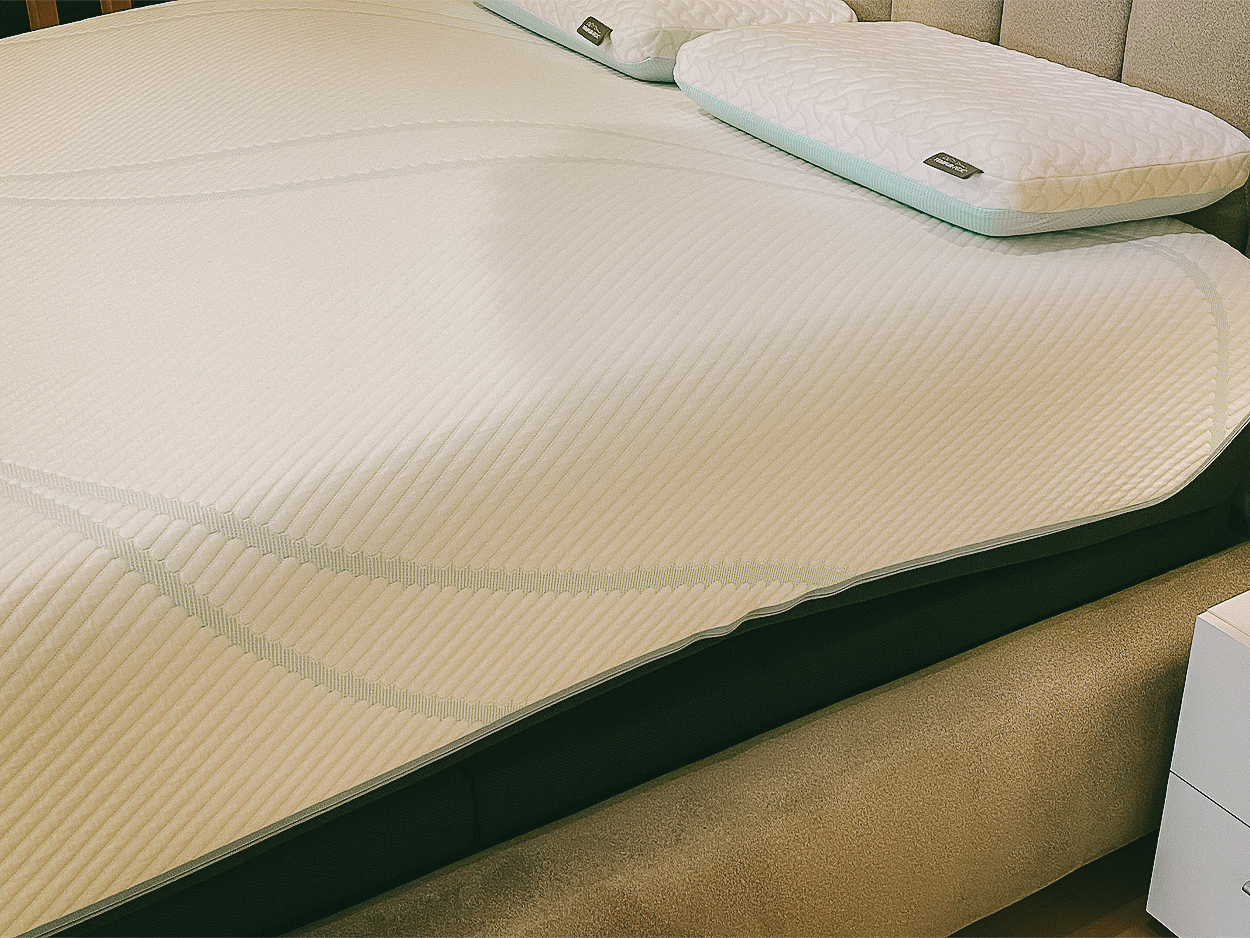 The Smart and ProSmart Bases are the only models that connect to the Sleeptracker-AI app and provide sleep-tracking analytics and coaching. "Sleep tracking can provide valuable insights into sleep patterns and quality, which can lead to significant improvements in sleep, mood, and general well-being. By monitoring factors such as sleep duration, sleep stages, and disturbances, you can identify patterns and potential issues affecting their sleep," says Streich.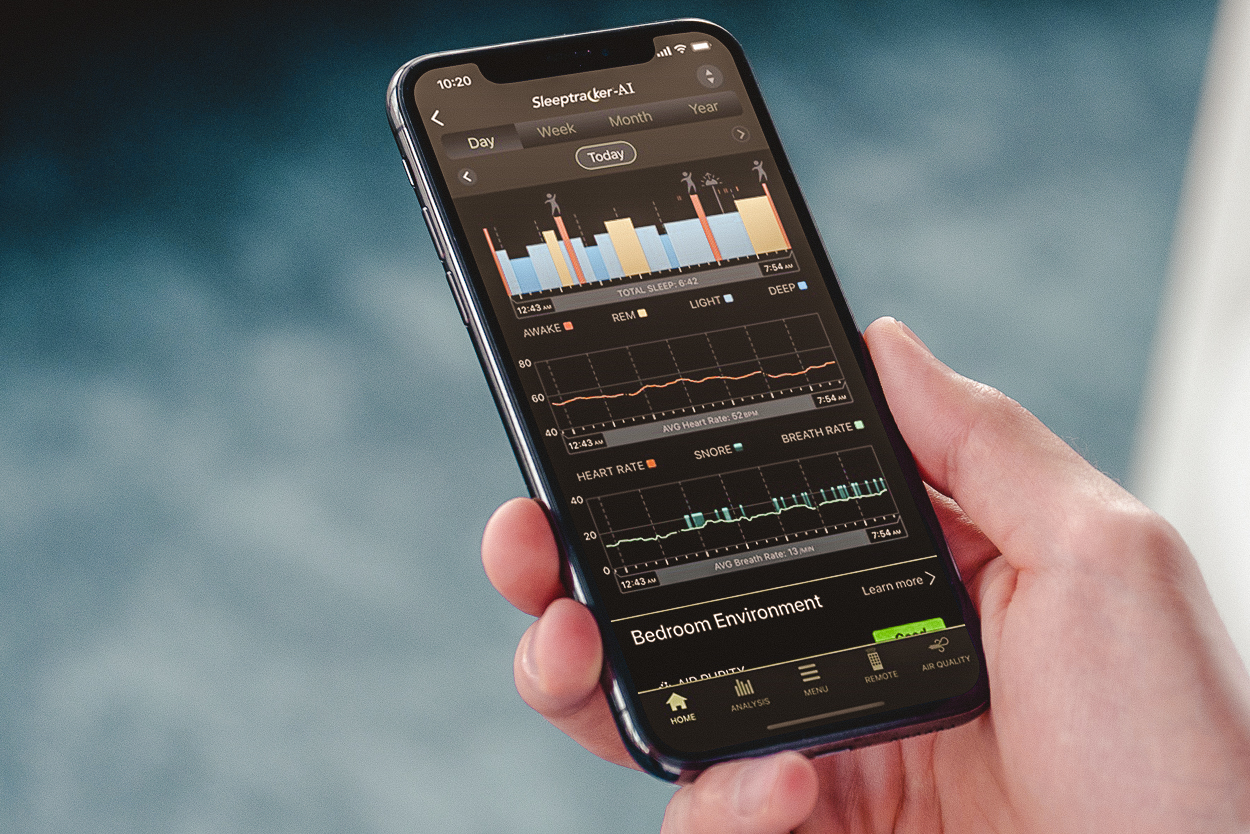 We had a chance to browse the Sleeptracker-AI app with a customer representative at a big-box store. The app was easy to use, and sleep insights were easy to read. But the biggest standout of the Sleep Number SleepIQ app was the sleep coaching and smart alarm features because it does more than analyze your sleep—it provides actionable, individualized ways to improve it.
Handbook Team Tip #4
Tempur-Pedic smart bases sit at a higher price range, but like other brands, frequent holiday promotions drop costs by several hundred dollars.
We also like that white glove delivery is always included at no extra cost because technicians teach you how to connect and use the base's features.
Although customer representatives assured the Handbook Team that every base functions independently from Tempur-Pedic mattresses, they also said they don't test their base with other mattresses, so the reps couldn't confidently say how they'd work if you mix and match.
What our testers say: "The adjustable lumbar support bar goes very high. I have a smaller build and was only able to tolerate about one-third to one-half of the height for comfortable low back support. But I think this bar has an additional benefit … I can scoot down the surface and target my upper back for a nice backbend stretch after sitting all day for work."
Compatible Tempur-Pedic mattresses
Tempur-Pedic split king and California king mattresses are priced the same within each model.
| Mattress | Split king cost | Split California king cost |
| --- | --- | --- |
| TEMPUR-Cloud | $3,398 | N/A |
| TEMPUR-Adapt Legendary Pressure Relief | $3,398 | N/A |
| TEMPUR-Adapt Advanced Pressure Relief | $5,798 | $5,798 |
| TEMPUR-Adapt Ultimate Pressure Relief | $7,398 | $7,398 |
| TEMPUR-Breeze ProBreeze | $8,198 | $8,198 |
| TEMPUR-Breeze LuxeBreeze | $10,198 | $10,198 |
Tempur-Pedic
Our verdict: Tempur-Pedic has an impressive lineup of high-tech bases with smart features designed to improve your comfort and sleep quality.
Split king vs. king vs. split-top adjustable bases
Unlike a standard king, split king beds are designed as two twin XL adjustable bases so that each partner can adjust their platform to their liking. Since each side moves separately, you'll need two twin XL mattresses. Split California kings are longer to accommodate taller people, and they require a special type of twin mattress called a California twin or a twin XXL, according to Saatva and Tempur-Pedic representatives. If you and your partner are looking for an adjustable base, this is a good option for individual adjustments, but if you like to cuddle, it's uncomfortable where the mattress splits.
Some split styles only separate the head of the bed, like the Saatva Upper-Flex and the Sleep Number FlexTop. These beds adjust independently at the head and together at the feet. Couples who only need head adjustability would like this option because it only divides from the shoulders up, keeping the rest of the base whole. But you might learn to like leg adjustments while your partner doesn't, which means you'll battle over leg position.
Standard king adjustable beds use one king-size mattress, and both sides of the bed will move as one unit on a single platform. Couples with similar adjustment needs will like this style, but you might need to compromise with your partner over preferences.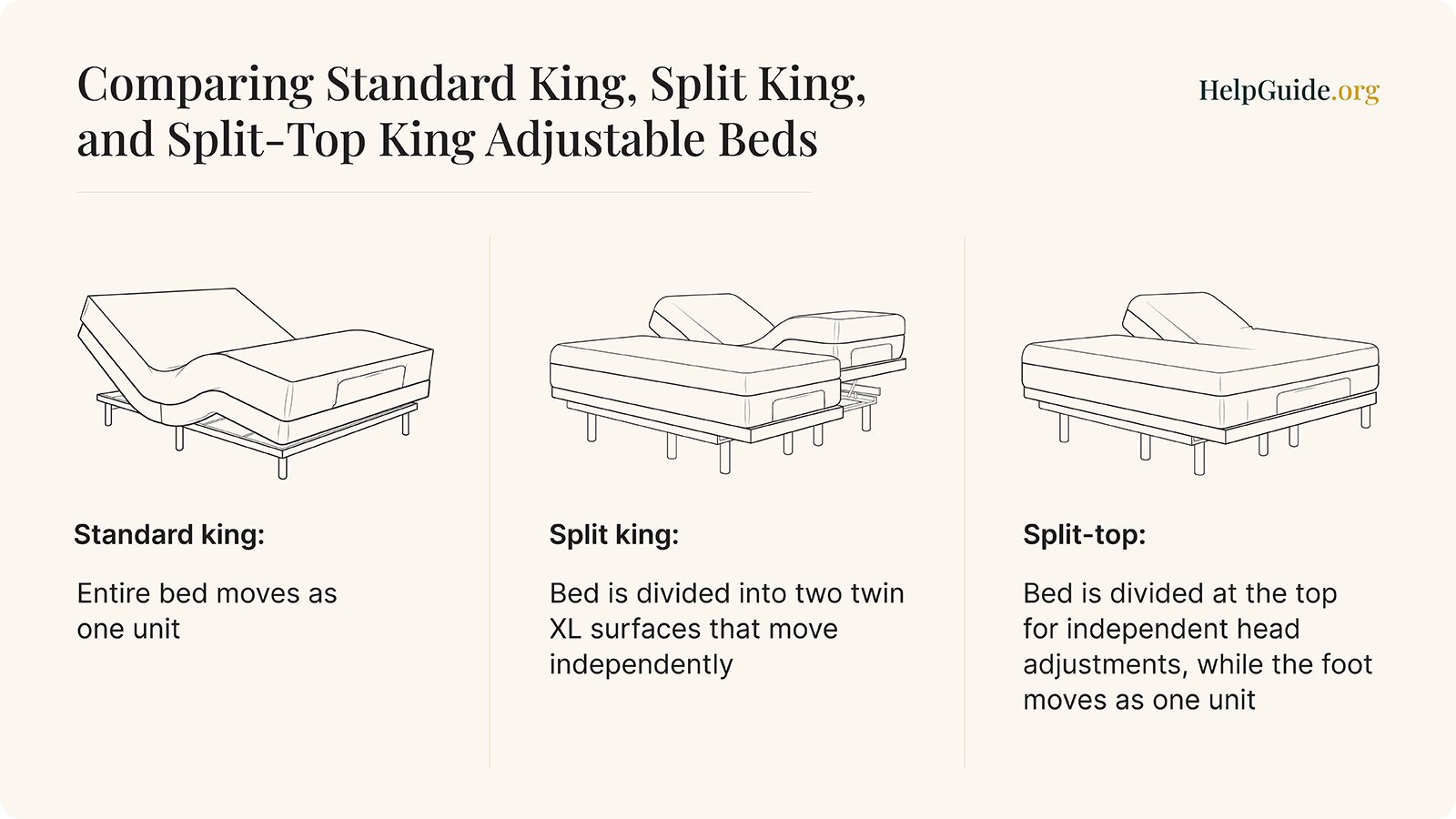 Who would benefit from using a split king adjustable bed?
If you want to personalize your lounging and sleeping position independently from your partner (so you can sleep better throughout the night and improve physical and mental recovery), you may benefit from a split king adjustable bed.
From our focus group
"[My husband] tried it, and it didn't do anything for him. He just never uses it. I use my side all the time, so I'm glad we got one that was not all together because I don't know if he would've let me keep it." —Focus group participant
According to Streich, the licensed professional counselor in Colorado, research suggests that sleeping together can support healthy relationships and promote physical closeness and intimacy. "However, it is important to note that individual preferences and sleep quality can vary," she says. Sleeping together can be important to relationships, but not at the expense of losing sleep. Sleep deprivation is counterproductive, leading to social withdrawal from your friends and partner. "Some couples may find that sleeping on a split king adjustable base, which allows each partner to customize their sleeping position, can be helpful in getting a restful night's sleep while still maintaining a sense of togetherness."
Julia Catlin, a licensed psychotherapist at Calm Science in Las Vegas, agrees. "As more and more couples are considering a sleep divorce, modern options like a split king adjustable base can make sleep feel like a luxury while still supporting quality time in your relationship," she says. "For example, the Scandinavian Method involves using two different blankets to improve intimacy, sleep, and enhance your relationship when partners share the same bed. A split king adjustable base can support this method and offer enhanced results."
Some people with mobility issues also benefit from adjustable beds, as the head adjustability can help you sit upright, making it easier to get out of bed. Many models in this review also have safety features that help you see at night to reduce tripping hazards, like the under-bed lighting included with the Saatva Adjustable Base Plus.
Who would not benefit from using a split king adjustable bed?
Our Handbook Team initially thought split king adjustable beds were unnecessary for solo sleepers, and this is true for some. However, after listening to our focus group participants, you may want to consider future partners before purchasing any adjustable bed.
One participant told the group she bought a queen-size adjustable bed just before entering a new relationship. Now, she's worried her new partner will dislike her new base and the sleeping position she prefers. If you're single and dating, try temporary solutions with pillows and wedges before committing to any adjustable base, just in case your sleeping situation changes.
While some couples benefit from the split sleeping surface, Streich emphasizes that not all couples will like the accommodation. "If a couple values physical closeness and intimacy during sleep, a split king bed may negatively affect their connection," she says. Nervous that the divide may threaten intimacy? A good compromise could be a split-top style, like Saatva's Upper-Flex option, which only divides the head and not the rest of the bed.
We also encourage couples to talk to their doctors before purchasing an adjustable bed as a treatment strategy for a medical condition. Your doctor may not recommend an adjustable base and provide more appropriate solutions. We also encourage you to talk to a couple's counselor if poor sleep affects your relationship, as they may have specific insight unique to your circumstances.
Pros and cons of split king adjustable beds
If you think you benefit from a split king adjustable bed, consider the pros and cons before you buy. While the main benefit of individual adjustability seems obvious, you may not have thought of other considerations.
What we like about split king adjustable beds
Accommodates personal sleep preferences: Each partner gets their own adjustable side and remote, so you won't disturb each other as you lounge and sleep. Depending on the brand and model, you can sleep on different mattresses.
Multiple styles and sizes: Split beds typically come in standard king and California king sizes. But if a completely split bed isn't for you, Saatva and Sleep Number offer split-top options that only split the head.
What we don't like about split king adjustable beds
More expensive: King-size adjustable bases, split or not, are more expensive than smaller options. You'll need to purchase two twin XL mattresses if this is your first split-style bed, which are two extra expenses, plus the right bedding.
Complicated care: A split king bed is like having two beds. This means changing two sets of bedsheets, making the center mattress corners hard to reach. Note that split-top beds need compatible mattresses with special fitted mattress sheets that fit like a flip-flop. They're uncommon, so your best bet is shopping for bedding through your bed brand's website.
Handbook Team Tip #5
A member of the Handbook Team shared that she puts her base into zero-gravity mode when she changes the sheets on her split king adjustable bed, exposing the corners and making the job much easier.
Split king adjustable beds costs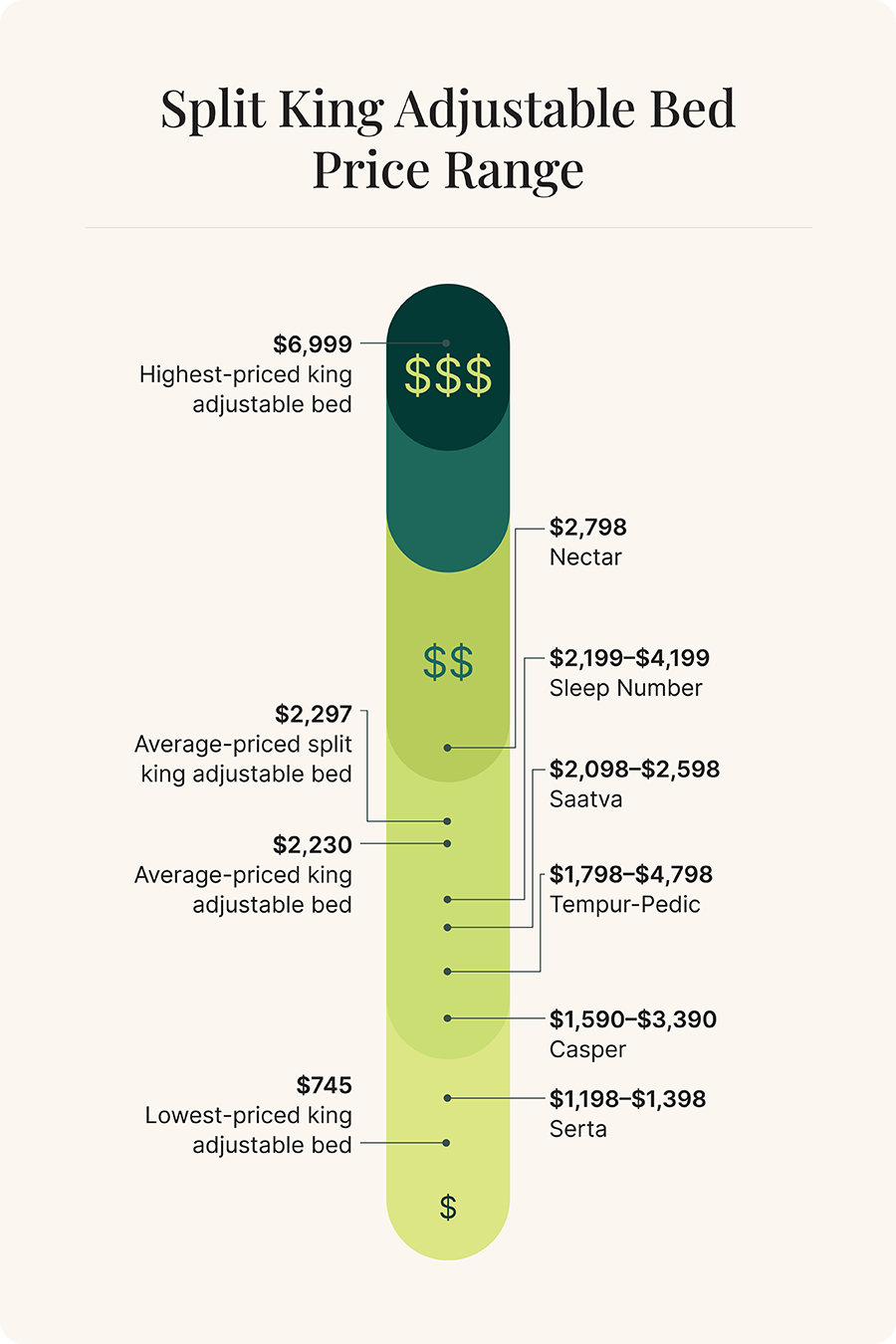 Top features to look for in adjustable bases
The number of options on the market is overwhelming, but at the core of every adjustable base is the same basic functionality: head and foot adjustment. Other features could benefit pain relief or relaxation, but it depends on individual preference. As you sift through your options, consider the following to choose the best split king base for you.
What to look for
Budget and financing: Adjustable beds can be pricey, but there are ways to lower the financial boundary between you and better sleep. Most brands have financing options available. Be sure to check the terms, and if your bed has a trial period, ask the financing firm how a return will affect your financing contract.
Relevant features: One of the best ways to stay within budget is to refine your list of needs and wants. For example, upgrading to the next model's massage feature may cost about $1,000 more. Stick to the essential features that address what you need most.
Trial period: Not every brand offers a trial period, but the ones that do are important to highlight because they allow you to try the base in your home environment, so you can determine if it's a good buy. Many focus group participants waited several months before purchasing an adjustable base because they weren't sure if it would help them relax or sleep better. But if you can test it in your own home, you'll probably feel better about making the purchase. People in our focus group reported an adjustment period of a few days to a few weeks, but some knew if it was right for them and their partners after the first night. The participants who knew it was right for them after a day said the relief was immediate, while others needed a few weeks to play with settings and figure out the best position for better sleep.
Warranty: While many adjustable bases function similarly, warranty is one of the few factors that varies a lot between brands. For example, Tempur-Pedic and Saatva have limited warranties that span 25 years, while Casper requires you to purchase an extended warranty for full coverage up to 10 years. Choose a brand with a warranty length you feel is fair for the price and make sure you understand and agree to the terms before you buy.
Split options: Some couples don't need to divide the entire bed to get the sleep they need. Instead, opt for the split-top styles offered by Saatva and Sleep Number, which don't have a large separation between sleeping surfaces.
What's okay to skip
Massage: According to a Sleep Number store representative, massage was one of the least used features in the brand's adjustable bases, so they removed the feature altogether. After trying multiple bases with built-in massage, we understood why: It felt like vibrations more than kneading, which some team members found uncomfortable or annoying. Some research suggests vibrations can improve blood flow, but many of these results occur under controlled settings with specific vibration types and frequencies, so it's unclear if these benefits would apply to adjustable beds. However, you might love the massage settings in adjustable bases like some of our survey respondents, so you should try it before crossing it off your wishlist.
Wall alignment: Some brands offer wall-aligning or wall-hugging technology, which moves the upper portion of the base closer to the wall as the head of the bed elevates. This keeps you closer to your nightstand during adjustments. Our Handbook Team agrees this feature does keep you closer to the nightstand, but you'll still need to reach behind you, so it's not a breakthrough solution.
Under-bed lighting: We like this feature if you need to see obstacles in the dark, but some of the adjustable beds we tested had dim lighting that might not be bright enough to light up the whole bedroom floor. If you need lighting to make sure you don't trip over the dog when you head to the bathroom at night, go for a thin surrounding bed frame that allows as much light through as possible.
Our final verdict
We found that Saatva is the best on the market for its features, reputation, and free in-home delivery service. The brand's advanced model offers most of the best features needed for a good night's sleep without complicated or costly perks. Although Saatva doesn't offer a trial period, you can exchange your twin XL mattresses for a king-size mattress if you dislike the split style. And where Saatva falls short, Nectar, Serta, and Casper shine, offering trial periods to ensure you and your partner love your base and features before fully committing.
If you're like 73 percent of adjustable bed users in our survey, you'll start to notice improvements in your sleep and mental health. Before shopping for an adjustable bed to address a medical condition, talk to your doctor to ensure your new bed fits your treatment plan.
Frequently asked questions
Yes, you can feel where the two mattresses meet if you're situated toward the middle. If you want to test a split king to make sure you and your partner like the feel, we recommend going to a store or purchasing a split king base and compatible mattress with a trial period.
Medicare doesn't cover adjustable beds because they're not considered durable medical equipment. Instead, ask your doctor for a hospital bed, which can qualify under Medicare Part B if your doctor prescribes it.
A split king is made up of two twin XL adjustable beds, which are compatible with two twin XL mattresses.
It's more challenging to change bedsheets on a split king adjustable bed because you'll have to change each side, and the middle corners are hard to access. A member of the Handbook Team shared that she puts her base into zero-gravity mode to expose the corners, making the job much easier.