These products & services are researched and tested by HelpGuide's independent consumer reviews partner. When you buy through the links, we may earn a commission.
We know a good night's sleep can have a significant impact on your day-to-day life—especially your mental health, including your mood, ability to focus, and capacity for resilience. Just like your body needs rest, so does your brain. Our brain regulates emotions and behaviors, and when you don't get enough sleep, your brain can't function as well.
Ryan Wetzler, a clinical health psychologist and founder of the Sleep Health Center, explains how being uncomfortable can contribute to poor sleep. "When somebody doesn't sleep well, specifically when they're not getting sufficient deep sleep, this increases pain sensitivity, which will influence how they experience pain, causing more sleep disturbance."
Whether you're experiencing discomfort or other issues impacting your sleep, the ability to change your position with an adjustable bed may help you get a better night's rest.
Adjustable beds are motorized bed bases that adjust positions by raising or lowering the foot and head of the bed. In general, any mattress that doesn't use innersprings can work with an adjustable bed base, but be sure to check with the manufacturer before purchasing to ensure both the base and mattress are compatible. Popular features of adjustable beds include the zero-gravity position, which raises your head and knees slightly above your heart and helps distribute body weight, reduce pressure on joints, and improve circulation.
Adjustable beds can be a big investment, with some models costing upward of $5,000, which is why we've made it our mission to find the best quality ones and review them here. After researching more than 100 adjustable bed models, we think Saatva offers the best buy for adjustable beds.
Which Saatva adjustable base is right for you?
If you want a simple and more affordable adjustable base with remote-control head and foot adjustability, check out the Adjustable Base.
For additional features, like massage, position preset buttons, and under-bed lighting, the Adjustable Base Plus offers a luxury model at mid-range prices: $1,249–$2,598.
Why HelpGuide cares about a good night's sleep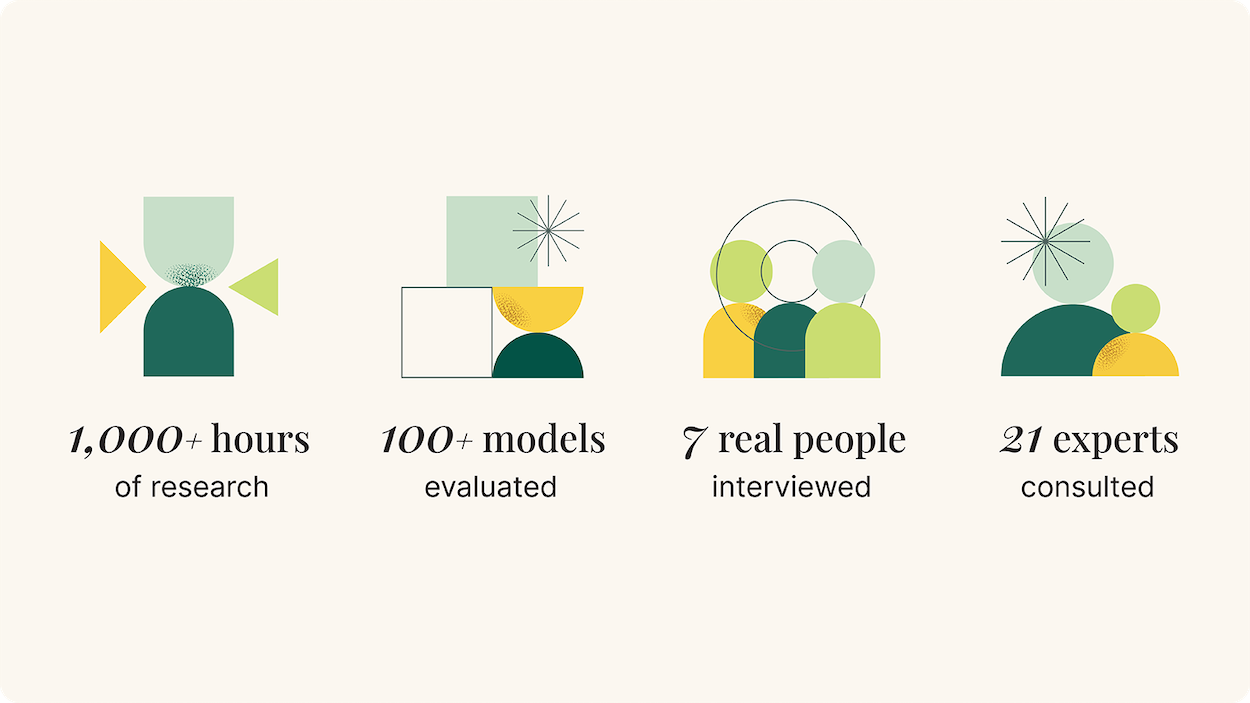 Quality sleep is a key part of mental health, physical health, and overall well-being. Sleep helps us reset our bodies, process our emotions, and squash daily stressors. Without it, we can develop chronic mental health issues like anxiety and depression, as an abundance of research shows.
But there are medical conditions that can make sleep difficult. Chronic pain, acid reflux, loud snoring or sleep apnea, and insomnia are issues that can keep people up at night.
Finding solutions for better sleep can be frustrating, but we're here to help. The HelpGuide Handbook Team wants to empower you to make the right decision by providing the most honest information about sleep health and related products, like adjustable beds.
In order to recommend the best options to fit your needs, we sought to better understand how sleep impacts overall health. We consulted with mental health experts, researchers, and industry leaders in sleep and ergonomics to connect the dots about what really matters in an adjustable bed experience.
Ultimately, we want to support your sleep health and overall mental well-being. Through in-depth testing and research, we aim to take the stress out of your search for better sleep by sharing our findings with you here.
Learn more about our adjustable bed review methodology.
HelpGuide Handbook for Saatva adjustable beds
If you only learn five things about Saatva adjustable bases, this is what you need to know.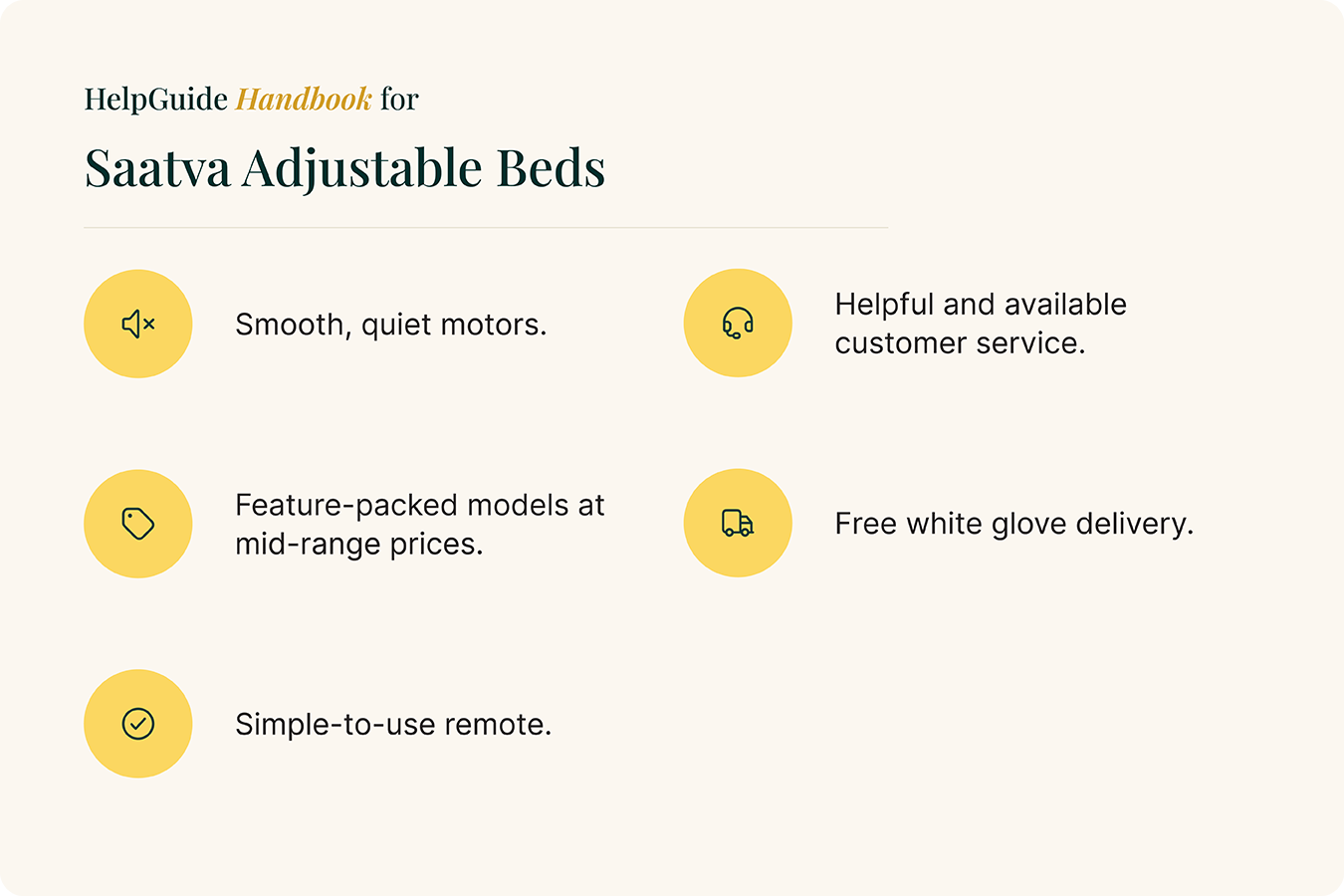 Our testing experience
Our Handbook Team tested Saatva adjustable beds at length in person, and we believe it's one of the best adjustable beds to buy.
Before we started testing adjustable beds ourselves, our Handbook Team used multiple sources to create our testing designs. First we surveyed 600 adjustable bed owners and separately interviewed seven different adjustable bed owners, so we could get firsthand insights into what it was like to buy and own an adjustable bed. We then consulted with experts in the medical field to understand the close relationships between mental health, physical health, and sleep.
Our survey of adjustable bed owners revealed real-world insights on how an adjustable bed can help you sleep better and improve your overall mental well-being.
About 91 percent of survey respondents reported they sleep better with their adjustable base, and 73 percent reported improved mental health as a result.
When we researched Saatva's two adjustable bed models, the Adjustable Base and Adjustable Base Plus, and compared each model's list of features to the competition, the Saatva models didn't stand out. Wireless remotes come standard, and the luxury features that come with the Adjustable Base Plus aren't unique to Saatva.
But we were curious to see how the adjustable beds performed in person compared to other models we've tested. The first thing we encountered was an impressive level of customer service from firsthand experiences interacting with Saatva sales representatives. This was corroborated by the brand's highly rated reputation across third-party review sites, like Trustpilot and Better Business Bureau.
Our testers mystery-shopped the adjustable beds online and in person at a Saatva viewing room, where the company's mattresses, adjustable bases, and furniture are on display for customers to try. Online and in person, Saatva customer service was warm, friendly, and knowledgeable. When we contacted Saatva online, we didn't have to wait more than five minutes to connect with a real chat agent. Similarly at the showroom, a Saatva representative greeted us within seconds of entering, but the representatives weren't pushy or overbearing at any point.
Overall, we liked how the beds performed during our tests, and we found the Saatva mattresses comfortable to lie on. But we know comfort is subjective, so we tried the bases with three different mattresses:
From our tester
"All of the mattresses we tried with the bases were comfortable to lie on, but as a person who prefers a firmer mattress, I really liked that the Zenhaven mattress felt supportive but still conformed to the adjustable base even with the head and foot elevated to the max."
As for function, we found the remote control for each base easy to use. The bases also had a smooth and gradual motion when changing positions, which was barely noticeable until our tester's head and legs were elevated a few inches already. We found it took about 15–20 seconds to change from the flat position to the zero-gravity position. The motion wasn't jarring, which helped us stay relaxed and comfortable while on the adjustable bed. This is an especially important feature for partners sharing a bed who may want to change positions during the night without waking the other person up.
We also put Saatva's "whisper-quiet" motors to the test by measuring the sound levels using a decibel meter mobile app. We wanted to test whether the adjustable bases were quiet enough for sleepers to change bed positions without being disrupted by the noise of the motors. On average, a soft whisper measures 30 decibels. The Saatva viewing room with background music and ongoing conversations measured at 62 decibels, and a brief pause in the background music gave us a reading of around 40 decibels, which is equivalent to a quiet room like a library.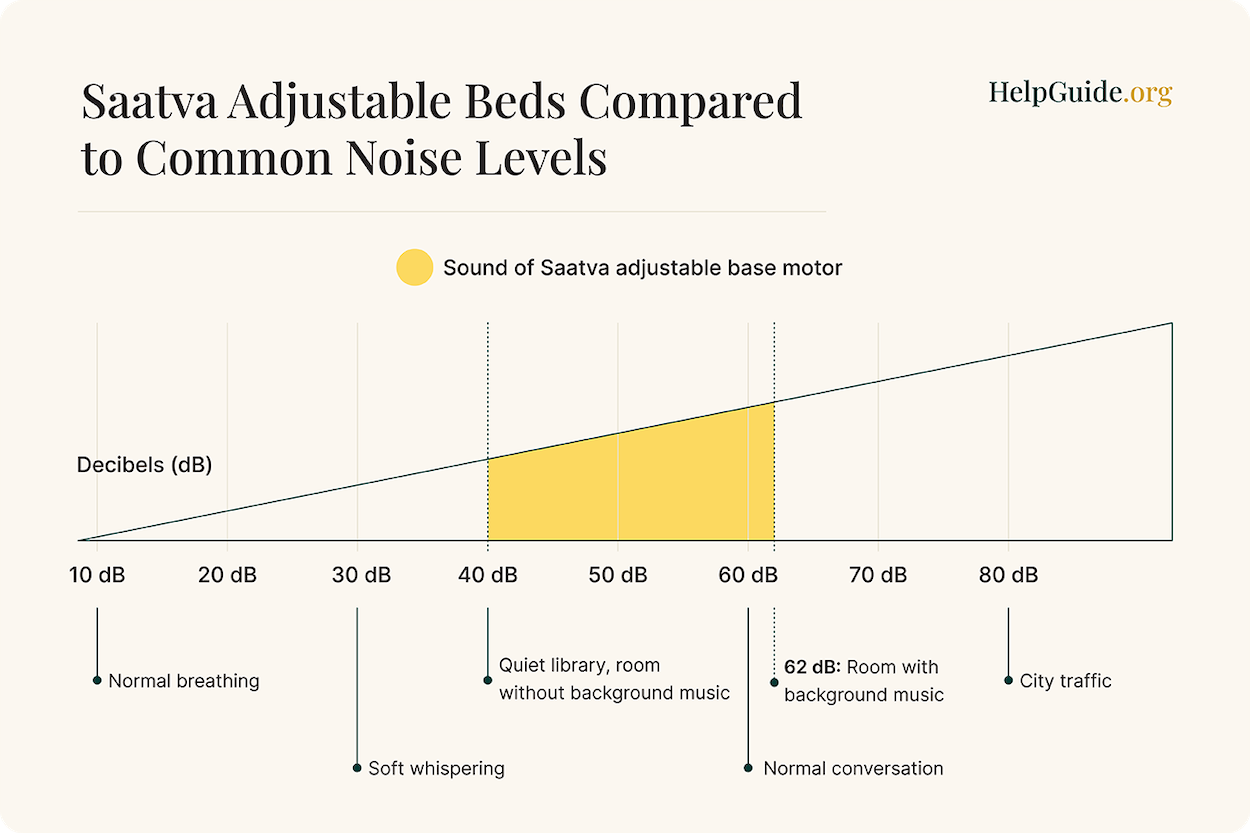 While we could hear the hum of the motors when they were on, they didn't sound creaky and mechanical like some adjustable bed motors we've tested—proving Saatva's "whisper-quiet" claim to be valid.
About half (42 percent) of the adjustable bed models we researched have a massage feature. The American Massage Therapy Association (AMTA) reports that massage therapy can support both mental health and sleep quality. But how does massage through a mattress feel? And is it relaxing enough to help someone get a good night's sleep? To find out, we tested the massage function on each Saatva base, as well as on any other bases we tested.
While some people might find it relaxing, we weren't fans of the massage features on any of the adjustable beds in general—and Saatva was no exception. The massage feature is powered by motors that vibrate the bed. You can choose different modes that change the intensity and timing of the massage. Although the gentle vibration could be relaxing enough to help some individuals get to sleep, we agreed it's definitely no substitute for the feel and pressure you get from a manual massage, massage chair, or massage gun.
Read more about how we test and evaluate all our adjustable beds in our adjustable bed testing methodology.
Pros/cons of Saatva adjustable bases
What we liked
Models with basic and premium features.
Free in-home delivery and setup included.
Noise from the motor on both models is barely noticeable.
What we didn't like
No trial period or returns.
Limited showroom locations to try out adjustable bases.
Delivery can be nine to 21 days from the order date.
| | | | | |
| --- | --- | --- | --- | --- |
| | $1,045–$2,090 | Twin XL, queen, king, split king, California king | Head and foot elevation, wireless remote with built-in flashlight, zero-clearance design | Visit Site |
| | $1,249–$2,598 | Twin, twin XL, full, queen, king, split king, California king, split California king, queen Upper-Flex, king Upper-Flex | Head and foot elevation, wireless remote with built-in flashlight, zero-clearance design, under-bed lighting, massage function, wall-hugging design, four preset positions | Visit Site |
Saatva adjustable base reviews
We found the Saatva Adjustable Base was a no-frills adjustable bed that offers head and foot adjustability and a simple-to-use wireless remote control. This base is more affordable than the Adjustable Base Plus and priced below the average cost of other adjustable beds we researched. We liked how the bed had a smooth motion while changing positions and noise from its "whisper-quiet" motor was barely noticeable when active.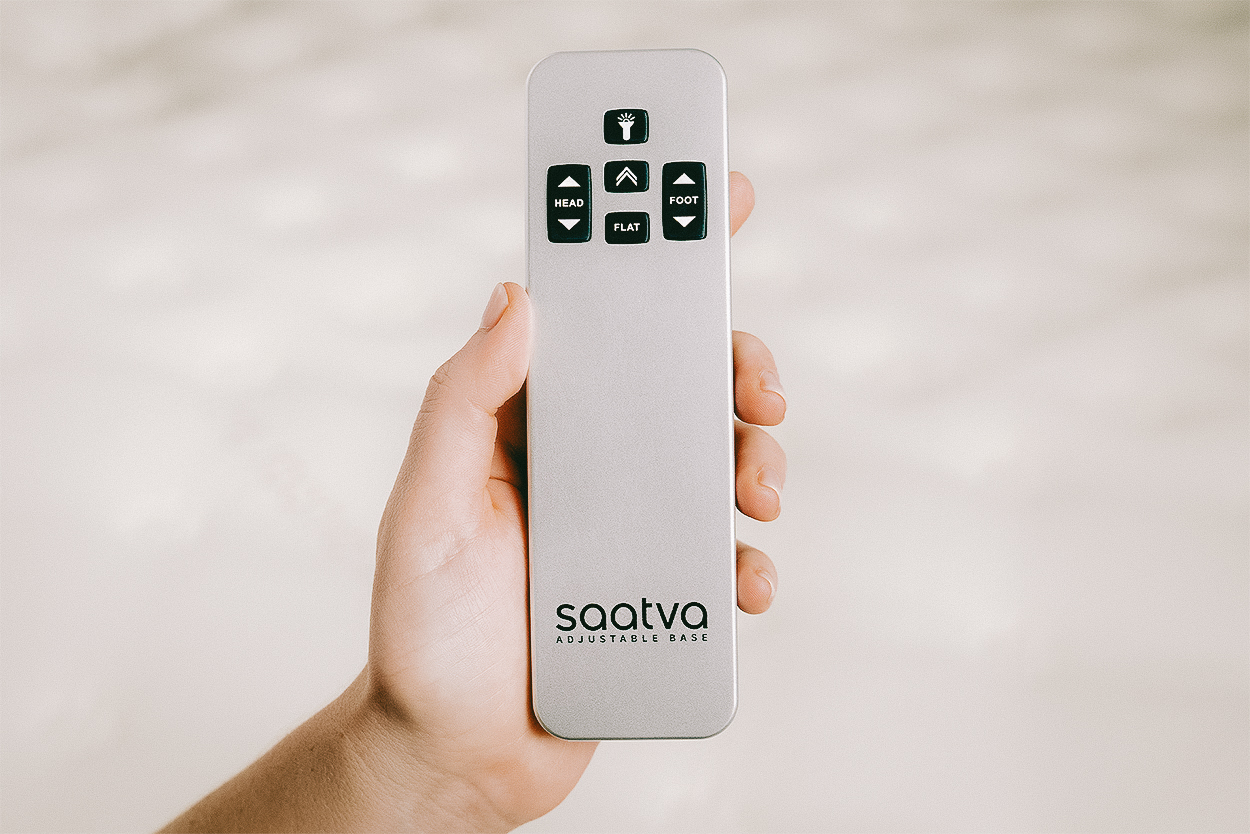 Unlike the Adjustable Base Plus, there's only one preset button on the Adjustable Base remote: flat. So unless you're returning the bed to a flat position, you'll have to use the up and down arrows to get to your favorite position settings. This can be a plus for sleepers who like to fine-tune their bed positions night-to-night—for example, if you have chronic pain and need to change positions frequently. However, we preferred the convenience of preset buttons on the Adjustable Base Plus to get to a comfortable position in one press of a button.
We noticed the Adjustable Base motor was louder than the Adjustable Base Plus, but the difference was slight, so we weren't bothered by the difference in noise levels. The Saatva representative assured us that while motors for both models are the same, each model is constructed a little differently. For instance, the Adjustable Base has a barely noticeable thin platform covered in black fabric, while the Adjustable Base Plus has foam padding and upholstery that helps dampen the sound of the active motors.
In addition, pairing the base with a latex or memory foam mattress dampened the noise of the motors, while an air or innerspring mattress transferred sound more. We took note of this difference for noise-sensitive sleepers who might be looking for the quietest setup to minimize sleep disruption.
From our tester
"For my sound-sensitive partner, combining the Adjustable Base with a latex or memory foam mattress would be my strategy to dampen the sound of the motor even more."
Even though the Adjustable Base is Saatva's more affordable model, it still comes with free white glove delivery service, which is an in-home delivery and setup service that can cost up to $250 extra. This is a huge perk. The adjustable base can weigh up to 198 pounds for a king size, so we think this service is one of the factors that makes Saatva stand out.
Saatva Adjustable Base
Our verdict: We think the Adjustable Base is a great affordable option if you're looking for a basic adjustable bed. It has a quiet motor, a discreet design, and an affordable below-average price point—plus free white glove delivery.
The Saatva Adjustable Base Plus, formerly known as the Lineal Adjustable Base, was our favorite of the two models. We were impressed that this model comes with upgraded features, like under-bed lighting (which can help reduce tripping risk by illuminating hazards when it's dark), a massage function, and position presets, but it's still competitively priced, hovering around industry averages.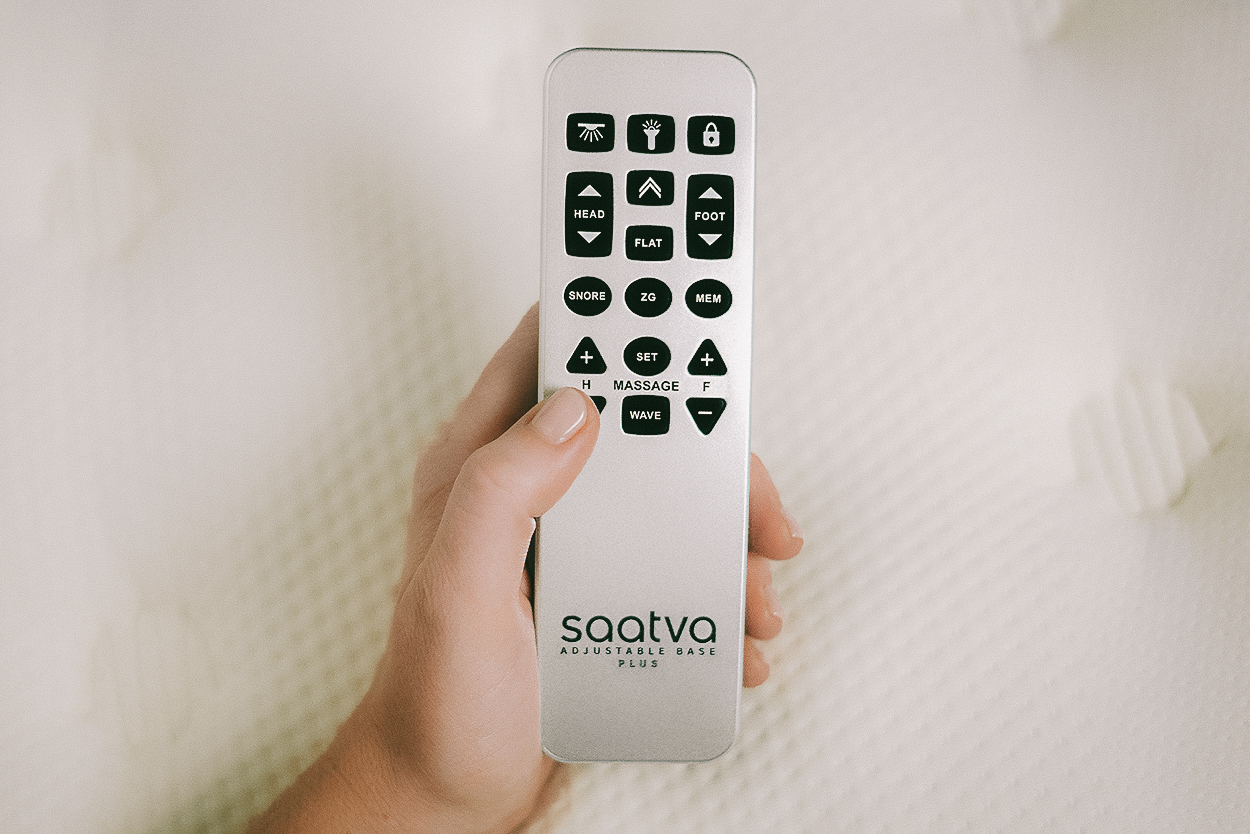 The wireless remote comes with four preset buttons, three of which are pre-programmed (the fourth you can program yourself):
Zero gravity: Elevates the head and feet to reduce pressure on joints.
Anti-snore: Elevates the head slightly to prevent snoring.
Flat: Returns the bed back to a flat position.
We especially like the presets because they allow for easy, consistent positioning. Although comfort differs from person to person, the presets can also be helpful for concerns like snoring, which affects about one in four sleepers (and likely their partners as well). The anti-snore preset on the Saatva adjustable beds elevates the head slightly, which may reduce the severity of snoring for some.
From our tester
"I initially thought the anti-snore preset was going to be hard to get used to, but it feels more like sleeping on a wedge pillow or more than one pillow. I like it better than using multiple pillows because I can consistently get an elevated head position and don't have to deal with pillows slipping over each other. Plus, it's still low enough to feel comfortable if I roll over to sleep on my side as well."
Research shows that people with disturbed sleep can harm their bed partner's mental health, resulting in lower mood and dissatisfied relationships. For partners that have different sleeping preferences or habits, we recommend the split king size of the Adjustable Base Plus, which comes with two remotes. Each remote controls a side of the bed, so you and your partner don't need to compromise when it comes to getting a comfortable sleep on your adjustable bed.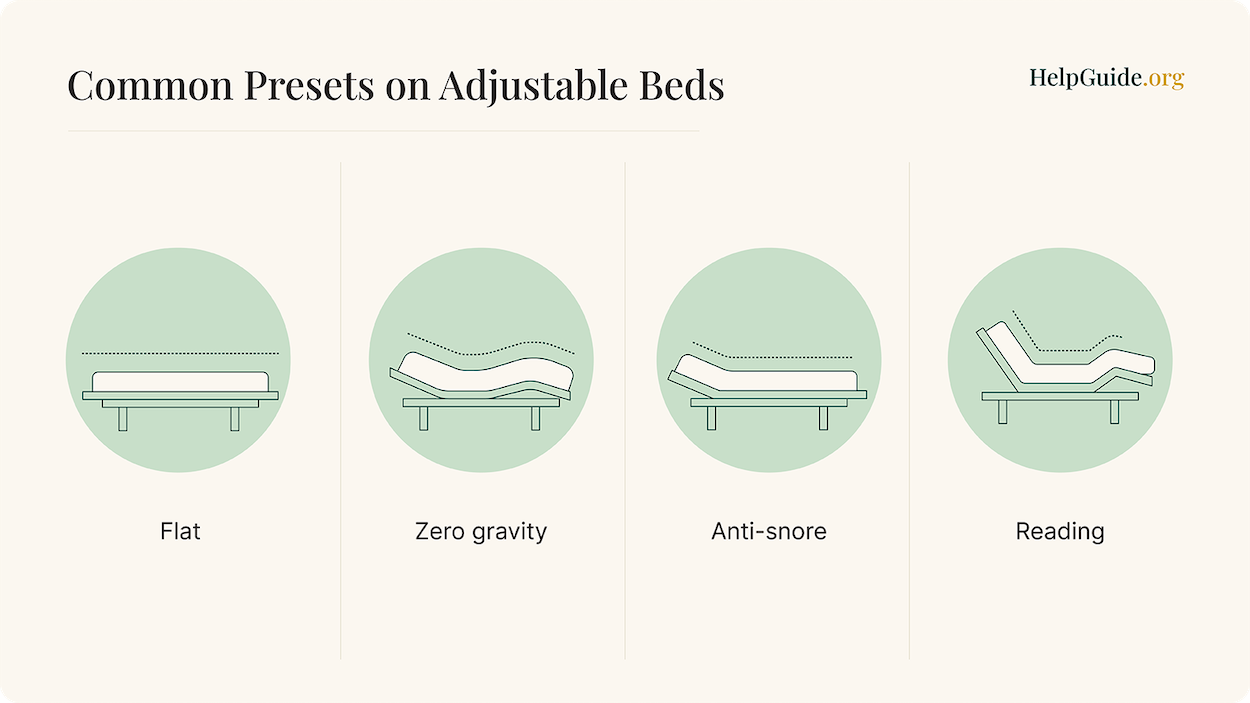 We appreciate the wall-hugging design on the Adjustable Base Plus, which allows the bed to move back as the head of the bed elevates. This feature is handy for anyone who often reaches for items on their nightstand, like a book, tablet, lamp, phone, or medical device. Without the wall-hugging feature, you have to reach back or get out of bed to retrieve items on a nightstand.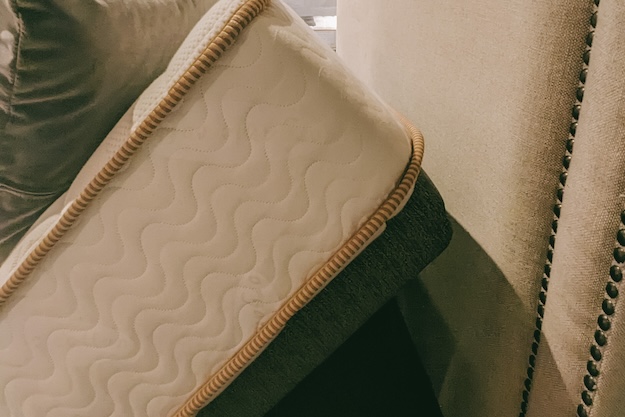 Considering all models and sizes cost more than $1,000, we dislike that Saatva adjustable beds are final sale items with no trial period. However, the Adjustable Base Plus has a competitive 25-year warranty, which provides some peace of mind. In comparison, adjustable beds from other brands come with warranty periods ranging from two to 25 years, with a median warranty period of 10 years.
Upper-Flex models
The Saatva Adjustable Base Plus has two split sizes that are compatible with its Upper-Flex mattresses. We got to test the Upper-Flex king and queen sizes of the Adjustable Base Plus with a Saatva Upper-Flex Solaire mattress.
The Upper-Flex mattresses, also known as split-head mattresses, are split only at the top, so the head on either side of the bed moves independently, but the foot of the bed is still joined together. The Solaire mattress is made of air chambers, like Sleep Number beds, so you can customize your mattress's firmness.
When we tested the mattress, we found the firmest setting was more like a medium-firm feel. We recommend this type of mattress for people who prefer a softer feel to their mattresses, for example, to support recovery from an injury. There's early evidence that air-adjustable mattresses like the Solaire can improve sleep quality by supporting spinal alignment.
The Upper-Flex king and queen adjustable beds are just split king and split queen sizes that are specifically programmed to work with an Upper-Flex mattress. We preferred the fully split sizes of the Adjustable Base Plus because the Upper-Flex versions don't have the wall-hugging design, and there's an added complication of finding split-head bedding, which isn't as common in stores.
Saatva Adjustable Base Plus
Our verdict: We think the Adjustable Base Plus is a value-packed adjustable base. For a competitive price, you get upgraded features that are important to creating a comfortable and relaxing bed setup, such as massage and preset positions.
Key features of Saatva adjustable bases
Here are the standard features that come with Saatva adjustable bases: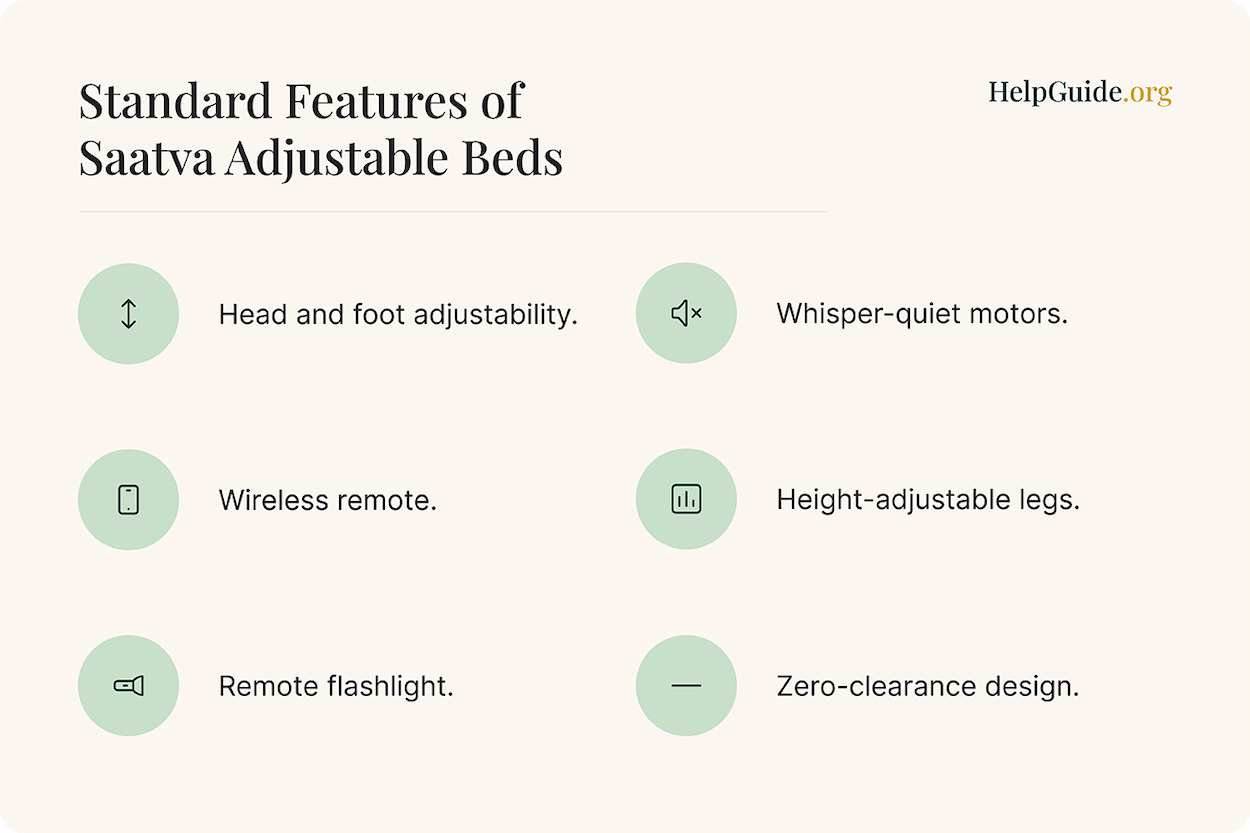 We like how Saatva adjustable beds come with standard and luxury features that easily fit in with most bedroom setups. Here's how:
The zero-clearance design allows you to use the bed on a platform bed or a bed frame without slats.
The height-adjustable legs allow you to customize the height of the bed in half-inch increments between 13–18 inches off the ground.
The motors are smooth and quiet enough for most people to sleep through.
Instead of turning on the room light (or moving around a dark bedroom at night) the remote flashlight is handy when you need light but don't want to disturb your partner.
The adjustable bases come with a backup battery feature, so you don't have to worry about getting stuck in one position if the power goes out. (Just make sure to insert a 9-volt battery in the small box below the bed, so you can bring the bed back to a flat position in case of a power outage.)
Upgraded features in the Adjustable Base Plus
While the Adjustable Base is a solid standard adjustable bed, we like how the Adjustable Base Plus comes with upgraded features:
Under-bed lighting.
Two-zone massage.
Wall-hugging feature.
Preset buttons for: zero gravity, anti-snore, flat, and custom position.
The massage feature shuts off automatically after 15 minutes, has three different intensity levels, and comes with a full-body "wave" program that cycles the massage up and down the bed.
Although the timer feature was handy to "set it and forget it" as part of a wind-down routine, we didn't like that it only had one timer setting to choose from. For people struggling with insomnia who may have longer wind-down routines, we like massage timers with more choice. For example, the Puffy and Avocado adjustable beds have 10-, 20-, and 30-minute massage timer settings to choose from.
While the massage feature can be a way to encourage relaxation and better sleep, it might not be a plus for everyone. If you're unsure if massage in your adjustable bed is worth the extra spend, we recommend trying out any adjustable bed's massage features to see how it could benefit you.
From our tester
"The massage zones are actually felt at the lower back and lower leg areas, rather than the 'head' and 'foot' as labeled. It's a nice relaxing sensation but definitely nothing like a massage chair."
Buying Saatva adjustable bases
You can order an adjustable base through the Saatva website. White glove delivery from Saatva is free, and you can select whether you would like your mattress and foundation removed as part of the service. Mattress and foundation removal is free of charge, but the delivery teams won't remove the following:
Waterbed bases.
Adjustable bases.
Bed frames.
Sleep Number bases.
Stained or damaged mattresses and foundations.
We liked that the company offered white glove delivery service to deliver and set up the bed in a room of your choice. The adjustable beds can weigh between 103 pounds (Adjustable Base, twin XL size) and 272 pounds (Adjustable Base Plus, king size), so the white glove delivery is especially helpful.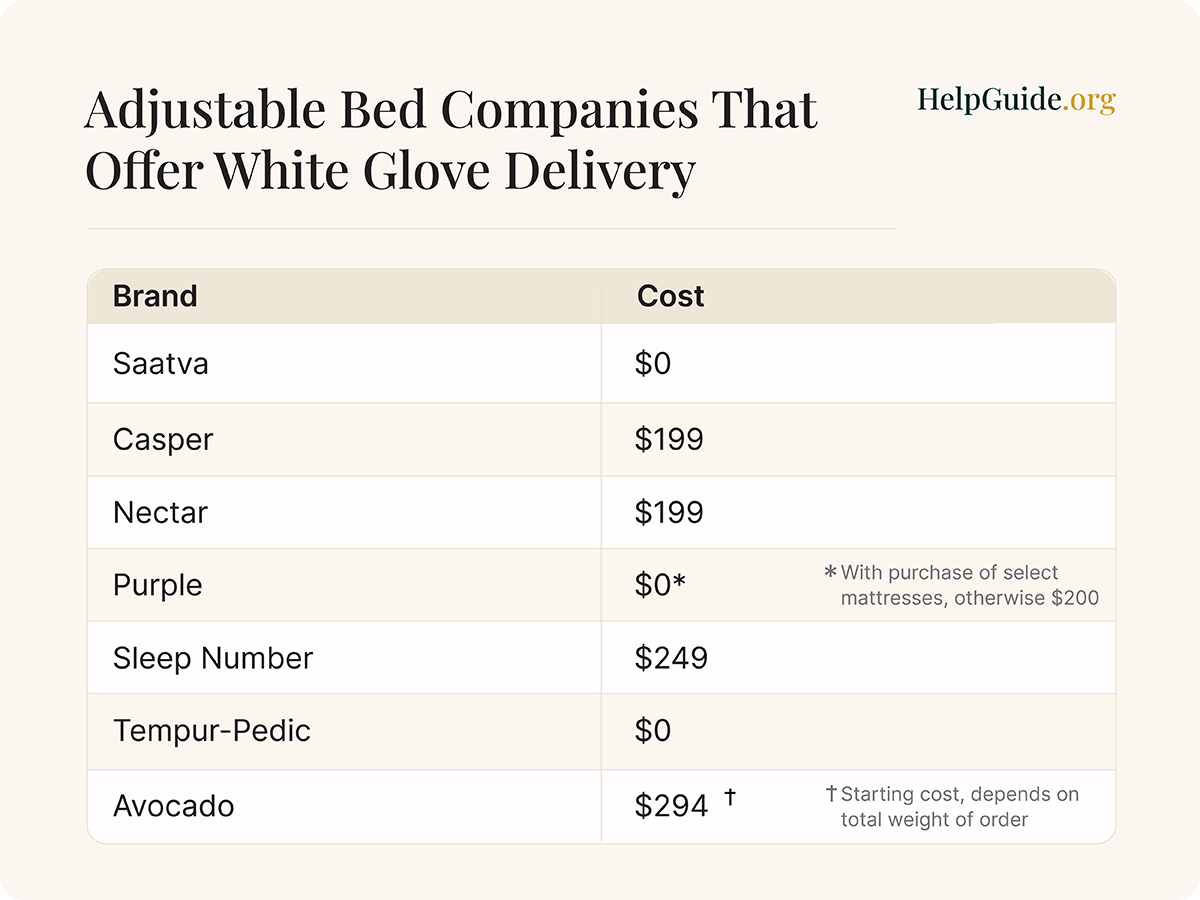 Delivery takes nine to 21 calendar days from the date of your order, so be prepared to wait for your order. We found Saatva's delivery times longer than the competition: Among all the adjustable bed brands we researched, we calculated the average delivery window to be six to 14 calendar days.
About a week before delivery, you'll be contacted by the company to schedule a delivery window and date as part of your white glove delivery service. If you're out of town or need to coordinate your delivery with a move, we learned the delivery team can hold your order for up to 30 days until you can receive your delivery.
Handbook Team Tip #1
There's no trial period, no returns, and no exchanges for the adjustable beds from Saatva. If you're close to one of Saatva's viewing locations, we recommend visiting to try out the adjustable bases for yourself.
Overall, we had a great experience with our visit to the Saatva showroom:
From our tester
"The sales representatives gave me space to explore the adjustable bed features myself, but also were friendly and helpful when I had questions."
Saatva has a live chat on its website and a phone line open 24/7. Agents were available to answer our questions even at 2:00 a.m. EST on a weekday. Unlike some adjustable bed brand customer service teams that may aggressively push customers to a checkout cart, we found the Saatva live chat agents consistently gave helpful information without having to explain whether or not we were ready to buy an adjustable bed at the time.
When we interviewed real adjustable bed users, we learned that good customer service has a real impact on their buying journey. Out of the seven users we interviewed, five of them had positive experiences with customer service before committing to a purchase.
What real users say
"I mean a picture can only tell you so much, at least to me. . . . To have somebody that knew more about it, talk to me about it and not necessarily feel like they were selling me, but just answering my honest questions about what I was getting, it did make a difference in the end as far as customer service." —Focus group participant
How much do Saatva adjustable bases cost?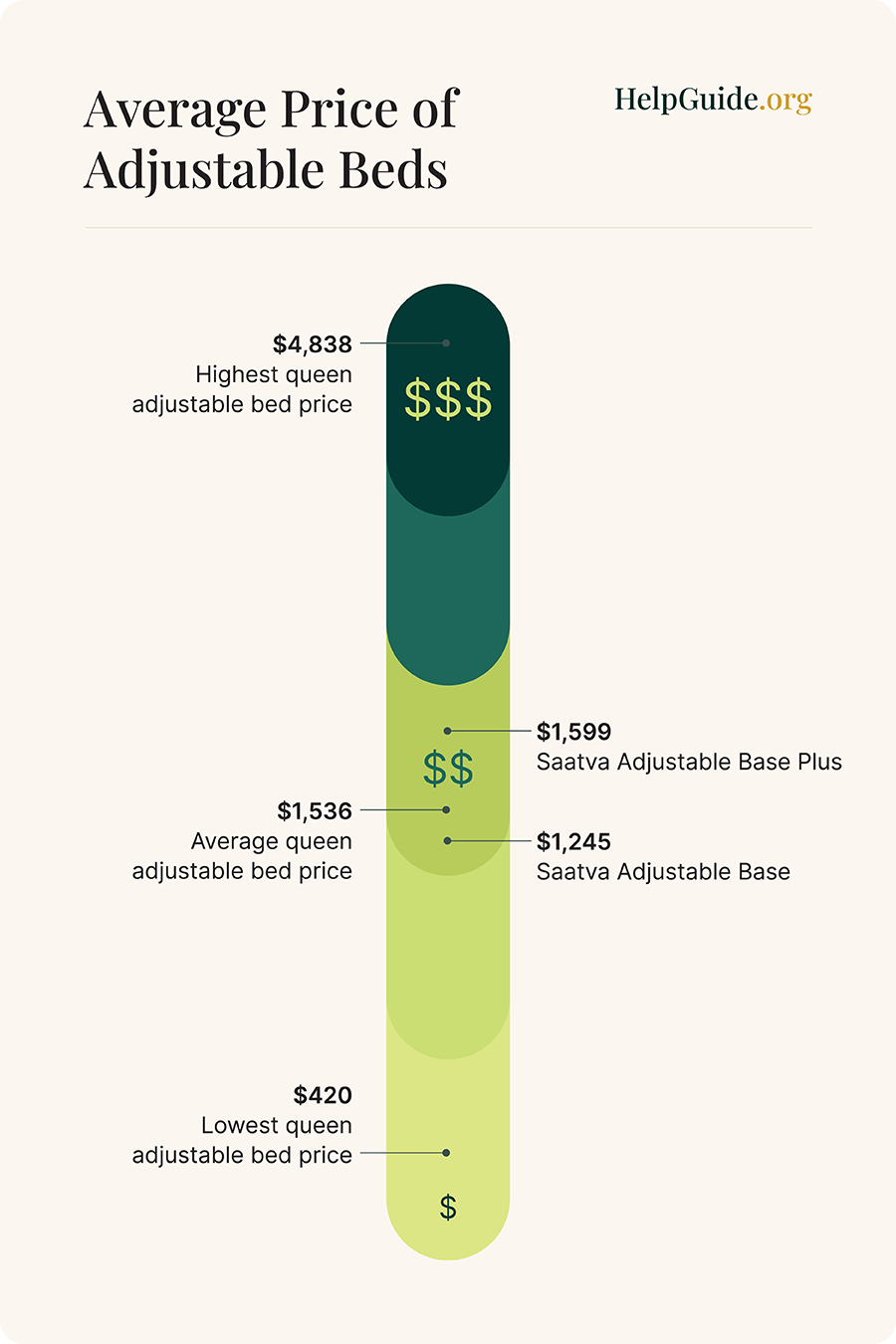 Saatva adjustable bases are priced around the industry average. From the more than 100 adjustable bed models we researched, we found the average price of a queen-size adjustable bed is typically around $1,536, while Saatva's queen for the Adjustable Base Plus is $1,599.
The Saatva Adjustable Base costs about $300 less than the average queen-size adjustable bed, while the Adjustable Base Plus costs about $60 more than the average for a queen adjustable bed.
But we think it's worth the extra cost. We liked that this model has features that make an adjustable bed comfortable and easy to use, like its presets and its wall-hugging design, but it also comes with a longer-than-average warranty period and free white glove delivery, and it's backed by a solid reputation.
Handbook Team Tip #2
Saatva adjustable bases are final sale items (meaning no trial period). But Saatva typically offers promotions on its products, and the company offers price adjustments if a better sale comes around after you've purchased your adjustable bed.
You can get a $225 discount on mattress purchases for students, people 65 and older, military members, health care professionals, first responders, government employees, and teachers. Discounts can't be combined, and the online store applies the largest discount automatically.
Our final verdict
Saatva adjustable bases come with either basic or luxury features, but their customer satisfaction policies make them stand out above other adjustable bed brands.
We liked how the Saatva adjustable beds performed in our tests, and we had great experiences interacting with the brand's customer service. For noise-sensitive sleepers, we recommend the Adjustable Base Plus paired with a latex or memory foam mattress. For partners sharing a bed, the Base Plus was also our recommendation for the best overall in the split king size. The Adjustable Base is worth short-listing if you're looking for an affordable, no-frills adjustable bed that comes with the perk of free white glove delivery.
We know that deciding on a new adjustable bed is no small decision, so we've invested many hours into researching and reviewing the best adjustable beds to help you rest easy in your mind and body. There are a lot of adjustable bed options on the market, but we recommend the Saatva Adjustable Base Plus as the best overall. Quiet motors, position presets, and the wall-hugging design were some of the luxury features that helped us stay comfortable while using the adjustable bed.
Although adjustable beds are often more than $1,000, we found the brand's customer satisfaction policies added value to their price tag. Not many companies offer free white glove delivery with free mattress removal like Saatva, and our experience with its helpful 24/7 customer support made the company stand out among the competition.
Frequently asked questions
Saatva's adjustable bases cost between $1,045–$2,598, depending on the model and size. A queen-size Adjustable Base costs $1,245 and a queen-sized Adjustable Base Plus costs $1,599. These are close to the average cost of a queen-size adjustable bed, $1,552, found from our research on more than 100 adjustable bed models.
Doctors may recommend adjustable beds for certain conditions. Danielle Kelvas, MD, in Chattanooga, Tennessee, recommends adjustable beds for safe spinal motion and reducing pressure on joints. Research suggests the benefits of modified bed positions for conditions such as snoring, sleep apnea, or acid reflux.
Adjustable beds can make it more comfortable for some to fall asleep and stay asleep. Conditions like acid reflux, snoring, or back pain may also benefit from elevated head or foot positions.
Adjustable beds on the market are a large investment, on average costing more than $1,500. Most adjustable beds (though, not all) are final sale items and can't be returned once you've purchased them, so we recommend trying them out in person if you're unsure of how these beds might feel. Finally, you'll need a mattress compatible with an adjustable bed, which might mean budgeting for a new mattress too.