These products & services are researched and tested by HelpGuide's independent consumer reviews partner. When you buy through the links, we may earn a commission.
Medical alert systems are often purchased with a sense of urgency. From our conversations with industry leaders and experts in older adult care, we've learned that about one-third of all medical alert system sales occur directly from a recent fall or another medical emergency.
Even when someone isn't physically hurt after falling, the event can still cause anxiety. Research shows that a fear of falling limits older adults' activity levels just as much as if they had suffered previous falls. And this study quantifies it—higher anxiety is linked to a 53 percent increased likelihood of falls.
It's clear that medical alert systems are meant to quell anxiety as a preventive measure, but many people wait too late until an actual emergency occurs to purchase one.
To help people understand the benefits of these devices and get them into the hands of people who need them, we've made it our job to study, test, and review medical alert systems—to help you quickly find a device you can count on. Allow us to show you exactly how we do it.
Why HelpGuide cares about older adult safety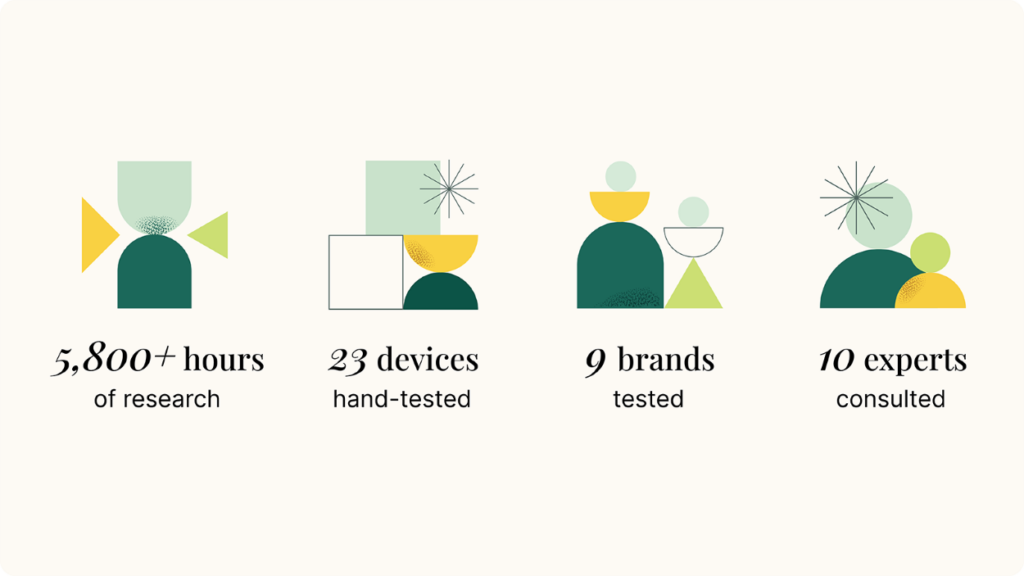 Feelings of independence, security, and connection are closely related to older adult mental health. Older adults experiencing loneliness and social isolation tend to have a much higher risk of depression, anxiety, and suicide, as well as dementia, heart disease, and stroke, according to research.
Thankfully, studies have shown older adults who use medical alert systems have a greater sense of security, improved mental health, and are shown to be more active and independent around the home.
Our Handbook Team hand-tests every medical alert brand we review, so we can feel confident recommending the best products for our readers. We consult with gerontologists (experts in older adult care), researchers, and industry leaders in older adult safety, as well as mental health experts, to vet our choices.
We also put ourselves in the consumer's shoes by mystery shopping brands and walking through the set-up process, just like new customers. Additionally, we survey users and interview real people who use medical alert systems.
By compiling our testing data, interview and survey results, and insights from older adult care providers, we formulate a strongly informed perspective that we're sharing with you here.
Who are we?
We're the Handbook Team, a group of writers, editors, designers, medical reviewers, and fact-checkers who have spent years perfecting the art of testing and reviewing health products for older adults.
We've spent more than 6,000 hours studying and testing medical alert systems. To date, we've interviewed more than 30 health care and insurance professionals about medical alert systems and read 60 scientific journal articles on the subject. We've also read hundreds of user reviews, crafted our own surveys, and sifted through more than 50 medical alert systems on the market to identify the top brands worth testing.
After considering more than 50 medical alert systems from more than 16 brands, we chose 23 models from nine brands to hand-test and review.
What goes into our review process?
Professional insights
We connect with experts in the fields of gerontology, psychology, and general health care, as well as leaders in the senior care and medical alert system industries. In our interviews, we ask these experts for real-life examples of how falls and other health concerns affect people's mental health and quality of life.
We also ask them to explain the connection between safety and independence (which medical alert systems promote) and older adults' mental health. Here are some of their insights:
We're constantly reaching out to people who can offer fresh perspectives on senior health and safety. Meet some of our current experts:
Literature reviews
For decades, researchers have explored the causes and consequences of falls, the impact of aging in place, and the use, perceptions, and efficacy of medical alert systems. Their findings have been published in hundreds of journal articles, which aren't necessarily free, accessible, or easy to understand. That's why we comb through them, so we can summarize important insights for you.
To date, the Handbook Team has read more than 60 academic studies in journals, like Gerontechnology, Sensors, and The Journals of Gerontology. Before our guides are published, a gerontologist confirms that our writers have accurately interpreted and cited each study referenced.
User experiences
We interview people who use medical alert systems or care for someone who does to learn about unexpected frustrations or roadblocks. This insight helps us design our hands-on testing procedures and craft interview questions for experts.
We're especially interested in learning how each system performs in a real emergency. We include these first-person experiences in our guides, with permission, to help you see you're not alone in this journey.
Mystery shopping
Shopping online for a medical alert system can feel frustrating and confusing. Some companies automatically add paid warranties and accessories to your cart, requiring you to manually remove anything you don't want. A few fail to disclose hidden fees that are automatically charged after the trial period. And if you choose to call a sales representative instead of shopping online, you risk exposing yourself to high-pressure sales tactics or incessant follow-up calls.
To find out which medical alert companies deliver a straightforward, low-pressure sales experience, we mystery shopped all the brands we tested. We ordered the devices online, called and messaged each company with questions, and checked our bank statements for hidden fees.
Hands-on testing
We know it can be hard to find medical alert system reviews that do more than regurgitate the product's features and specifications. We wanted to answer the questions that can't be found in a product manual or spec sheet, so we put ourselves in your shoes and tested each system hands-on. In addition to evaluating comfort, quality, and user-friendliness, we also tested fall detection accuracy, GPS accuracy, and call answer times—bringing to you standardized, objective data that's unavailable elsewhere.
To date, five Handbook Team members have hand-tested 23 medical alert systems from nine national brands: Bay Alarm Medical, GetSafe, HandsFree Health, LifeFone, Lively, Medical Care Alert, Medical Guardian, MobileHelp, and Unaliwear. We also shared our feedback with each brand to encourage future improvements.
Our testing experience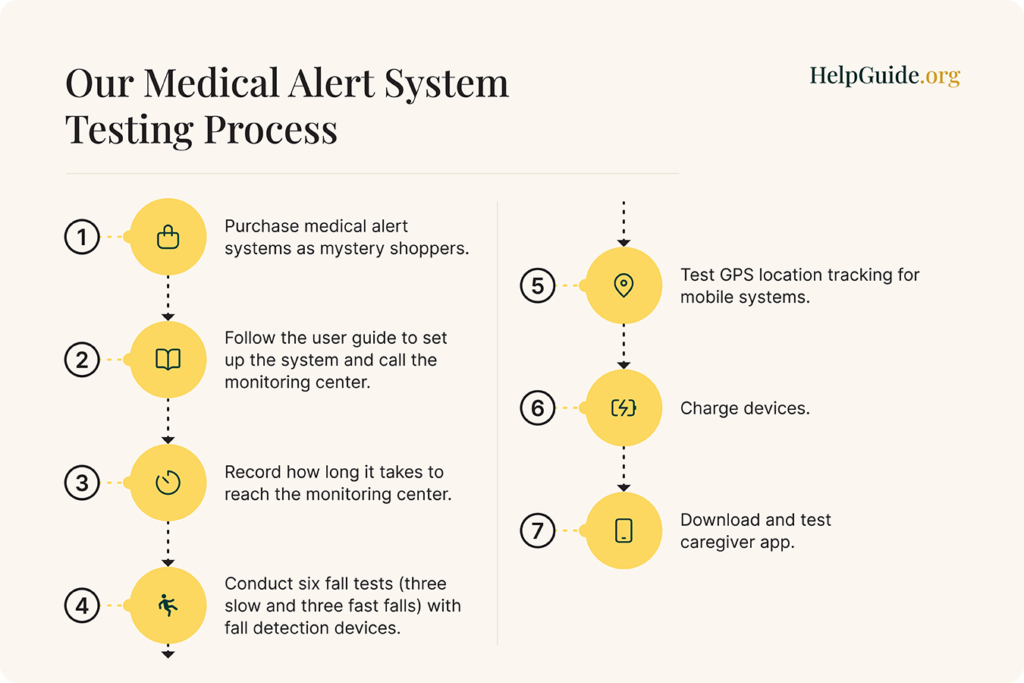 We followed these steps when testing each medical alert system:
Unboxing the devices and following the user guide setup instructions: The best systems required no excessive strength or dexterity to unpackage and had clear, easy-to-follow setup instructions.
Charging mobile systems and smartwatches: We preferred devices that audibly or visibly confirmed their charging status, charged quickly, and required little to no dexterity to connect to the charger.
Placing three test calls to the monitoring center: We noted how easy it was to trigger the help button, timed how long it took someone to answer our call, evaluated the staff member's friendliness, and rated the speaker's audio quality.
Testing GPS accuracy: When testing mobile systems, we asked the monitoring center staff member to tell us our live address.
Testing fall detection accuracy: We simulated three slow, gradual falls and three hard, fast falls to trigger automatic fall detection sensors. We timed how long it took the device to register the fall and contact the monitoring center. We also preferred devices that audibly or visibly confirmed a fall had been detected. It's important to note that fall detection testing is not 100 percent accurate. That's because studies are forced to use simulated falls in lab environments rather than data from real-world falls. To generate enough real-world fall data, researchers estimate we'd need to record about 100,000 days of activity. In the absence of real-world testing data, we read research papers and consulted with gerontologists to create our testing protocol, which most closely mimics real-world falls. This included mimicking falls on an outstretched hand (FOOSH falls), which are one of the most common emergency room injuries.
Downloading the caregiver app (if applicable): We tested all available features, such as location tracking, medication and task reminders, and caregiver communication, and we evaluated their accuracy and ease of use.
Wearing and maintaining the device: The best systems have lightweight and comfortable wearable buttons, easy-to-clasp wristbands, adjustable lanyards, and a long battery life.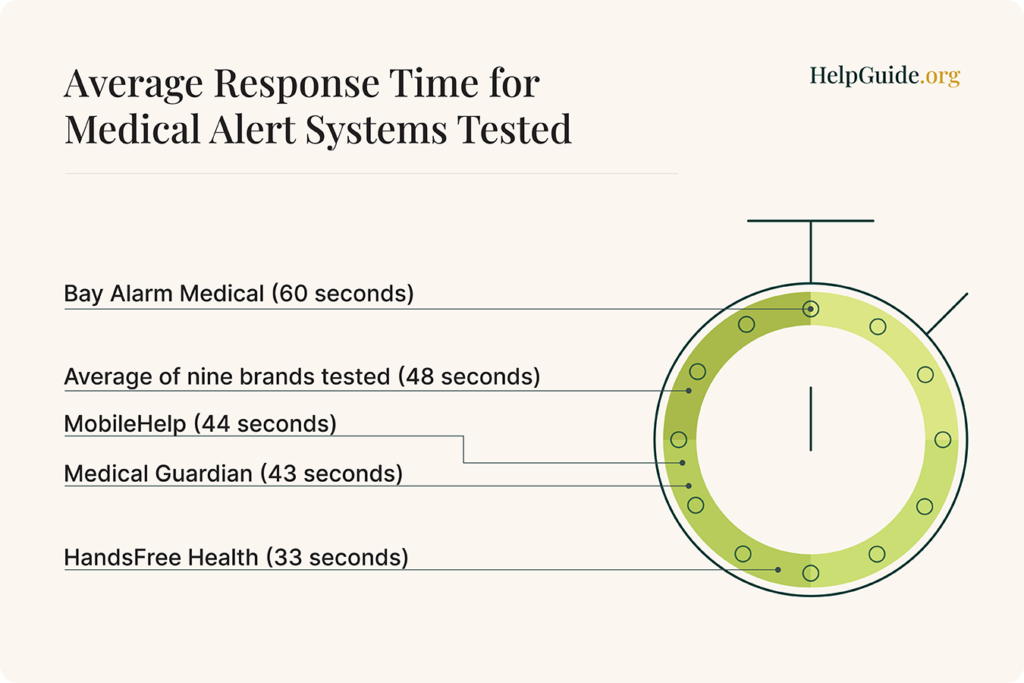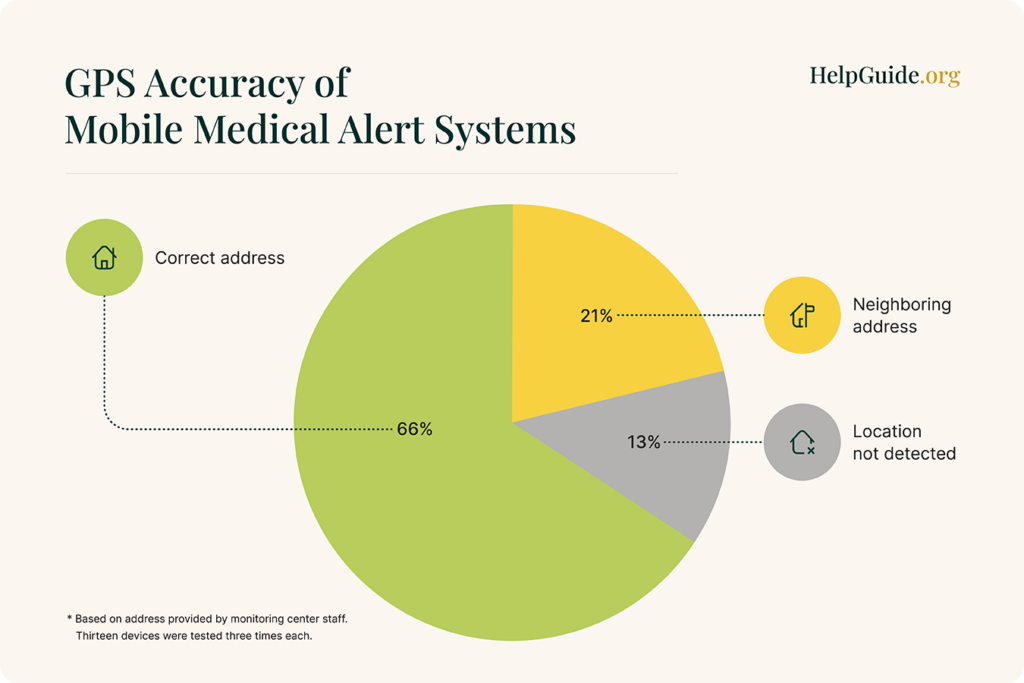 The five most important things to know about medical alert systems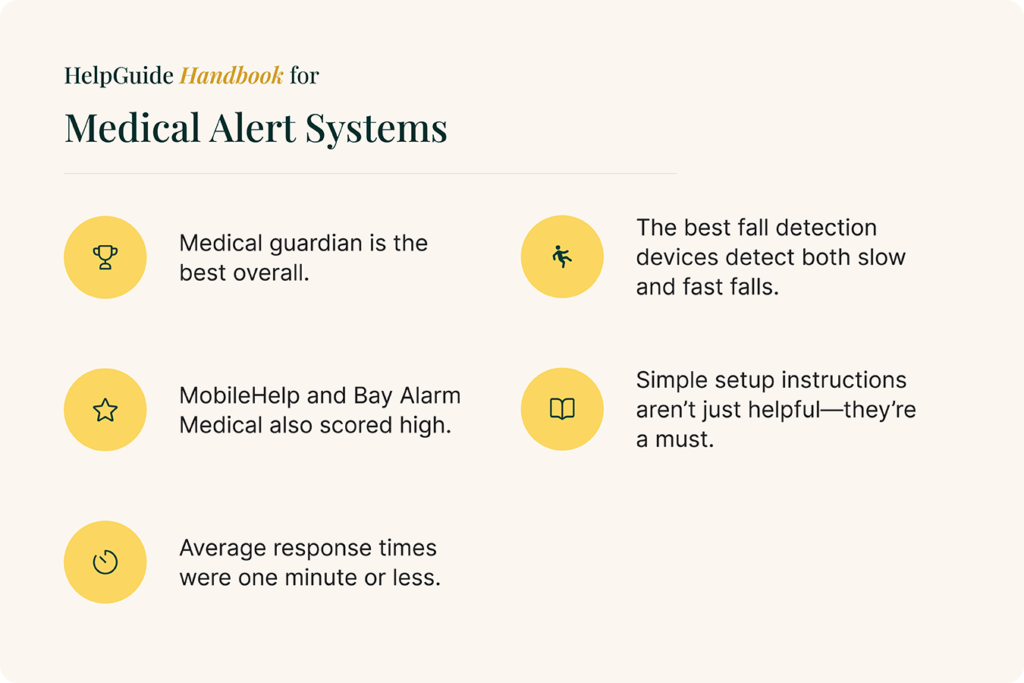 Bottom line
Purchasing any health and safety device is a big decision. You want to feel confident in your choice, knowing you made the best decision based on vetted, reliable information. The Handbook Team has rigorously researched and hand-tested the medical alert systems in our reviews to create honest, useful content to help you find the right device for you and your care recipient.