These products & services are researched and tested by HelpGuide's independent consumer reviews partner. When you buy through the links, we may earn a commission.
Out of the 48 million caregivers in the United States caring for adults, about one in five provide unpaid care to someone with health or functional needs, according to 2020 data.
These caregivers are usually thrust into the position of providing assistance for a relative because they have no other options. More than 60 percent of them still work, and with no formal training in providing care, they have to balance unfamiliar caregiving responsibilities with workplace demands. It can feel overwhelming, stressful, and isolating. The data paints a clear picture: Caregivers need more support.
A medical alert system can help provide in-home assistance for caregivers and care recipients alike, helping relieve feelings of stress and providing a base level of emergency support.
After testing 23 medical alert devices across nine brands, we think Medical Guardian offers the best medical alert system.
Which Medical Guardian medical alert system is right for you?
If cell service in your area is spotty but you have a landline, check out Classic Guardian.
If you spend a lot of time in your yard and don't have a landline, we recommend Home 2.0, which offers the longest range in the industry.
Want a discreet mobile bracelet with fall detection? Try MGMini Lite.
If you're always on the go and want a necklace with a long battery life, check out the MGMini.
Why HelpGuide cares about older adult safety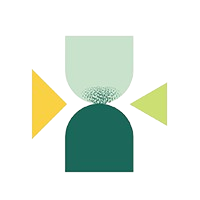 of research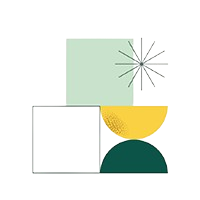 hand-tested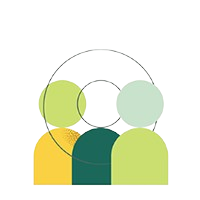 tested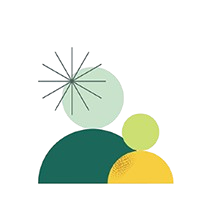 consulted
Feelings of independence, security, and connection are closely related to older adult mental health. Older adults experiencing loneliness and social isolation tend to have a much higher risk of depression, anxiety, and suicide, as well as dementia, heart disease, and stroke, according to research.
Thankfully, studies have shown older adults who use medical alert systems have a greater sense of security, improved mental health, and are shown to be more active and independent around the home.
For older adults, maintaining autonomy is directly related to mental health and quality of life. That's why we've made it our mission to share the best information about medical alert systems that can help keep care recipients healthy, safe, and active.
Our Handbook Team hand-tests every medical alert brand we review, so we can feel confident recommending the best products for our readers. We consult with gerontologists (experts in older adult care), researchers, and industry leaders in older adult safety, as well as mental health experts, to vet our choices.
We also put ourselves in the consumer's shoes by mystery shopping brands and walking through the set-up process, just like new customers. Additionally, we survey users and interview real people who use medical alert systems.
By compiling our testing data, interview and survey results, and insights from older adult care providers, we formulate a strongly informed perspective that we're sharing with you here.
Learn more about our medical alert systems review methodology.
HelpGuide Handbook for Medical Guardian medical alert systems
If you only learn six things about Medical Guardian, this is what you need to know.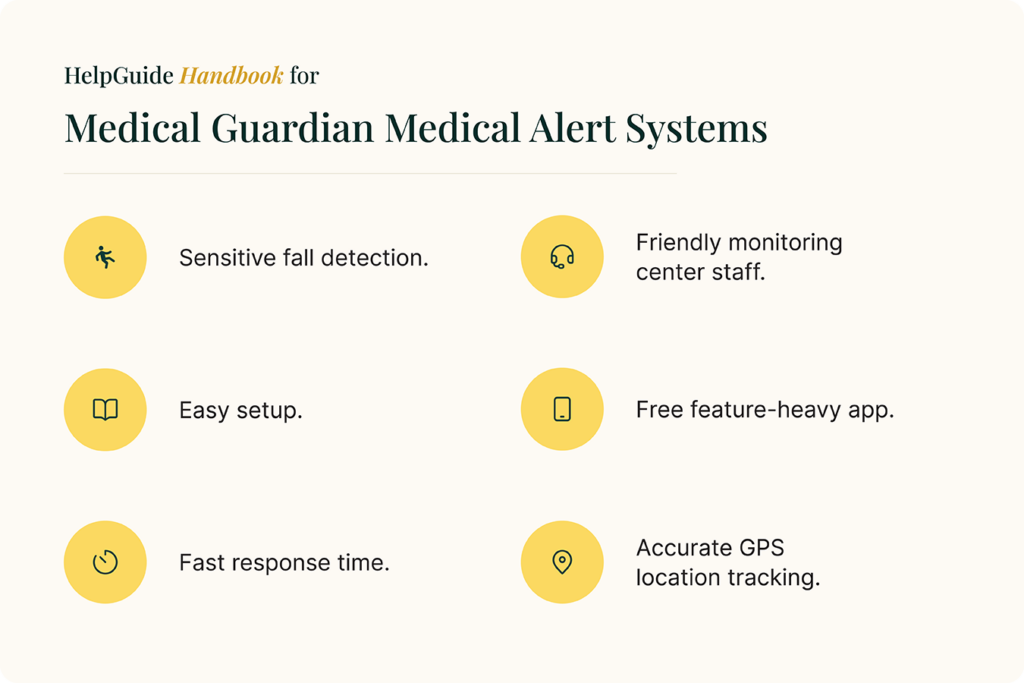 Our testing experience
Our Handbook Team was impressed by the simple setup process and step-by-step quickstart guides when testing Medical Guardian. Of the nine brands we tested, Medical Guardian had fast monitoring center response times (48 seconds on average) and some of the friendliest staff—two critical features for a medical alert system.
Highlights from our testing experience include:
The MGMini Lite had sensitive fall detection and accurate GPS location tracking.
The MyGuardian app was easy to download with many helpful caregiver features.
The Home 2.0 uses a loud, clear speaker.
Response times are close to the industry average (49 seconds).
Here's what disappointed us:
The MGMini only detected four out of six test falls.
Mobile devices didn't provide verbal or vibrational cues to indicate low battery.
The location of the Mobile 2.0 couldn't be verified during multiple test calls to the monitoring center.
It was difficult to press the SOS button on the MGMove touch screen—the device thought we were trying to swipe to the next screen instead of contacting the monitoring center.
The speakers on the Medical Guardian home device base stations impressed our testers—we could even carry on a conversation with monitoring center agents from six feet away. If you're not within speaking distance of your base, pressing your wearable or wall help button will still alert the monitoring center. Agents will simply contact 911 if they're not able to hear you once the alert comes through.
Our team tested fall detection accuracy by conducting "slow" and "fast" test falls while wearing the fall detection device. It's nearly impossible to duplicate actual falls in a test environment, and more real-world fall data is needed for a standard accuracy rate of fall detection devices. Still, we wanted a uniform testing method for both slow and fast falls.
We began each slow fall by sitting in a chair at 90 degrees and dropping to our knees before falling face down on a mat. To replicate a fast fall with a hard impact, we dropped the device from shoulder height.
"Generally speaking, a hard fall is a fall that can be difficult to stop, happens quickly, and results in a strong impact to the body," says Sean Marchese, a registered nurse with more than 20 years of experience. "A slow fall is a fall that occurs more gradually, and the impact is likely weaker. However, individuals are not immune to injury after a slow fall."
He advises those with a high risk of falls to speak with their doctor to learn prevention strategies and the best assistive devices.
We were pleasantly surprised by how accurate the MGMini Lite fall detection was—it detected five out of six test falls.
What is fall detection?
A fall detection necklace has a sensor that alerts the monitoring center when a fall is detected. Research has shown the inability to get up or receive assistance after a fall is linked to an increased risk of future falls, reduced mobility, and pressure-related injuries.
Although fall detection doesn't prevent falls, it can quickly get you emergency assistance after a fall and is especially helpful if you can't press your device's help button.
Pros/cons of Medical Guardian
What we liked
At-home, mobile, and smartwatch options.
Caregiver app with Google Maps tracking.
Friendly, helpful monitoring center agents.
Fast (48 seconds) monitoring center response times (industry average based on testing: 49 seconds).
What we didn't like
MGMini's inconsistent light cues for battery and connection status.
Additional equipment fee with some packages.
Caregiver notifications cost extra if the user contacts the monitoring center.
Prorated and full refunds only available for quarterly and annual subscriptions.
| | | | | | |
| --- | --- | --- | --- | --- | --- |
| | $29.95 | $0 | At-home | $10 | Visit Site |
| | $37.95 | $149.95 | At-home | $10 | Visit Site |
| | $44.95 | $149.95 | On-the-go | $10 | Visit Site |
| | $39.95 | $199.95 | On-the-go | $10 | Visit Site |
| | $39.95 | $199.95 | On-the-go | N/A | Visit Site |
What people are saying:
Paul B., a caregiver in central Pennsylvania, was pleased with Medical Guardian when his grandfather used the device. "From the operators to sales, they were extremely responsive and kind," he says. According to Paul, the base unit speaker was loud and easy for his grandfather to hear.
Medical Guardian medical alert system reviews
We recommend the Classic Guardian if you have an active (working) landline connection and want a strictly at-home medical alert system. It's also the least expensive Medical Guardian device, starting at $30 per month, and is almost $10 cheaper per month than the other at-home Medical Guardian device, the Home 2.0.
From our tester
"I really appreciate the large help button on the base station. It's one of my favorite features. It's easy to see and even has Braille, which is a great accessibility feature."
If you enjoy your spacious backyard retreat or have a large two-story home, the wearable help button that comes with this model allows you to contact the monitoring center up to 1,300 feet (about 3.5 football fields) from the base station—one of the longest landline ranges in the industry.
Other highlights:
Optional fall detection.
Lowest monthly fee.
Consider adding fall detection to your Classic Guardian for $10 per month if you or your care recipient have a higher risk of falling or unconsciousness due to a health condition, limited mobility, medications, or other factors.
Biggest drawbacks:
One-way speaker (can't speak into it).
Only works with a landline.
The Classic Guardian is a simple at-home system that's ideal for those with a working landline and a large yard. But if you're looking for an at-home system and don't have an active landline, check out the Home 2.0.
Bonus perks: With the Classic Guardian, there's no extra equipment fee, and it's the lowest monthly fee of all Medical Guardian packages.
Classic Guardian
Our verdict: The Classic Guardian has an impressive range for a landline base station (1,300 feet), and it's a good option if you have unreliable cell service and spend most of your time at home.
The Home 2.0's minimalist, modern design was one of the first things that caught our attention. Like the Classic Guardian, we recommend the Home 2.0 for in or around the home. But unlike the Classic Guardian, the Home 2.0 uses cell service to contact the monitoring center, and gives you an extra 100 feet (up to 1,400 feet) between the help button and the base station.
It's worth noting the Home 2.0 (and the rest of the devices in this review) uses the AT&T cellular network to connect to the monitoring center. You don't need to be an AT&T customer, just make sure AT&T offers strong coverage in your area using the company's coverage map.
Although we like the base station's sleek design, the help button is smaller and less obvious than the Classic Guardian's button, making this a good choice if you value a discreet design and don't need a more noticeable button. The base station has a two-way speaker to communicate with the monitoring center. The help button has no speaker, but is synced to the base station so that when you press the help button within 1,400 feet, the base station notifies the monitoring center. From there, the monitoring center agent asks through the base station's two-way speaker whether you need assistance. If you're too far away from the station to be heard, the monitoring center will call the police and send help.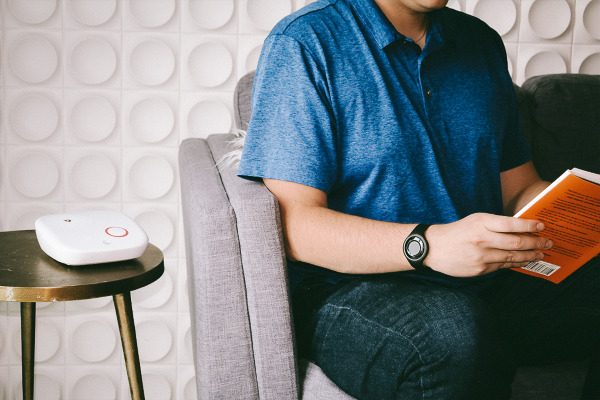 The Home 2.0 was simple to set up when we tested it—the installation instructions were clear and had numbered steps. We were also impressed by the base station's loud, strong speaker (we could speak with the monitoring center agent from more than six feet away) and how quickly we reached a monitoring center agent during each test call (average of 38 seconds).
Other highlights:
Helpful verbal cues when disconnected from power.
No landline needed—runs on cellular networks.
Two-way speaker on base station.
From our tester
"The Home 2.0 setup process was easy thanks to the intuitive user guide. The only potential pain point: The power button on the back of the device looks too similar to the volume button, so it could be easy to accidentally hit the wrong button."
Biggest drawbacks:
One-time equipment fee.
Volume and power buttons are too similar.
One of the biggest drawbacks of the Home 2.0 is the $149.95 additional equipment fee on top of your monthly payment. While it's only a one-time fee, most companies don't charge an equipment fee for an at-home system—usually just for mobile systems or smartwatches.
Regardless of the extra equipment fee, we think Home 2.0 is one of the best at-home systems available due to its extensive base station range, strong speaker, optional fall detection, and simple installation.
Home 2.0
Our verdict: If you don't have an active landline and want an at-home device, we recommend the Home 2.0 for its industry-leading range (1,400 feet from the base station) and optional fall detection.
The MGMini Lite was our favorite device we tested from Medical Guardian. If you want a discreet medical alert bracelet with accurate fall detection, this is it. We were pleasantly surprised the wrist-based device detected five out of six test falls.
Even with the bracelet's great fall detection performance, it's interesting that Medical Guardian has a disclaimer on its website stating fall detection works best when worn around the neck and outside of clothing. Research also supports chest and necklace placement for the most accurate fall detection.
We asked a customer service representative why the MGMini Lite bracelet supports fall detection but the MGMove smartwatch doesn't. They said although the MGMini Lite is a bracelet, it's closer in design to Medical Guardian necklaces, meaning it supports the same fall detection sensors and algorithm.
Other highlights:
Accurate GPS tracking (monitoring center confirmed our correct location during all test calls).
Average response time: 41 seconds (fastest of the brand's mobile systems).
Step tracking is available in the online portal and app.
The MGMini Lite looks similar to an Apple Watch, but without the touchscreen or smartwatch features that some users may find distracting. It's truly a one-button tool to connect you to the 24/7 monitoring center. We like that there are still caregiver features even with the device's super simple design. Caregivers can review activity tracking and check on the user's real-time location from the app or online portal.
No wonder we noticed how lightweight the MGMini Lite felt on our wrist—the watch face weighs less than an AA battery. It was as comfortable to wear as any watch.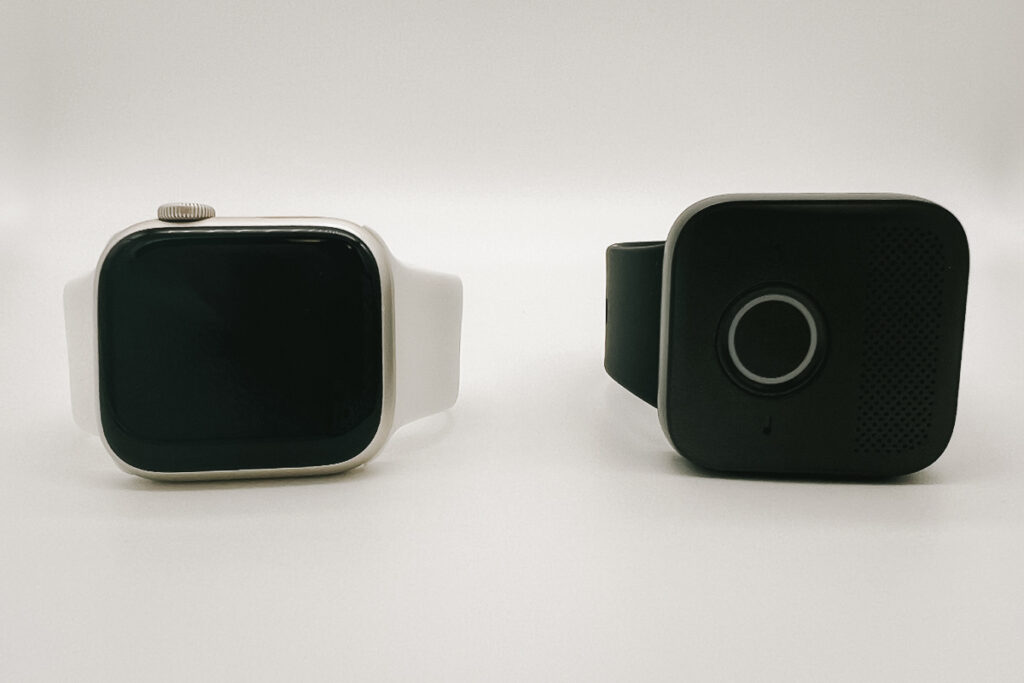 From our tester
"I think the MGMini Lite would be semi-comfortable to sleep in—probably as comfortable as sleeping in any watch. However, sleeping with it on may be annoying for those who don't normally sleep with a watch or bracelets."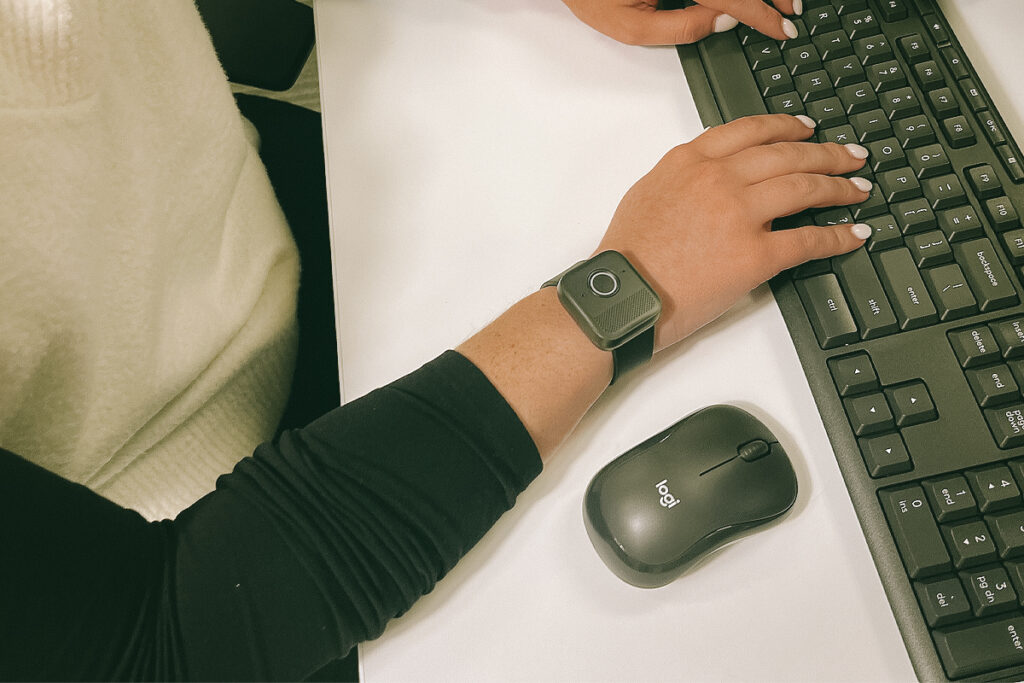 Biggest drawbacks:
Expensive equipment fee ($149.95).
No verbal cues for low battery.
No information button to check battery levels or status connection.
MGMini Lite
Our verdict: With its comfortable and discreet fit, accurate fall detection, and step tracking, the MGMini Lite is our top pick for a mobile device with accurate fall detection.
Measuring about two inches high and weighing a tad more than a pencil, the MGMini is Medical Guardian's compact, updated on-the-go necklace. While the MGMini's fall detection performance wasn't as impressive as the MGMini Lite (it detected only four out of six test falls), we recommend this device if you're looking for a lightweight mobile system for a lower monthly price.
We loved that we could pick from four colors when picking out our MGMini: black, pearl, rose gold, or silver. This small detail can help users feel more ownership of their device—not to mention making it look more stylish.
Other highlights:
Five-day battery life.
Information button to check battery levels or status connection.
Includes an adjustable and nonadjustable lanyard.
Step tracking is available in the online portal and app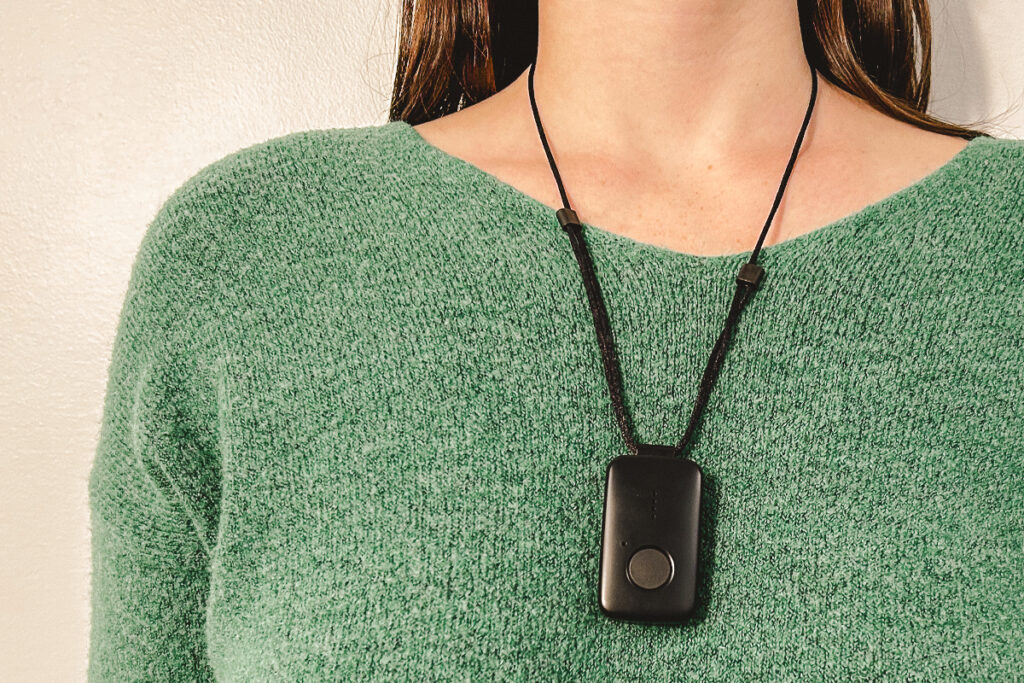 We were also impressed with the MGMini's loud, clear speaker whenever we spoke with a monitoring center agent or pressed the information button for status updates. When first calling the monitoring center, we didn't realize we could cancel accidental calls or false alarms by holding the center button for five seconds. This information is available on the Medical Guardian website, but we wish the user guide had mentioned this more explicitly.
From our tester
"At one point, our device's light was solid red, which means the battery is critically low. When we pressed the info button to check the status, the MGMini announced, 'Cellular signal good. Battery level good.' I don't know why these were inconsistent."
Biggest drawbacks:
Expensive equipment fee ($199.95).
Difficult to turn the device back on after it was powered off.
Inconsistent light cues for battery and connection status.
MGMini
Our verdict: If you're looking for an on-the-go device with long battery life, optional fall detection, and want to watch your budget, we recommend the MGMini. 
Think of the MGMove as a smartwatch without too many overwhelming smart features. The watch keeps it simple and practical with two SOS buttons (one on the side of the watch face and one on the touch screen), a step counter, a weather app, a test button, and optional messaging and reminder add-on features.
Like every Medical Guardian device we tested, the MGMove was simple to set up with a step-by-step guide.
From our tester
"The MGMove was very comfortable to wear compared to other medical alert system watches I've tested. The weight and band felt about the same as my regular watch."
Other highlights:
Magnetic charging cradle so the watch snaps right into place.
Verbal confirmation when the watch is charging and fully charged.
A bright watch face display that was easy to read.
The addition of a touch screen makes this watch more engaging, but some older adults may have problems using it. "Bone density decreases in the hands with age, leading to a decline in motor skills and dexterity," says Nancy Mitchell, RN, who has almost 40 years of experience as a geriatric director of care. "The hands become weak when this happens, making it more difficult for older adults to press sufficiently on a screen to elicit any action from a smart device."
Mitchell adds that older adults with diabetes may also have issues using touch screen devices due to a common symptom: peripheral neuropathy (nerve damage in the hands and feet).
"People with this condition experience severe numbness in their extremities, which makes it difficult for them to identify sensations of touch … it becomes challenging to gauge whether you've applied sufficient pressure to the touch screen," Mitchell says.
We also don't like the SOS button on the touch screen menu. When we tried to tap the SOS icon, the watch usually thought we were trying to swipe to the next screen. This could be frustrating (and dangerous) for users during an emergency.
We recommend using the red SOS button on the side of the watch (not on the touch screen) to contact the monitoring center, as demonstrated below.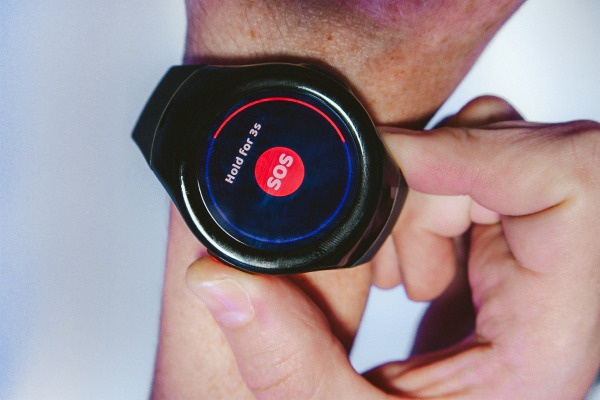 Biggest drawbacks:
Battery status is not displayed on the watch and can only be checked in the app or if the watch is charging.
Needs to be charged daily (battery only lasts up to 24 hours).
Slowest monitoring center response time out of the Medical Guardian devices we tested (50 seconds).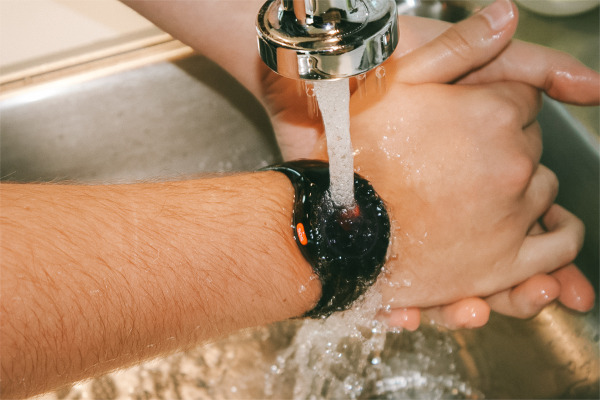 Fall detection is not available for the MGMove, as we mentioned in the MGMini Lite section. You can still press the SOS button after a fall, but if you're unconscious or can't reach the button, the watch won't automatically call the monitoring center.
The MGMove may be the best option if discreet design and smartwatch features matter more than fall detection. After all, the most important thing is the person you care for actually wants to wear the device.
MGMove Smartwatch
Our verdict: The MGMove looks and feels better than most medical alert smartwatches, though it doesn't support fall detection, which may be a deal-breaker for some.
Key features of Medical Guardian
Standard features
Let's break down the key features included with every Medical Guardian medical alert system.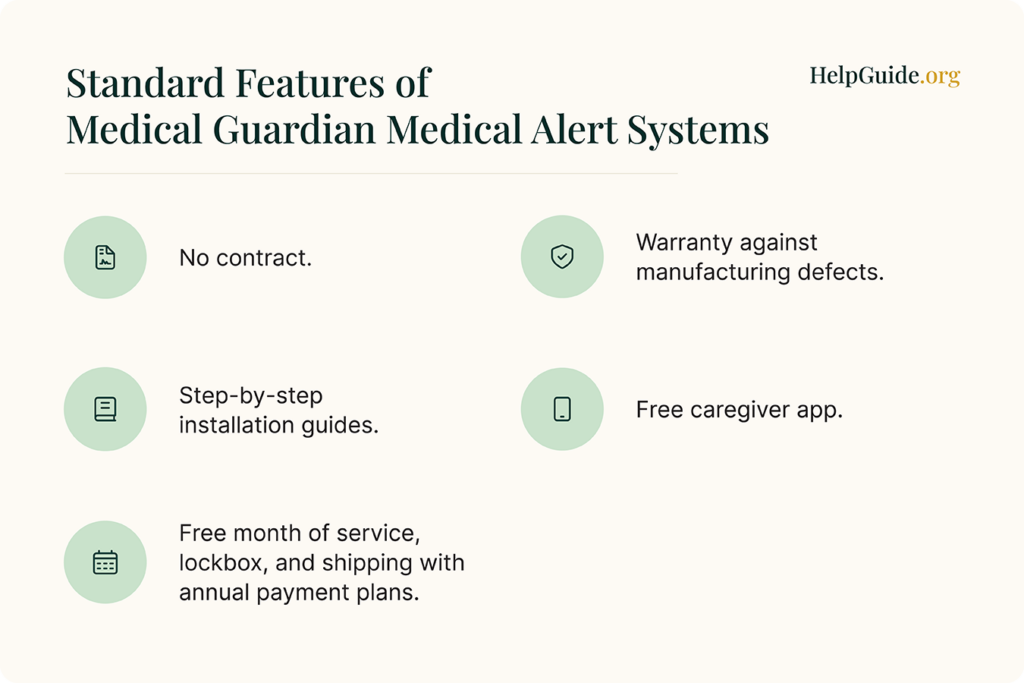 With any Medical Guardian subscription, you get a free manufacturer's warranty that lasts as long as your subscription and covers defects in materials and workmanship. This is impressive since most medical alert system manufacturer warranties expire after one year.
Optional features
You can also customize your Medical Guardian medical alert system with the following add-on services:
MG Protection Plan ($6.99 per month): Coverage includes equipment replacement for wear and tear, accidents, power surges, and more. While the warranty covers only manufacturing defects, the Protection Plan covers replacement due to accidental damage and normal wear and tear.
OnGuard Alerts ($2.99 per month): Caregivers receive text and/or email notifications when the user contacts the monitoring center. Most medical alert brands don't charge for this feature.
Support Circle apps ($5 per month): Messaging and reminder apps are available for the MGMove smartwatch.
Whatever you decide, make sure you or the person you care for will actually use it.
"When it comes to selecting a medical alert device, it's vital to empower your older care recipient by including them in the decision-making process," says Christina Peoples, a gerontologist from Greensboro, North Carolina. "Ensure they have the necessary information to actively participate in determining the most suitable device for their needs."
Including your care recipient in the decision-making process can help make the transition to using a medical alert system easier. Some older adults may be hesitant to use a medical alert device over fears they may lose their independence or be perceived as "too old."
But if you include them in the conversation and highlight how a medical alert can help them retain independence, they may be more likely to use it regularly.
How much does Medical Guardian cost?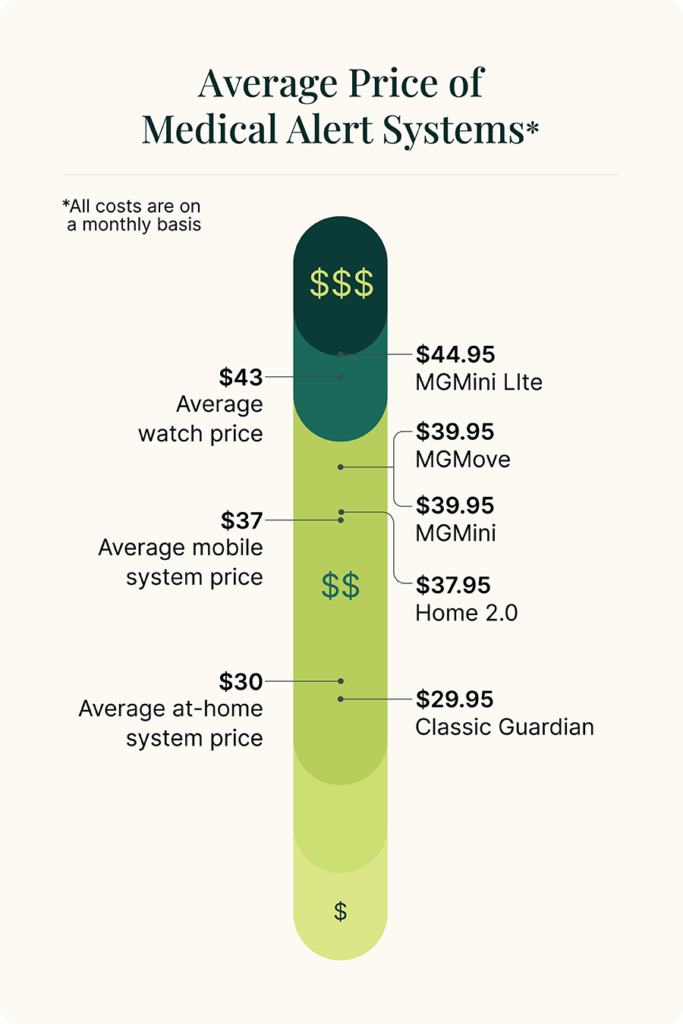 Medical Guardian medical alert systems cost $29.95–$44.95 per month, depending on the device you choose. Every device except the Classic Guardian charges an extra equipment fee on top of the monthly monitoring fee. You'll pay this one-time fee when purchasing your subscription.
Paying for an annual subscription rather than month-to-month will get you the following perks:
One free service month.
A free lockbox.
Free ground shipping (normally $12.50).
Medical Guardian also runs frequent promotions throughout the year to help cover costs. We like how promotions are displayed at the top of the Medical Guardian homepage when available.
Tip
If you're not ready to purchase a Medical Guardian device, keep an eye on discounts by signing up for the company's email newsletter to be notified about specials.
While we like how you can cancel your subscription at any time, we don't like that prorated refunds are only available for quarterly and annual subscriptions.
You only get a short return window to receive a full refund. To qualify for a full refund for quarterly and annual subscriptions, Medical Guardian must receive your equipment within 15 days after it was delivered to your home.
Most medical alert companies offer a 30-day trial period, but Medical Guardian barely gives you 10 days to test your equipment.
How to use the MyGuardian app
You can access the free MyGuardian caregiver app, also called MyMedicalGuardian, with all Medical Guardian packages (download it from the App Store or Google Play). MyGuardian is an easy-to-use tool for caregivers and nicely complements the devices.
We especially liked how simple the app was to download and use, and we loved the numerous helpful features for caregivers:
Real-time location tracking in Google Maps.
Battery level and connection status.
Care Circle chat feature.
Task and medication reminders.
List of caregivers to contact during an emergency.
There is a section to input general information about the user, as well as more specifics, like gait type, oxygen needs, and whether a medication list is displayed on the fridge, which helps caregivers and is shared with emergency personnel during an emergency.
From our tester
"I like that caregivers have access to so much in the MyGuardian app, like the user's health info, lockbox code, and chat feature. You can even manage your emergency contact call list directly in the app—usually, you have to call customer service to do that."
Our final verdict
When conducting extensive first-hand testing and mystery shopping, Medical Guardian stood out from other medical alert systems. The brand's device variety, fast response times, accurate fall detection, feature-filled app, friendly monitoring center staff, and helpful customer service team are some of the top reasons we recommend Medical Guardian medical alert systems.
Of course, the brand has some drawbacks: Medical Guardian has high one-time equipment fees, charges extra for caregiver notifications if the user contacts the monitoring center, and has a restrictive refund policy.
If we could only recommend one Medical Guardian device, it would be the MGMini Lite. The MGMini Lite has a fast average response time (41 seconds), super-accurate fall detection and location tracking, a discreet design, and activity tracking.
Frequently asked questions
Medical Guardian offers at-home and on-the-go medical alert systems that connect to a 24/7 monitoring center when you press a button or if the device detects a fall.
Medical Guardian costs $29.95–$49.95 per month, depending on the medical alert system you choose. Most systems have a one-time equipment fee, ranging from $149.95–$199.95. Add-on features, like fall detection, wall buttons, and a protection plan, will also affect the monthly price. Shipping is $12.50 for monthly and quarterly payment plans, but it's free with an annual plan.
Life Alert requires a three-year contract, has a shorter at-home system range (800 feet), doesn't offer fall detection, and has high monthly fees ($49.95–$98.95) compared to Medical Guardian. Life Alert also has no pricing information on its website and practices pushy, aggressive sales tactics. We don't recommend Life Alert medical alert systems.
Medical Guardian doesn't require a contract, has at-home ranges up to 1,400 feet, offers fall detection, and packages start at $29.95 per month—making it a much better medical alert system than Life Alert.
Yes, Medical Guardian is a legitimate company founded in 2005 and based in Philadelphia, Pennsylvania. It has an A+ rating and is accredited by the Better Business Bureau (BBB).
You can purchase a Medical Guardian system on the company's website or by calling 800-892-6319. No contract is required to use the service, and you can cancel anytime.