These products & services are researched and tested by HelpGuide's independent consumer reviews partner. When you buy through the links, we may earn a commission.
If you're one of the 38.2 million Americans with hearing loss, you understand how frustrating and even debilitating hearing impairment can be. But treating hearing loss is often prohibitively expensive—the purchase of hearing aids is surpassed in cost only by that of a home and car for many Americans.
Thankfully, there are now more affordable options for hearing loss treatment if prescription hearing aid prices exceed your budget. Jabra Enhance over-the-counter (OTC) hearing aids cost about half as much as some prescription devices, and they can treat mild to moderate hearing loss in adults 18 and older. After hand-testing more than two dozen hearing aids, we believe Jabra Enhance makes the best OTC devices on the market.
Which Jabra Enhance hearing aid is right for you?
Why HelpGuide cares about hearing loss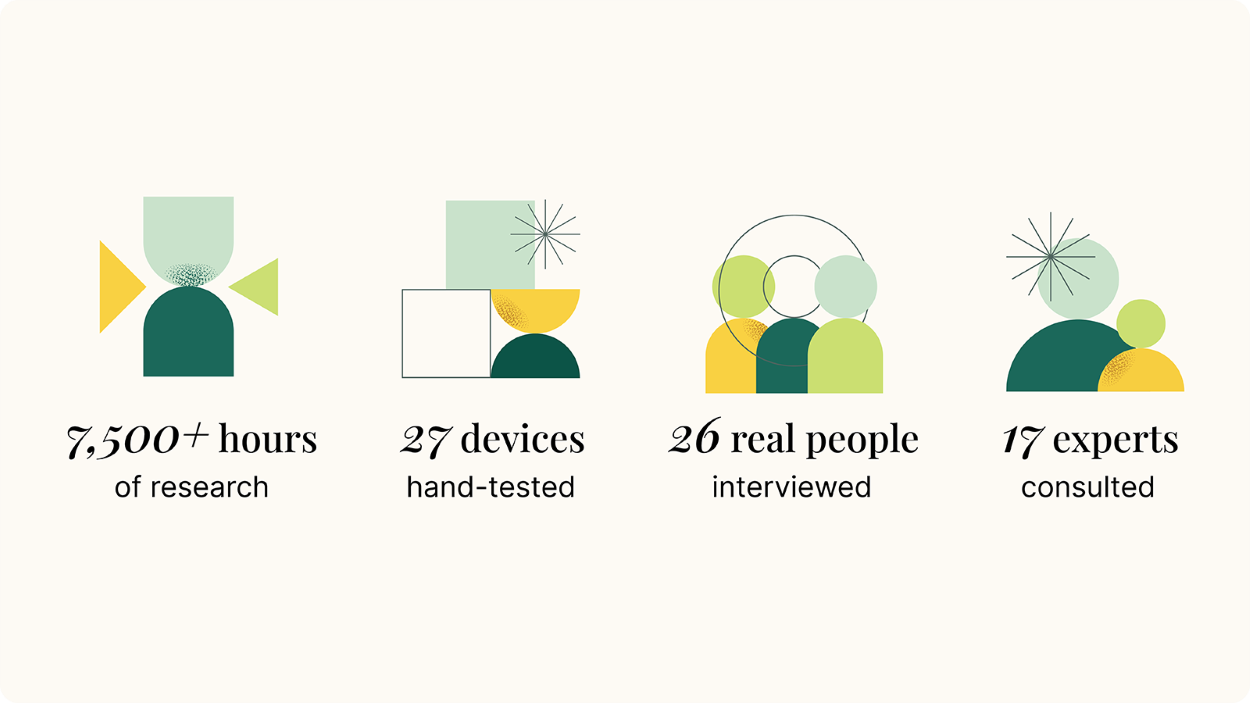 Hearing and mental health are closely related. In fact, people with hearing loss tend to experience higher rates of anxiety, depression, and social isolation, which can result in loneliness and frustration, according to research.
Hearing loss is also a risk factor for developing dementia, with recent research showing how using hearing aids can slow cognitive decline in older adults and reduce the risk of dementia.
The impact of hearing loss on physical and mental health is far-reaching. This is why at HelpGuide, we've made it our mission to give every person access to the best information about hearing aids, so we can also help get quality products into the hands of people who need them.
Our Handbook Team hand tests every hearing aid brand we review, so we can feel confident recommending the best products for our readers. We consult with audiologists, researchers, and industry leaders in hearing health, as well as mental health experts, to vet our choices and help us better understand the nuances of how hearing health impacts physical and mental health.
We also put ourselves in the consumer's shoes by mystery shopping brands and walking through the set-up process, just like new customers. Additionally, we interview real people with hearing loss and survey hearing aid users.
By compiling our testing data, interview and survey results, and insights from hearing care providers, we formulate a strongly informed perspective that we're sharing with you here.
Learn more about our hearing aids review methodology.
HelpGuide Handbook for Jabra Enhance hearing aids
If you only learn five things about Jabra Enhance hearing aids, this is what you need to know.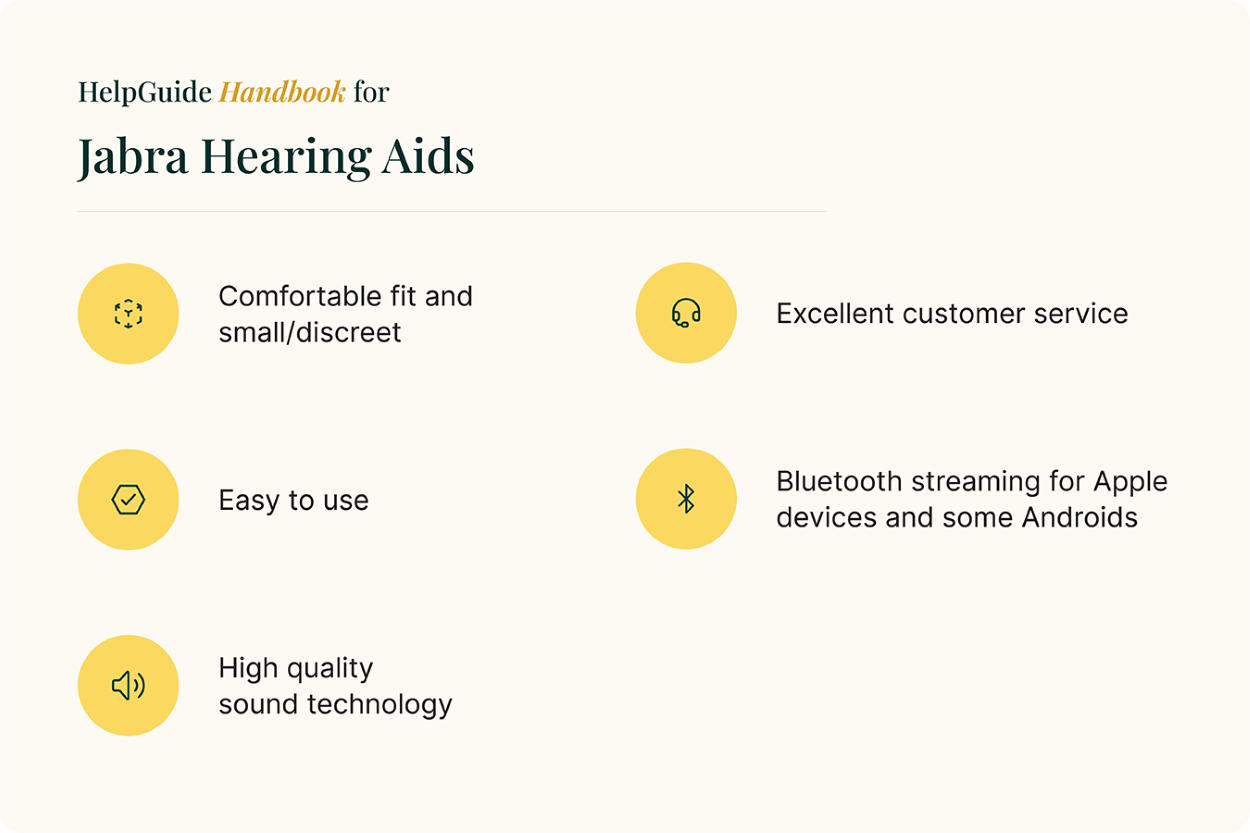 Our testing experience
Our Handbook Team hand-tested every Jabra Enhance hearing aid, and based on our testing, we believe it's the best OTC hearing aid you can buy.
When mystery shopping and testing Jabra Enhance hearing aids, we found all four models easy to use, the app detailed but simple to navigate, and the audiology team and technical support staff helpful every time we contacted them. When comparing the sound quality of Jabra Enhance hearing aids versus other OTC hearing aids, it was clear the Jabra Enhance models were a step above—background noise was lower, feedback/whistling was minimal, and Bluetooth streaming was easy to set up.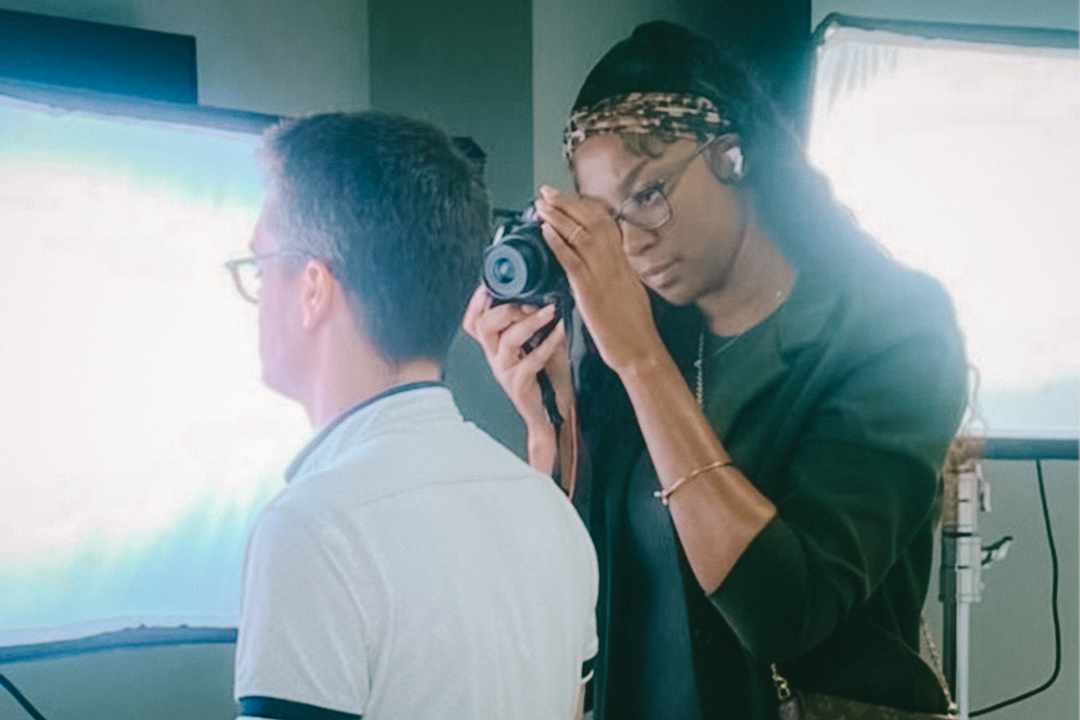 We did find some drawbacks: The disposable batteries in the Enhance Select 50 were hard to change due to their small size. We were also surprised by the two-week wait for our remote orientation session, which we felt was too long, especially for new hearing aid users. Other OTC brands we mystery shopped had remote orientation sessions open the day we called, or at least within seven days.
But Nancy Mills, the Jabra Enhance clinical audiologist who conducted our orientation for the Enhance Select 200, was knowledgeable about the device and how to access all of its features. If you've ever been to a hearing clinic, the experience was similar.
Remote services are helpful for many Americans who may have a hard time getting to an audiologist. For example, one study found that rural residents drive twice as far as urban residents for hearing care.
Dr. Mills explains the company tries to make it easy for customers to get remote support that's as close to an in-person visit as possible. Jabra Enhance does this through its telehealth platform and comprehensive apps that work with the brand's hearing aids.
From our tester
"Dr. Mills gave me more hands-on help than I expected from a remote appointment. Her demonstrations of each feature and program were extremely useful. The fact that she showed me how to do each task, including cleaning the hearing aids and changing wax filters, was immensely helpful compared to reading about them in the manual."
Jabra Enhance's excellent remote audiology care, coupled with its high-quality products, make the brand our top choice among OTC hearing aids.
Pros/Cons of Jabra Enhance hearing aids
What we liked
Can customize Enhance Select models to your hearing loss.
Optional audiology support for up to three years (many OTC brands offer no support).
Above-average customer reviews.
Sound technology comparable to entry-level prescription models.
What we didn't like
Only appropriate for mild to moderate hearing loss in adults.
Not all models include rechargeability or hands-free calling.
Bluetooth streaming is only available with iOS and some Android devices.
Smartphone required for customization and remote adjustments.
Audiology support is only offered remotely.
| | | | | | |
| --- | --- | --- | --- | --- | --- |
| | $799 | In-the-ear | Mild to moderate | Rechargeable | Visit Site |
| | $1,195–$1,395 | Receiver-in-ear | Mild to moderate | Disposable | Visit Site |
| | $1,495–$1,695 | Receiver-in-ear | Mild to moderate | Rechargeable | Visit Site |
| | $1,795–$1,995 | Receiver-in-ear | Mild to moderate | Rechargeable | Visit Site |
Jabra Enhance hearing aids reviews
The Jabra Enhance Plus is a small, earbud-style hearing aid with four directional microphones and advanced sound technology to improve speech clarity, particularly in noisy situations. Enhance Plus isn't meant to be worn all day, but it's designed for specific listening tasks, like hearing conversations in loud environments. When you use the quick hearing screen in the app, your Enhance Plus hearing aids will adjust to your hearing loss through self-fitting technology.
Compared with the Enhance Select models, we weren't as impressed with the background noise reduction of the Plus, which was surprising since they're advertised to help with hearing in loud environments. But we liked the comfortable fit and small size of these hearing aids. They were even smaller than the earbuds one of our testers normally wears for workouts.
For those new to hearing aids, these could be a good choice since the fit is intuitive (they rest in your ears like normal wireless headphones). For older adults with dexterity issues, the Jabra Enhance Plus will likely be the easiest Jabra one to handle.
From our tester
"These hearing aids are more discreet and comfortable than the earbuds I normally use. The sound quality is excellent too, and I like that this design creates less noise from wind and handling than devices that sit behind the ear."
Jabra Enhance Plus includes standard hearing aid technology, such as:
Background noise reduction to lower distracting sounds in your environment.
Feedback suppression to reduce whistling.
Directional microphones to amplify sounds in front of you.
Bluetooth streaming from Apple devices (not compatible with Androids).
Jabra Enhance Plus comes with rechargeable batteries, which Dr. Mills calls "a game changer" due to the convenience and ease of use they provide. They last up to 12 hours on one charge, and the case holds three full charges. It takes about two hours to fully charge the hearing aids, which is fairly standard for all Jabra Enhance hearing aids (average charging time is two to four hours).
With the Plus model, you only get a one-year warranty against manufacturer's defects, which we found to be a drawback. And while you'll get technical support if you have problems with the hearing aids or the app, you won't be able to get them customized for your hearing loss or access the company's audiology team for help. While Enhance Select hearing aids are pricier than Enhance Plus, you can choose a package that includes three years of comprehensive warranty and audiology support.
But if you like a rechargeable earbud-style design and are happy operating your hearing aids by yourself, Jabra Enhance Plus could be a great option.
Enhance Plus
Our verdict: The Enhance Plus is an in-ear rechargeable device that streams audio and looks nothing like a hearing aid.
While the Enhance Select 50 isn't cheap at $1,195 per pair, it's the lowest-priced hearing aid sold by Jabra Enhance in this style. The company recommends this model for listening in quiet situations and small groups. While testing the 50, we also found background noise was a bit louder compared with the 200.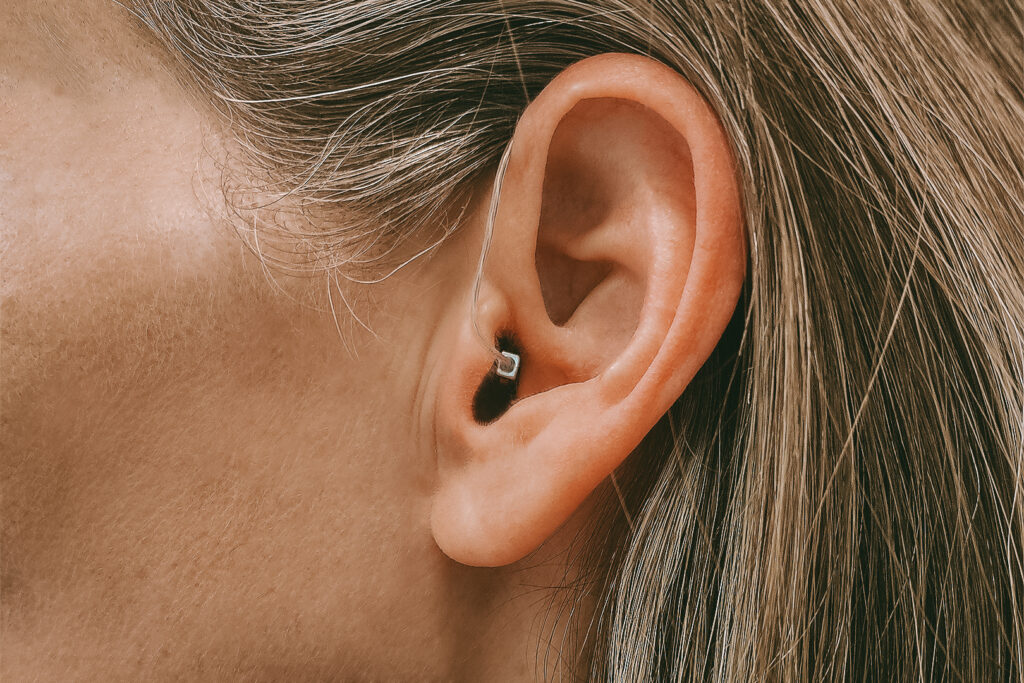 Like the Jabra Enhance Plus, we found the Enhance Select 50 comfortable and lightweight. From our hands-on testing, we were pleased to find the Enhance Select RIC models are even less noticeable and bulky than the Enhance Plus earbuds because the wire running from the body of the hearing aid into your ear canal is almost invisible.
From our tester
"I prefer the look and feel of these hearing aids over earbuds. They don't fill up my ear canal, so my ears don't get hot or feel plugged up, and you can barely see them behind my ears."
Like all Enhance Select hearing aids, the Enhance Select 50 offers Bluetooth streaming from iOS and certain Android devices, making it one of the least expensive Bluetooth hearing aids on the market.
You can also change listening settings and volume using the Jabra Enhance Select app or the buttons directly on the hearing aids. Compared with other brands, we didn't like that Jabra Enhance hearing aids only beep when you change programs, while other brands give a vocal cue indicating the selected program.
The Enhance Select 50 uses disposable batteries (size 312), which may be an issue if you have dexterity or eyesight problems—the batteries are small and need to be changed every three to ten days. The batteries will also create an extra expense. Retailers like Walgreens sell 24-packs of 312 hearing aid batteries for $17.99, meaning you'll be spending roughly $18 a month on disposable batteries.
If you don't mind changing batteries every three to ten days and are often in quiet listening environments, the Enhance Select 50 could be right for you.
Enhance Select 50
Our verdict: The Enhance Select 50 is a slim receiver-in-ear hearing device with Bluetooth streaming and a small disposable battery, which is something to keep in mind if you have problems with dexterity or eyesight.
Setting the Enhance Select 100 apart from the 50 model is a rechargeable battery that lasts up to 30 hours per charge. The sound technology is the same as the 50 model, but if convenience and ease of use are important to you, paying $300 more for rechargeability may be worth it.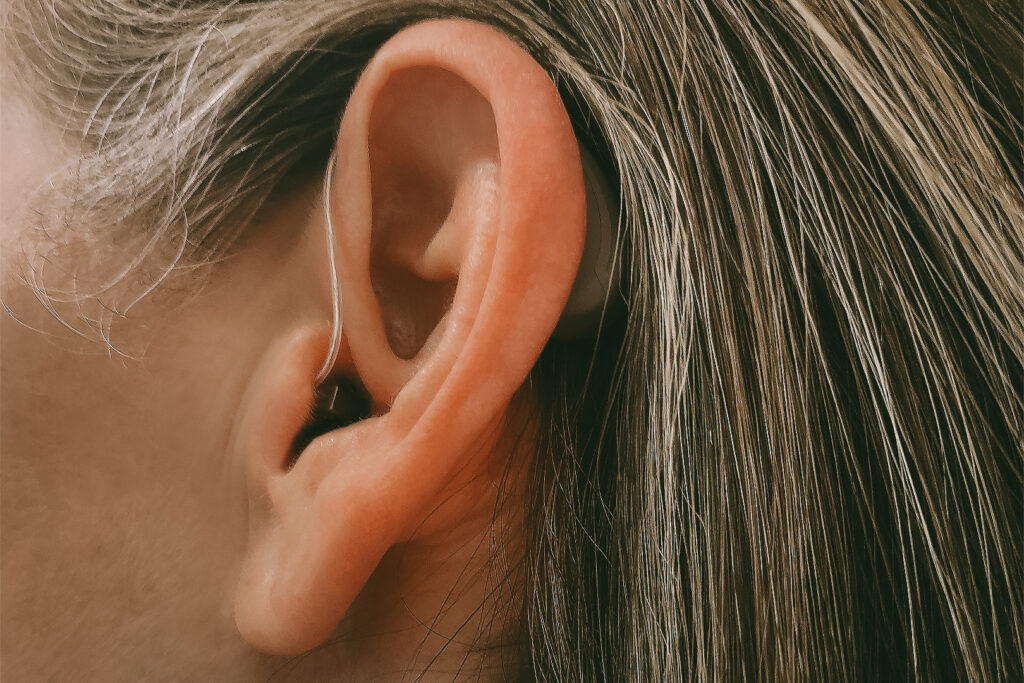 The Enhance Select 100 and 200 also offer Music Mode, a feature included in the feedback management program that gives you a fuller listening experience when streaming music. But every Jabra Enhance device includes a Music program, which analyzes a wider range of sound frequencies compared to the other programs. Dr. Mills says the Music program isn't just for music, though.
From our tester
"The tiny disposable batteries in the Enhance Select 50 are a challenge to switch out because they're so small. The Enhance Select 100 is more expensive, but I would pay extra to get a rechargeable model and not have to worry about changing batteries or running out."
"It's surround sound, it lets everything in 360 degrees around you. It is wonderful in rooms where sound is coming from speakers around the room, like in an auditorium or place of worship. Great for meetings and group discussions, it's also by far the best program for watching TV," says Dr. Mills. When we tested the Music program ourselves, we could tell it enhanced the quality of streaming audio—audio sounded fuller and background noise was minimized. It felt akin to wearing noise-canceling headphones with the way audio was enhanced and noise was reduced.
Wearing hearing aids can be a big change, so finding the features you want and need is important when treating your hearing loss. Enhance Select 100 devices are a great choice for people looking for solid sound technology and rechargeability.
Enhance Select 100
Our verdict: The Enhance Select 100 is a step up in convenience from the 50 model, with a rechargeable battery that lasts up to 30 hours per charge.
The technology in the Enhance Select 200 includes the greatest frequency bandwidth of any Jabra Enhance device and improved background noise reduction. Every one of our testers was blown away by the sound quality of the 200 compared with every other OTC hearing aid brand we've tried. Background noise was less distracting and speech was easier to understand in both quiet and noisy environments.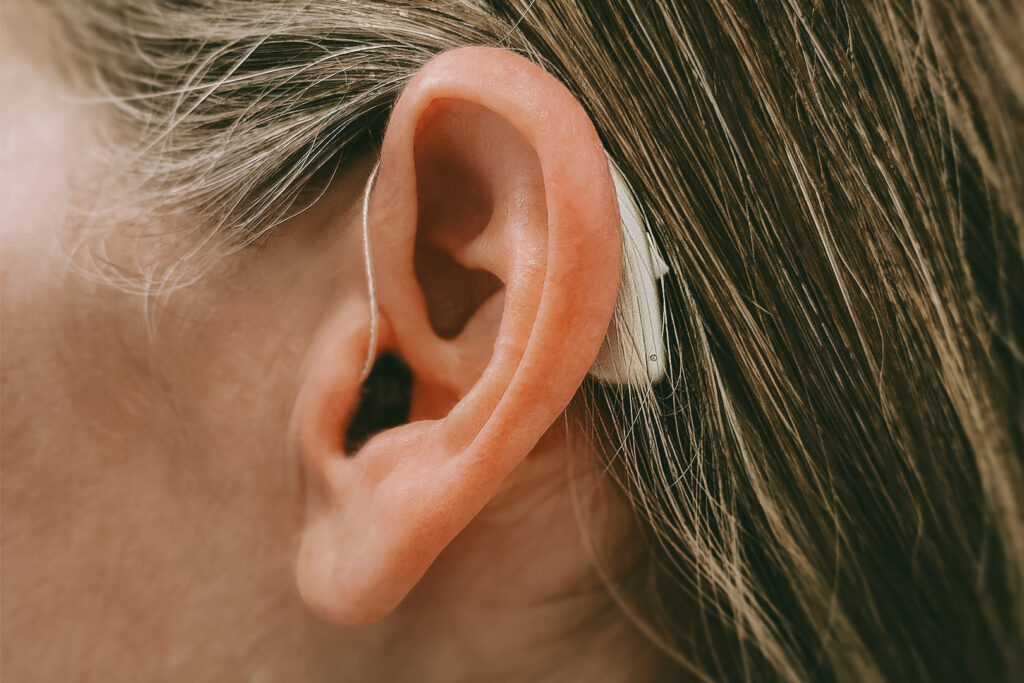 "Our premium hearing aid, the Jabra Enhance Select 200, utilizes binaural directionality, which means the hearing aids work together to seek out speech versus noise and amplify that speech signal over the noise," says Briana Burgan, a clinical audiologist at Jabra.
You'll also be able to take hands-free calls on iPhones and some Android devices, and you can choose from five colors offering a subtle sheen to blend in more closely with your hair.
Brian Murray, a hearing aid specialist from Raleigh, North Carolina, notes the sound technology in Enhance Select 200 hearing aids outranks that of some entry-level prescription hearing instruments, at a comparable price. But you'll only get remote support from the Jabra Enhance audiology team, whereas prescription hearing aids come with in-person support from an audiologist.
That's why it's important to look at cost when shopping for hearing aids, as well as your specific needs and preferences. If you're comfortable with remote support and using a smartphone app to adjust your hearing aids, Jabra Enhance Select 200 is one of the best choices on the market. But if you'd prefer the added level of help offered at a hearing care clinic, you may want to look into prescription devices.
One of our testers with moderate hearing loss tried all three Enhance Select models. He liked the comfort and sound quality of the 200 model so well he's now considering buying a pair for himself.
From our tester
"I'm amazed at the difference between the Enhance Select 200 and the other two models. These are so lightweight I forget I'm wearing them, and there is no whistling at all. I can also understand everything clearly; the sound quality is really outstanding."
Someone with an active lifestyle who needs a hearing aid with advanced sound features for various listening environments may find the Enhance Select 200 will fit their needs well.
Enhance Select 200
Our verdict: The Enhance Select 200 is a top-of-the-line OTC hearing aid with Bluetooth streaming, hands-free calls, a rechargeable battery, and the most advanced sound processing this brand offers (the only device in this review with all of these features).
Key features of Jabra Enhance hearing aids
Standard features
See below for a breakdown of the standard features included with every Jabra Enhance hearing aid.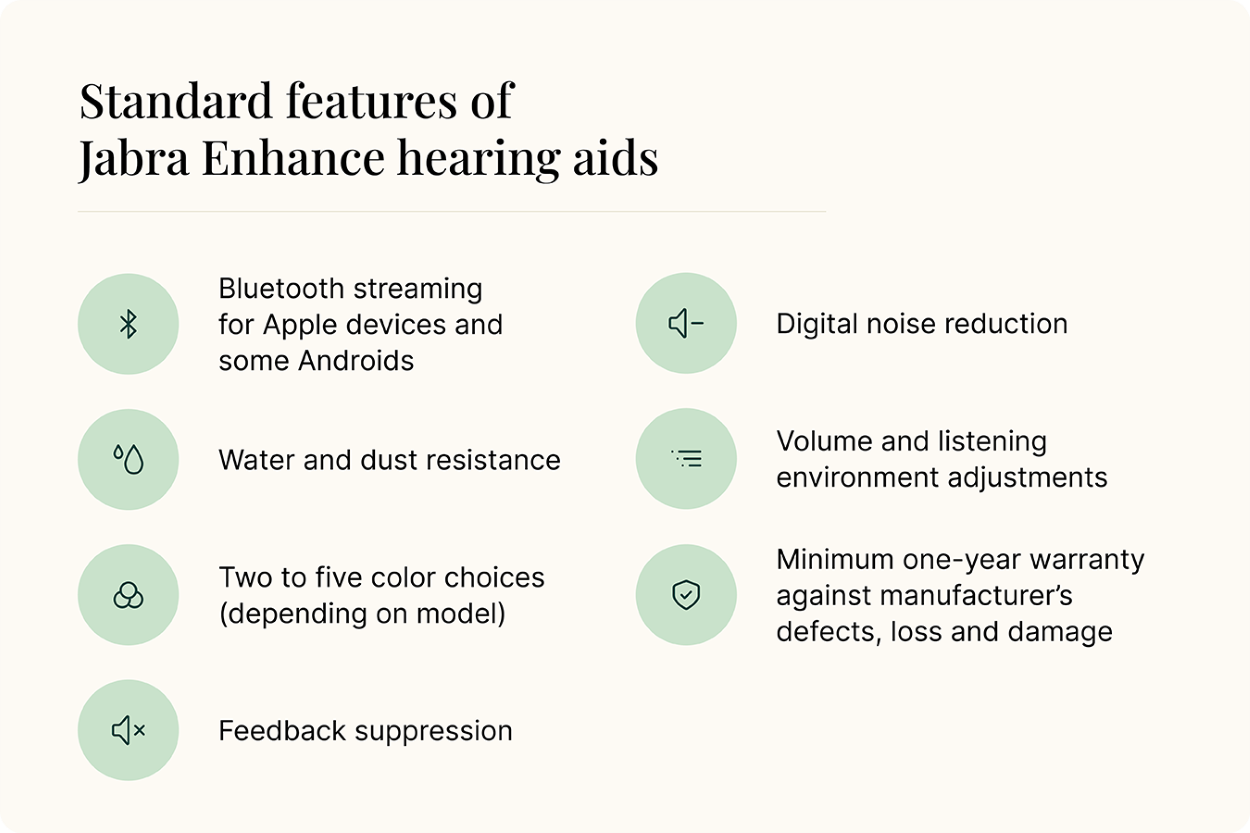 One of the ways Jabra Enhance stands out in the OTC hearing aid market is every device in its lineup comes with Bluetooth streaming. That's not a common feature among OTC devices, and it's a popular one among younger hearing aid users.
Danielle Brestel, 46, from Durham, North Carolina, has worn hearing aids for the past year and a half. "My favorite thing about my hearing aids is the Bluetooth feature, so you can listen to phone calls, music, and tinnitus apps directly in your hearing aids," she says.
While many OTC devices only have Bluetooth connectivity to an app for making listening adjustments, Jabra Enhance hearing aids add audio streaming capability for music and movies. The Enhance Select 200 model also allows hands-free calling with iPhones and some Androids.
Optional features
In addition to the above standard features, you can also customize the below features, depending on the model you choose:
Rechargeable vs. disposable batteries.
Basic Bluetooth connectivity (only connects to app) vs. Bluetooth streaming (streams audio from your smartphone to your hearing aids).
Basic vs. advanced sound technology.
One-year vs. three-year warranty.
Basic customer support (no audiology support) vs. premium (remote support from the audiology team for three years).
Buying Jabra Enhance hearing aids
Before ordering your Jabra Enhance hearing aids, you can take a free hearing test on the company's website. While online tests aren't diagnostic like in-person hearing exams, they can gauge your level of hearing loss to indicate whether Jabra Enhance hearing aids will be able to meet your needs. If you're 18 years or older with mild or moderate hearing loss, an OTC hearing aid like the ones made by Jabra Enhance could be a good fit.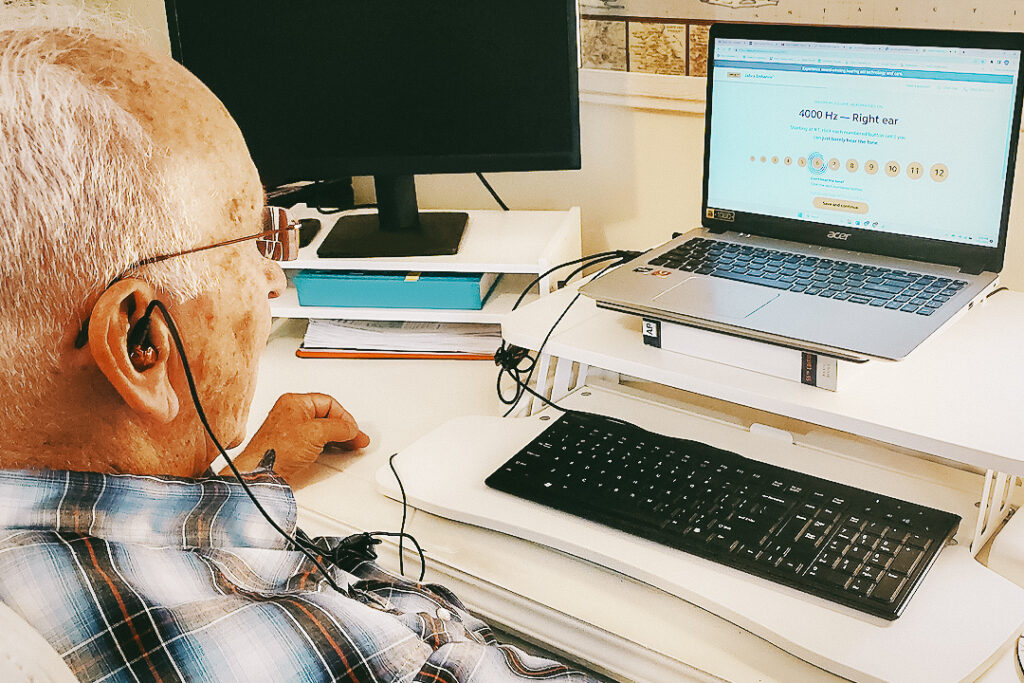 If you purchase Enhance Select 50, 100, or 200 and select the Premium package, your hearing aids will be programmed by the Jabra Enhance audiology team to match your online hearing test results. You can also send in previous audiogram results if you've had an in-person hearing exam.
When your hearing aids are shipped, Jabra Enhance will email you to schedule your online orientation with a Jabra Enhance audiologist. We found the audiologist helpful and appreciated the hour-long walk-through, which went over how to download the app, connect our hearing aids to our phone, and properly fit the hearing aids in our ears. She also went over how to clean, charge, and use them. This type of orientation is unique to just a few OTC hearing aid brands, and we liked the personal care it provided.
Nicholas Reed, an audiologist at Johns Hopkins University in Baltimore, Maryland, spoke to our team about the effectiveness of remote care for people who need help with their hearing aids. He says in many cases, it's sufficient for troubleshooting issues and provides much-needed access to audiologist services, especially for people who otherwise couldn't get them due to cost or location.
"Telehealth is a must-have in a world like this," said Dr. Reed, "especially because we don't have the services spelled out [for OTC devices]. And even if you wanted to rely on the current professionals, there aren't enough professionals to [provide] services."
Getting help with hearing loss can be a challenge for a number of reasons. We spoke with Christina Peoples, a gerontologist from Greensboro, North Carolina, about how to help people feel more comfortable wearing hearing aids.
The personalized care and telehealth model offered by Jabra Enhance are two ways this company lowers barriers to hearing care for the people who need it.
How much do Jabra Enhance hearing aids cost?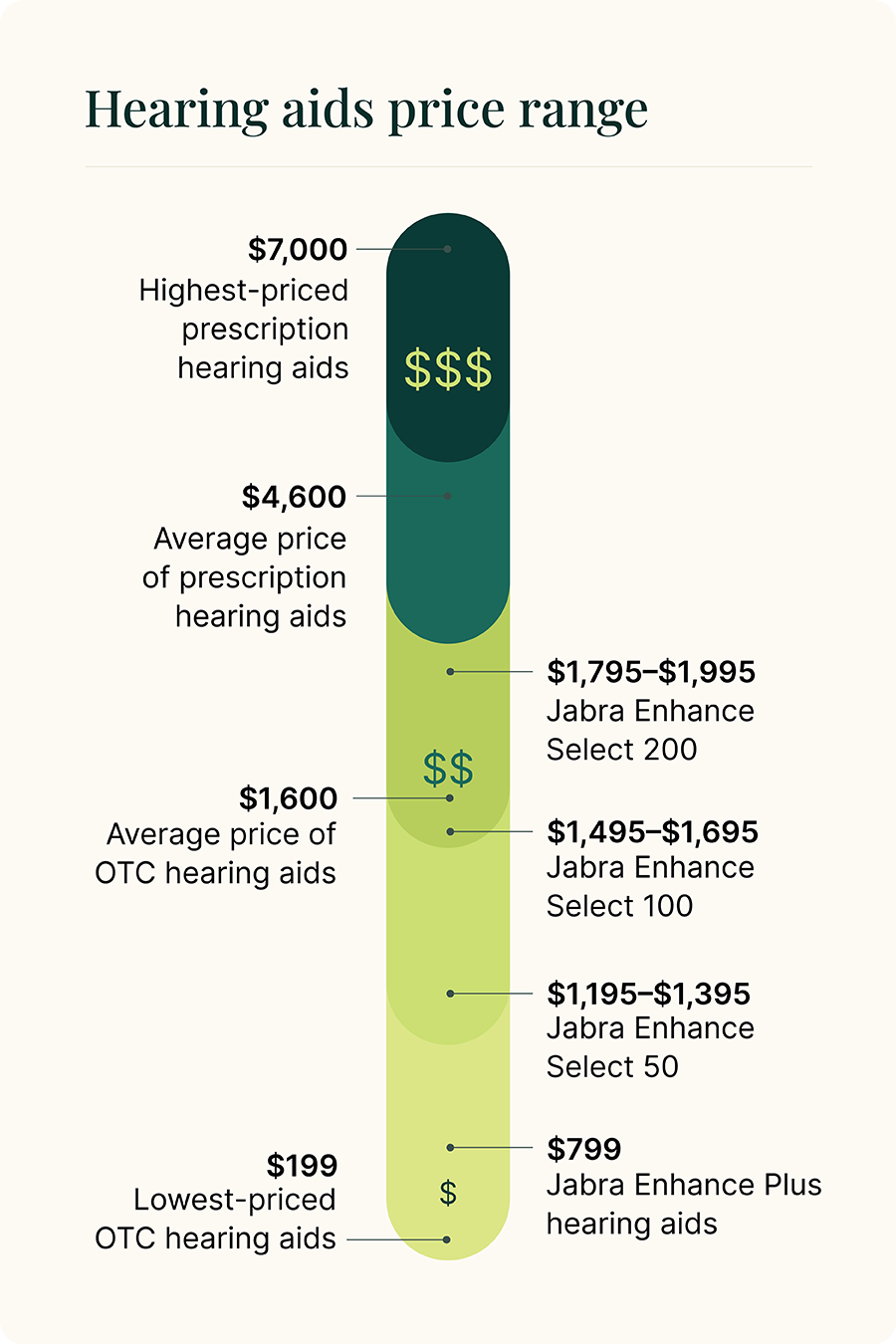 Jabra Enhance hearing aids cost $799–$1,995 per pair. That's about half the price of an average pair of prescription hearing aids (when looking at the cost of hearing aids bundled with after-purchase care), and the sound technology rivals some of those higher-priced devices.
One audiologist we consulted says high-end prescription hearing aids cost around $1,400 each without after-purchase care. That equals $2,800 per pair, which is $800 more than you'll pay for the Enhance Select 200 with three years of audiology support.
With any of the three Enhance Select models, you can choose between a Basic or Premium package. You'll pay the low end for each model if you choose the Basic package and the high end with the Premium package.
The Basic package provides general customer assistance but no audiology support for programming or adjustments. It also doesn't include hearing aid customization to your hearing loss profile.
For an additional $200 per pair, the Premium package offers the following services:
Custom programming to match your hearing test results.
Remote video orientation with a hearing care specialist.
Three years of remote audiology support.
Three-year warranty protection against manufacturer's defects, loss, and damage.
One-time replacement (after paying a deductible of $175–$195).
While most insurance plans won't cover the full cost of your Jabra Enhance hearing aids, terms vary and some private insurance plans may cover a portion of the cost. Check with your health insurance provider for specific coverage details.
If you need help staggering payments for your hearing aids, Jabra Enhance offers third-party financing for up to three years through Bread, with a monthly cost of $26–$65 depending on the model.
How to use the Enhance Select app
The Jabra Enhance Select app is rated 4.6/5 stars on Google Play and 4.8/5 stars at the App Store. You can use the app to make volume and program adjustments, learn how to use your devices, reach customer support, and troubleshoot issues with your hearing aids.
After hand-testing the app on both an Android and iPhone, we found the Enhance Select app easy to use and intuitive. The app's four pre-set programs (all-around, restaurant, music, and outdoors) are good if you want to cycle between programs. And the app also lets you adjust parameters, like volume, bass, treble, left and right balance.
But what we really liked was the ability to schedule both a remote adjustment and a video check-in with a member of the audiology team—other OTC brands allow you to contact customer support through apps, but the Jabra Enhance app is the only one we've seen that lets you schedule remote adjustments (when a specialist will adjust your hearing aids in real-time) as well as video check-ins. When our tester had her hearing aids adjusted remotely during her video orientation call, the adjustments were immediate and instantly sharpened her listening profile. Booking a telehealth audiology appointment and requesting a remote appointment directly from the app are simple.
See below for a video we recorded that walks you through the various functions of the Jabra Enhance app.
Our final verdict
Our experience with Jabra Enhance has convinced us this company makes the best OTC hearing aids on the market.
From our rigorous hands-on testing and mystery shopping, we found a lot to like about Jabra Enhance, including the high quality of every Jabra Enhance device and the company's knowledgeable and helpful audiology staff and customer support. Our testers were also impressed by the sound quality of the top tier 200 model, which is comparable to an entry-level prescription device—something we haven't encountered before in our two years of testing OTC hearing aids.
If your hearing loss is mild or moderate, you're 18 or older, and you're comfortable with remote audiology care and using an app to adjust your hearing aids, Jabra Enhance devices could be the perfect fit.
Frequently asked questions
Jabra Enhance hearing aids cost $799–$1,995 per pair.
GN Group manufactures Jabra Enhance hearing aids and the brands ReSound and Beltone.
Jabra Enhance is a different brand than ReSound, but they're both made by the manufacturer GN Group. Jabra Enhance hearing aids primarily include OTC devices (with the Jabra Enhance Pro prescription model sold exclusively at Costco hearing centers). ReSound is a prescription brand sold at hearing care clinics.
Goman, A.M. & Lin, F.R. (2016). Prevalence of hearing loss by severity in the United States. American Journal of Public Health, 106(10), 1820-1822.

Link

Lin, Frank R. (2018). Time for a top-down approach to hearing aid affordability and accessibility. American Journal of Public Health, 108(2), 166-168.

Link

Chan, S., Hixon, B., Adkins, M., Shinn, J.B., & Bush, M.L. (2017). Rurality and determinants of hearing healthcare in adult hearing aid recipients. The Laryngoscope, 127(10), 2362-2367.

Link